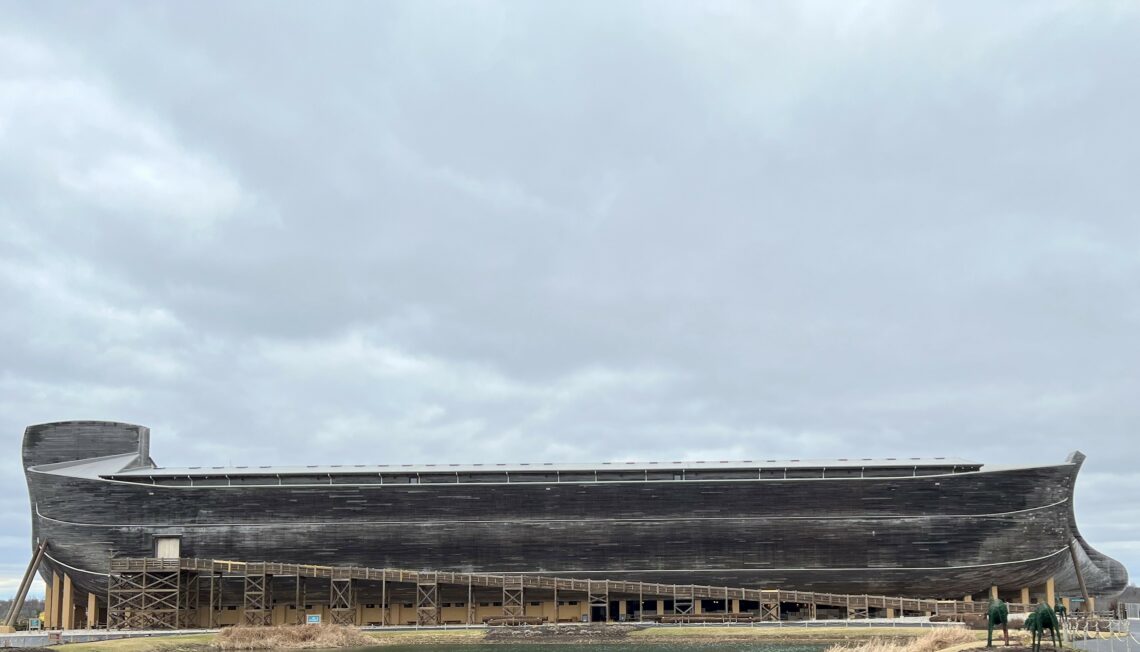 The Main Event…Lessons Learned and Embraced from the Ark
Have you ever wondered what it would have been like to have been Noah and his family on the Ark? Do you think it might have been a bit noisy? Perhaps a bit smelly, hot, dark, and uncomfortable? Living on the ark for months would have been an experience and a memory no one would forget. Yet only Noah and his family were chosen to experience God's saving grace during the main event of judgement that God poured out upon the earth and mankind. Noah's experience must have been an adventure of a lifetime.
Last week my husband and I, along with our two grandsons, had the opportunity to visit the Ark Encounter in Kentucky. The ark was built as a replica of Noah's original ark. The dimensions and size of the replica ark were the same given to Noah by God in Genesis; "This is how you should make it: The ark is to be 450 feet long, 75 feet wide, and 45 feet high. Make a roof for the ark and finish it, leaving 18 inches from the top. Put a door in the side of the ark, and make lower, middle, and upper decks" (Genesis 6:15-16).
Upon our arrival, I was in awe of such a sight. All I could think of was "WOW!" Seeing the structure up close helped me gain a more accurate perspective on the enormous task that Noah was given and the responsibility that God gave him and his family to build the ark and care for all the animals. Once inside of the boat there were three levels, cages for different kinds of animals, feeding troughs, clay pots for water, and living quarters for Noah and his family. After seeing the size of this massive structure, it is no wonder it took Noah so many years to build it.
I have read the Noah story in the Bible numerous times and each time God reminds me of His character:
God is faithful.
God is mighty in power.
God is perfect and holy and thus just in His judgement.
God's love is unconditional to those who love and obey Him.
God keeps His promise.
Below are a few Lessons kids can learn from the story of Noah.
God blesses a righteous servant.
Noah was a righteous man who walked with and obeyed God. (Genesis 6:8-9). God chose Noah to build the ark to protect him from the judgement that God would pour out on mankind (Genesis 6:13-22). The task was huge, but Noah stepped out in faith and obeyed God's command (Genesis 6:22). His obedience to God kept him from the consequences of evil, wickedness, and the judgement to come.
God desires a righteous heart; obedient in thoughts, words, and actions. His desire is to bless, protect and save those who love Him, trust Him, and follow Him. God chose to rescue Noah from His wrath of judgement because of his love and his obedience to Him. Noah embraced godliness and not the selfish, wicked desires of man.
Teaching children to embrace godliness instead of selfishness is a lesson on righteousness. God desires righteousness.
God was sorry that He had created mankind (Genesis 6:11-13). The world was full of the evil desires of man. People in the world were disobedient, wicked, and separated from God. Only Noah and his family were offered God's saving grace. God chose to send the great flood to wipe out every living creature on the face of the earth due to their wicked ways (Genesis 6:13).
God is perfect in all His ways and righteously judges sin, wickedness, and corruption. His holiness will not give sin a place close to Him. He is mighty and powerful and creator of all things, therefore when sin corrupts people beyond possible redemption, He will judge. He is Holy and the Creator of all things.
Teaching children to turn away from sin is a lesson on God's holiness. God desires all to have a close relationship with Him and hates sin.
God gives hope to those who love and follow Him.
Noah and His family were saved from the storms of evil, wickedness, and disbelief. Noah was found righteous, blameless, and walking with God (Genesis 6:9). Therefore, God chose to protect and save Noah and his family. Once off the ark, Noah and his family were thankful for God's saving grace and they built an altar and offered clean animals as a sacrifice (Genesis 8:20-9:1). God was pleased with Noah's burnt offerings (Genesis 8:21) and made a covenant with him.
God saved Noah and his family and God can save you too. Jesus is our hope and the ark that God offers us now. Now the world needs a perfect Savior rather than an ark (John 3:16). Our salvation from sin is now by trusting in Jesus; who died, was buried, and rose again on the third day. By God's grace you can be saved from your sin and will be blessed with eternal life.
It is important to teach children that we all are sinners and are under God's judgement. But we can be saved, like Noah, by placing our faith in Jesus as our Savior. God desires for no one to perish. He offers us an "ark" in the person of Jesus Christ, the only begotten Son of God. His sacrifice paid the penalty for our sin and faith in Jesus connects us with His sufficient grace. Teach your children to believe in and follow Jesus today.