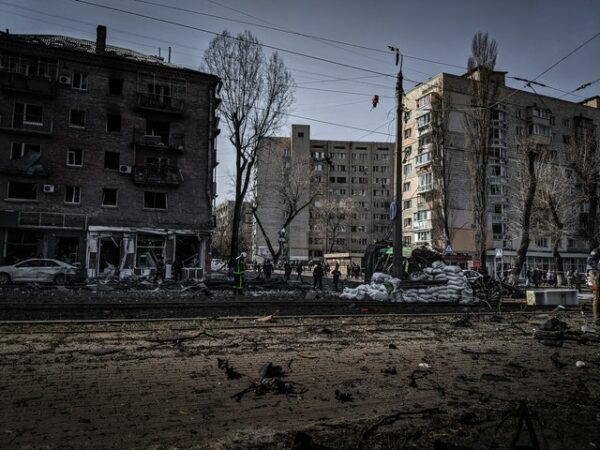 Pray Imprecatory Psalms Against Evil
When the twelve disciples faced the impossible task of feeding 5,000 people, they said to Jesus, "We only have five loaves and two fish" (Matthew 14:17). That's how I feel as I watch yet another injustice destroy innocent lives in a far corner of the world. Once again, I only have my prayers to bring to Jesus. But because God is able to multiply them, I join my voice with the psalmist to plead that he would stop evil. This time, I turn to the imprecatory psalms.
The imprecatory psalms are those that call down destruction, calamity, and God's judgment on enemies. These psalms express our outrage about injustice unleashed on others, and they call on God to do something about it. I recognize that in the past, there have been times when calls to peace have been based in a naïve understanding of human evil. But we who are privileged, who live far from war and violence, risk failing to take evil and brutality seriously enough.

Tish Harrison Warren1
Pray with me against evil and for the people of Ukraine (and Afghanistan, Yemen, South Sudan, Syria etc.) from Psalm 5, Psalm 10, Psalm 70, and Psalm 140.
Invocation
Listen to what I say, Lord! Carefully consider my complaint! Pay attention to my cry for help, my King and my God, for I am praying to you! Because of your great faithfulness I will enter your house; I will bow down toward your holy temple as I worship you (Psalm 5:1–2; 5:7). You are my God. O Lord, pay attention to my plea for mercy (Psalm 140:6).
Complaint
Why, Lord, do you stand far off? Why do you pay no attention during times of trouble (Psalm 10:1)? The wicked arrogantly chase the oppressed; the oppressed are trapped by the schemes the wicked have dreamed up. He waits in ambush near the villages; in hidden places he kills the innocent. His eyes look for some unfortunate victim. His victims are crushed and beaten down; they are trapped in his sturdy nets (Psalm 10:1–2; 10:8, 10).
Imprecation
Condemn them, O God! May their own schemes be their downfall. Drive them away because of their many acts of insurrection, for they have rebelled against you. Rise up, Lord! O God, strike him down. Break the arm of the evil man! Hold him accountable for his wicked deeds, which he thought you would not discover (Psalm 5:10; 10:12, 15).
Petition
O God, please be willing to rescue them. O Lord, hurry and help them. They are oppressed and needy. You are their helper and their deliverer. O Lord, do not delay (Psalm 70:1, 5). O Lord, rescue them from wicked men. Protect them from violent men, who plan ways to harm them. All day long they stir up conflict. O Lord, do not let the wicked have their way. Do not allow their plan to succeed when they attack (Psalm 140:1–2; 140:8).
Affirmation
You have taken notice, for you always see one who inflicts pain and suffering. The unfortunate victim entrusts his cause to you; you deliver the fatherless. Lord, you have heard the request of the oppressed; you make them feel secure because you listen to their prayer. You defend the fatherless and oppressed, so that mere mortals may no longer terrorize them (Psalm 10:14; 10:17, 18). I know that the Lord defends the cause of the oppressed and vindicates the poor. (Psalm 140:13).
Praise
But may all who take shelter in you be happy. May they continually shout for joy. Shelter them so that those who are loyal to you may rejoice. Certainly you reward the godly, Lord. Like a shield you protect them in your good favor (Psalm 5:11–12). May all those who seek you be happy and rejoice in you. May those who love to experience your deliverance say continually, "May God be praised!" (Psalm 70:4). Certainly the godly will give thanks to your name; the morally upright will live in your presence (Psalm 140:13).
My Turn
Lord God, I lift my voice with many around the world praying for the people of Ukraine. Hear my cry as I intercede on behalf of those suffering at the hands of an evil man. They are in distress, facing death, starvation, loss of everything, homeless, nationless, overruled. Deal with the oppressor according to your justice. May the schemes he plans return on himself. Stop his murder of innocent lives. Lord, you see the plight of the helpless. Listen to their plea for help. Rescue them. You say you come to the aid of those who cry out to you. So come that they may experience your deliverance and praise your holy name.
How about writing your own imprecatory psalm?
1 https://www.christianitytoday.com/ct/2022/march-web-only/prayer-ukraine-russia-putin-imprecatory-psalms.html