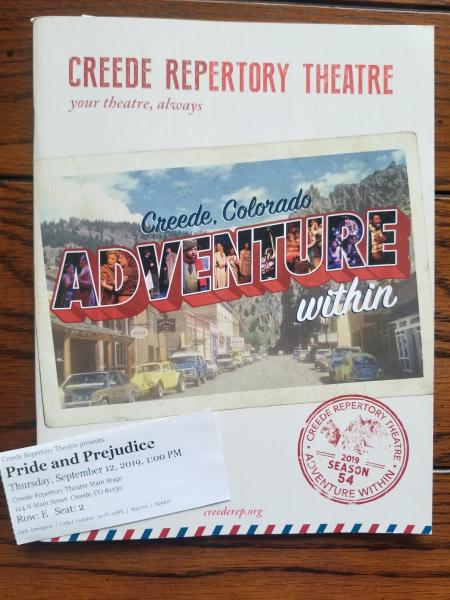 Pride and Prejudice…and Gender Fluidity?
Suppose you heard that a vacation town had built a first-class theater and people attended in droves because the productions were that good.
Suppose you paid your $66 dollars for tickets to a comedic, farcical adaptation of Jane Austen's Pride and Prejudice and drove an hour to get there.
Suppose you arrived early enough to attend the "Pre-Show Chat"–a presentation that focused on how Austen liked to challenge the rigidity of Victorian social, class and gender divisions. And "true to her spirit," this production would champion diversity in gender roles so that you could "look beyond superficial gender distinctions to better see and appreciate the inner character" of the players.
Suppose, before the curtain went up, a woman playing a man in a military uniform introduced the play. Suppose that after the curtain went up she/he joined a group of minor characters that included men in long Victorian dresses.
Suppose when it was time for Mrs. Bennett, the matriarch of the clan, to enter, a dark-skinned man in Victorian dress flounced onto the stage and began fussing about getting all the daughters married off and shrilling at them about attending a ball in a falsetto voice that would put Nathan Lane to shame.
And suppose that at the ball Mr. Binkley's snobby sister, played by a man, appeared in drag-queen gold lame, preening and fanning beside his/her brother, played by a woman dressed in male military attire.
And then suppose…there was the magical moment when the female Mr. Binkley looked at the female Jane Bennett, and Jane looked back at her/him and…it was love at first sight.
Would you stay?
Would you watch the remainder of the play featuring a woman playing a man falling in love with a woman?
Truth in advertising?
As the play unfolded I could tolerate the minor roles of women being played by men and vice versa. I could even take Mrs. Bennett as a flaming transvestite. But the prospect of watching a love story unfold between the woman playing Mr. Binkley and the woman playing star-struck Jane Bennett was too much. It was early in the play so we inquired if they would give us a refund on our way out. They would not. We felt very disappointed. Even sandbagged.
As with all movies and plays we attend, we had tried to check out the production before we went. The Creede Repertory Theater in Creede, Colorado has gained a strong reputation nationally. Friends we trust recommended it to us. On its website and Facebook page the reviews for the theater were all positive. Enthusiastically positive. Although there was only one comment about the Pride and Prejudice adaptation, it too was positive.
Online and in the program the play was described this way: "With the heart of this masterful love story still very much intact, Kate Hamill's farcical take on this time-honored staple of English literature has never been more captivating. Austen's Mr. Darcy, Lizzy Bennet, and all the red-coated officers are still the classic characters you remember, but with a fresh energy and zest that's both stunning and unexpected."
Not a single hint about gender fluidity.
These were not "the classic characters we remember"
The characters played by opposite-sex actors came off fractured. Unnatural. They were not played with the male/female integrity we remember. In a previous post, I wrote about how dividing the inner person from the body is not a whole or healthy way to live.
Watching Mrs. Bennett played by a man did not help me see or appreciate her inner character more. I simply saw a fractured performer who did not even seem funny because he/she seemed to be trying so hard to make a cultural statement about gender fluidity: Our maleness or femaleness is determined by our inner person, not our biology.
Why would a theater not want to be more honest in its promotion?
I've been trying to figure out why this reputable theater would advertise this play without giving their prospective audience at least a hint of their gender-fluid agenda. It is such a highly featured part of their performance and their pre-show Chat where we received a handout that featured this line: "Hammill's adaptations allow for plentiful racial and gender diversity, something integral to revisiting classics in 2019."
(Really? I could not disagree more with this statement. How can it be integral to revisiting the classics when it destroys the integrity of the original? As written, Jane Austen's story is firmly anchored in a Christian view of sex, marriage, and morality.
The novel's plot  turns on the point of Lizzy's younger sister, Lydia, running off with the dashing but morally bankrupt Mr. Wickham. Living with him outside of marriage. Once word got out it would tank her entire family's reputation, including Lizzy's and Jane's. Their prospects for a good marriage would be severely damaged.
Mr. Darcy proves his compassionate character by secretly going to Mr. Wickham and basically paying him to marry Lydia and setting the newly-weds up with a generous stipend to live on. His kindness is so redemptive in Lizzy's eyes that it exposes her own pride and prejudice against Mr. Darcy and opens her heart to his love and marriage proposal.
Ms. Austen may have challenged the rigidity of Victorian social excesses, but she still clearly valued the institution of male/female marriage and sex within its family-nurturing and protective boundaries. How could the gender bending in this adaption reflect the moral integrity of her story?
She was a pastor's daughter who pushed back against her culture's obsession with social standing. She advocated for marriage based on compatibility and respect rather than money–an idea very much in line with Biblical teaching. She pushed back against Victorian gender stereotyping, but again in ways that harmonized with Jesus' high respect for women.)
On our way out we told the management that we had tried hard to vet their play before we came. We told them that even a little hint about "gender diversity" in their promotions or advertising would have helped us avoid spending $66 on something we did not want to watch.
In a gallery down the street the owner saw me still carrying the program and asked if we liked the play. "Not really," we responded.
She said that many people came to her gallery after the play and that about half of them liked it and half of them did not. I wondered if the theater knew how their failure to signal to their audience what the play was really about was hurting their reputation.
Prosyletizing?
Again,  I've wondered, why did the theater do that? Did they want to gather in unsuspecting attendees in hopes their play would diminish their homophobia?
I wish I could have sat down with the director and explained that I am not homophobic. I have no fear of LGBT's. I visited AIDS patients in the 90's. Even sang at a funeral. I enjoy meeting LGBT's and hearing their stories. I see them as made in God's image and worthy of great respect. I always try to treat them with kindness.
But I believe God created us male and female. Not to restrict us, but to provide us with lives of integrity and peace. To give us biological families and all the joy and richness they add to our lives. He didn't limit having children to those with the money to afford special medical procedures.
I believe God made us male and female to free us from gender stereotypes.
If we see gender as one spectrum with male on one end and female on the other, then our sensitive, artistic sons will be stereotyped toward the midline as effeminate and gay–not fully male, and our athletic, warrior-princess daughters will also trend toward the midline and be seen as lesbians–not fully female.
But if God made us male and female then there are two gender spectrums. The male spectrum has artistic, sensitive sons at one end and hunter/athletic warriors at the other and complete freedom to be fully male anywhere in between. (Thank you Sue Bohlin)
Likewise our daughters may be tomboys at one end of the female spectrum and girly girls on the other end or any expression of femaleness in between and still be fully female.
God's created order is good.  And good for human flourishing.  Perhaps we will continue to see the arts used as a tool to try to change what we believe. But I would challenge those in the arts to address these issues with great sensitivity to people who disagree about the goodness of God's creation.
There are good reasons to disagree with gender fluidity, and the arts would do well to respect those who believe them.