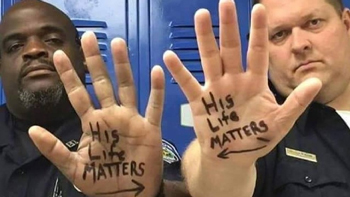 The Church's Blind Side: Why Black Lives, Blue Lives, and All Lives Matter
There is an unspeakable ache in my heart today, can you feel it too? Among the angst, frustration and bitterness, what I feel most is really disappointment. I am disappointed that that after years of striving to be a beacon of democracy, people can be left to bleed out in the streets, with no trial, no due process, and no convictions. I am disappointed that a band of heartless cowards decided to target police officers in my own city of Dallas, Texas, leaving 5 dead and several others wounded. I am disappointed that the actions of these few will now be extrapolated and applied to the entire Black Lives Matter movement, rendering any outcry against the deaths of innocent men now useless as the inhumanity of Blacks will now be confirmed by those who already dared to believe it. I am disappointed that one cannot simultaneously cry out that black lives matter and blue lives matter without somehow devaluing the other, as the media seems to paint the two sides as mutually exclusive. But most of all I am disappointed in the lack of clear representation of unity in the face of adversity, mutual love, empathy and a biblical response to racial tension among the church.
As Christians we have accepted God's call to be the "visible demonstration of the comprehensive rule of God over every area of life." (Adapted from Dr. Tony Evans, Kingdom Agenda: defined) In other words, the church should reflect the heart of God on all matters so much so that when the world sees the church, the world sees Christ glorified.
Paul says in 2 Corinthians 3:18, "And we all, with unveiled faces reflecting the glory of the Lord, are being transformed into the same image from one degree of glory to another, which is from the Lord, who is the Spirit."
In Matthew 5:13-16 Jesus reminds the Church of their role and function in this world. He proclaims that we are to be SALT and LIGHT; one for the preservation of the World pointing to salvation, and the other for the illumination of God's Word, again pointing to salvation.
Because of our role as image-bearers and ambassadors for Christ, He gives us this great command: "In the same way, let your light shine before people, so that they can see your good deeds and give honor to your Father in heaven." Matthew 5:16
So I ask this question of the church concerning racial reconciliation: Have we been a visible demonstration of God's heart concerning race relations? Have we been salt and light, an example for all to follow in how we respond to countless works of injustice? Have our works concerning race (however explicit or implicit they may be), caused anyone to honor our Father in heaven?
Paul speaks to such division in the church at Corinth as the members began to create factions that were rooted in pride and human interest. Here Paul says,
"I urge you, brothers and sisters, by the name of our Lord Jesus Christ, to agree together, to end your divisions, and to be united by the same mind and purpose. For members of Chloe's household have made it clear to me, my brothers and sisters, that there are quarrels among you. Now I mean this, that each of you is saying, 'I am with Paul,' or 'I am with Apollos,' or 'I am with Cephas,' or 'I am with Christ.' Is Christ divided? Paul wasn't crucified for you, was he?" (1 Corinthians 1:10-13)
Paul's question resounds . . . is Christ divided? No, but if we are His image-bearers then why are we?
My husband reminded me today that talk is cheap. In response to the recent killings, major Christian outlets have poured out scripture upon scripture as I have just done above. Don't get me wrong—this is necessary, but what good is it to be hearers of the word and not doers of the word?
James 1:22-25 says this, "But be sure you live out the message and do not merely listen to it and so deceive yourselves. For if someone merely listens to the message and does not live it out, he is like someone who gazes at his own face in a mirror. For he gazes at himself and then goes out and immediately forgets what sort of person he was. But the one who peers into the perfect law of liberty and fixes his attention there, and does not become a forgetful listener but one who lives it out – he will be blessed in what he does."
So what can we do as believers to align ourselves with God's heart concerning the racial tension persisting today? Here are some ideas that resonate with me; it is my prayer that in their implementation we can project the Lord's light into this dark world.
Check your prejudices at the door: leave behind what you think you know about a people group, a movement, or a social issue. Generalizations only serve to perpetuate ignorance.
Be open and willing to dialog with those who do not look like you: I have never had one of my non-Black friends legitimately ask me how all of this makes me feel or what I think on the matter. I would venture to say this goes both ways–blacks and whites can continue to talk among themselves, behind closed doors, but until true believers come together in one voice our witness is diminished.
"Rejoice with those who rejoice, weep with those who weep" (Romans 12:15): In the hours that passed after the death of Alton Sterling and Philando Castile my news feed was flooded with calls for prayer and comfort for the families of these young men. I was not surprised to see, however that these calls to mourning were made by fellow Black Christians. But I have to ask my White brothers and sisters, where is your sadness? Where is your anger? Where is your confusion? Regardless of what someone's personal record is or what did or did not happen there is a piece of one's soul that is touched while watching a child grieve for his slain father or a 4-year-old comfort her mother having just witnessed an execution. If this bugs you, hurts you or moves you in any way, let it be known. I beg you to weep with me! It assures me that somehow in the midst of division we are connected. To add insult to injury, it pains me to see now that white police officers have been killed, I find the same people who were silent about loss of life are now taking to social media to rally prayers of support.
Understanding what really matters: We go back and forth between Black Lives Matter, Blue Lives Matter, All Lives Matter but we cannot seem to settle on the appropriate nomenclature. It may be helpful to understand people's differing viewpoints. For example, Black Lives Matter is an overreaching name for a call to justice. One cannot, factually, deny the disparity in the justice system to the frequency that Blacks are being killed by law enforcement. As a Black Woman, this mantra resonates with me because I am surrounded by news reports of killings and the little to no accountability for those that pull the trigger. It's a call that is born of hopelessness. A call to mainstream America to see if you can hear or see me and my people.
The one does not speak for the whole:In keeping with the point above we must also understand that as in any other issue there is a spectrum of beliefs that tend to be found under the same umbrella. It is important that we condemn those who take these labels to advance their own warped ideas of justice. Those calling for violence against police officers do not represent everyone who may use Black Lives Matter to convey their feelings.
Standing up against an abuse of power or negligenceon the behalf of some police officers does not mean that you are negating the integrity of the majority of law enforcement, who have our best interest at heart.
Don't downplay your power:I have heard white friends lament that they lack the power to effect change. I say, not so! I was recently introduced to the idea of small acts of advocacy. A small act of advocacy is pushing past discomfort and taking an opportunity to share God's perspective on race relations. For instance, if you see a person of another race treated unfairly, say something about it. If a friend tells a racist joke don't laugh, point it out. Be a liaison, be an ambassador, be a protector. If we all did this, I wonder how quickly the landscape would change.
We have much work to do in order to correct such a blindside found in our own disunity. Consider the weight of unity that Jesus Christ places on His church. As He is preparing for His bodily death and resurrection, He takes time to pray for his disciples. In this prayer we find His heart.
John 17:20-23 "I am not praying only on their behalf, but also on behalf of those who believe in me through their testimony, that they will all be one, just as you, Father, are in me and I am in you. I pray that they will be in us, so that the world will believe that you sent me. The glory you gave to me I have given to them, that they may be one just as we are one – I in them and you in me – that they may be completely one, so that the world will know that you sent me, and you have loved them just as you have loved me."