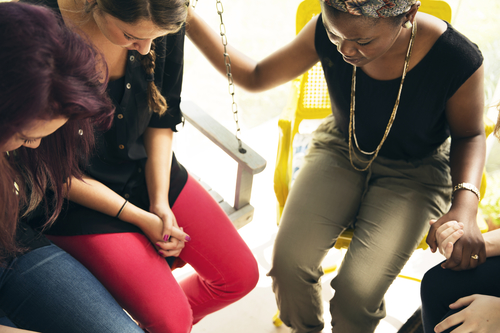 Injustice. Anger. Murder. Mourning. (Repeat.)
It seems the newsfeeds do not change—same story, just different day and different city.
Additional protests lead to counter protests: #BlackLivesMatter, #WhiteLivesMatter, #AllLivesMatter. Confusion and anger fuels more anger. I read and watch social media posts and videos from various viewpoints. It disappoints me that many posts are full of blame, anger, should-haves, and could-haves. And so the cycle continues…
Injustice. Anger. Murder. Mourning. (Repeat)
Blame and anger are normal stages in the grief process. But it seems many people stay in those stages and never move forward. Why? They want justice. They want vengeance. Many simply want change, change for the better. And so the cycle continues…
Injustice. Anger. Murder. Mourning. (Repeat)
The Sunday after yet another local tragedy, I sat in church and contemplated several biblical stories: Cain killed Abel. Saul sought to kill David. The Pharisees convinced the Romans to kill Jesus. The cycle is not a new cycle…
Injustice. Anger. Murder. Mourning. (Repeat)
Where is our hope? How do we break this cycle of injustice, anger, murder, and mourning? I know of only one man, God in the flesh, who can give us unadulterated, unselfish, untarnished hope. He lived a perfect life, yet was tried illegally. He spoke not a word nor lashed out, yet was judged unjustly. He pardoned criminals and welcomed the outcasts. He even forgave those who tortured, crucified, and nailed him to the cross, "Father, forgive them, for they don't know what they are doing." (Luke 23:34)
My hope comes from him and him alone.
Are people looking to the King for hope? It seems not anymore. I ask myself, "Why?" We want justice; we want change. God told us to "multiply and rule…" (Gen. 1:26–28) But in Genesis 3we failed; and we continue to fail at acting and ruling justly. We are called to be salt and light (Matt. 5:13–16). The Prince of Peace said, "Blessed are the peacemakers…" (Matt. 5:9). But I think many of our lives taste only bitter, display only darkness, and create little peace.
How do we make our lives taste sweet, shine bright, and show hope in the midst of tragedy and chaos?
Christen Jacobs, in The Church's Blind Side: Why Black Lives, Blue Lives, and All Lives Matter, gives us suggestions as to how we can "project the Lord's light into this dark world."
Gail Seidel, in Responding to and Remembering—#prayfororlando, asks us to "continue to process and seek God in the midst of the aftermath," reminding us of the truths held in God's word.
Sandra Glahn, in Quiet Presence: Comfort Those Who Hurt, explains how "we can assure people through our actions that God loves them and we do, too."
As you struggle after news of yet another tragedy, I invite you to listen to the song, Shoulders, by For KING & COUNTRY. The lyrics echo of words from the Psalms and tell us on whose shoulders to place our anger at injustice and chaos and our mourning after tragedy.
Our help and our hope come from him and him alone.
"I look up toward the hills. From where does my help come? My help comes from the Lord, the Creator of heaven and earth!" (Ps. 121:1–2).
(Photo courtesy of Lightstock.)