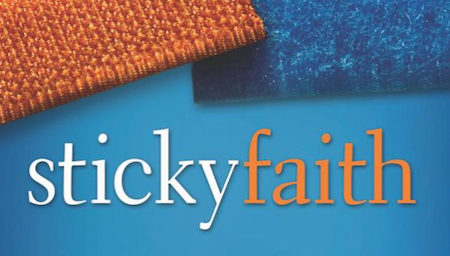 I love being a mentor mom for a "Moms Together" group at a local church. I learn so much from these young women who are at the place I was 30 years ago when our children were small. Our current discussion topic is "Sticky Faith" from the book of the same name by Dr. Kara Powell. The book focuses on what we as parents can intentionally do to help our children have real faith that sticks throughout their teenage years and beyond the time when they live in our homes — what the author calls, "Sticky Faith."
Of course, that generated lots of discussion at our table, especially the statistic Dr. Powell gave that 50% of children in churched homes walk away from their faith when they leave home to go to college or beyond. Several of our moms could relate to that in their own lives (and felt unnecessarily guilty). While we discussed, I became aware of the fact that some were not really sure about their faith when they went away from home; they were churched enough to take their "Christianity" for granted, maybe as an extension of their parents' faith but not personalized faith yet. In later years, especially after having children, they returned to their faith and have embraced it wholeheartedly—following Christ devotedly now. And, wanting "sticky faith" for their children.
In an article released by a high school pastor last fall, Three Common Traits of Youth Who Don't Leave the Church, the author concluded that teens whose faith stuck throughout college and into their 20s had three things in common when they finished high school:
They were born again and knew it.
They were equipped, not entertained, as youth — so they could share the gospel, disciple someone, and lead a Bible study.
Their parents lived the gospel of grace and dependent living before them.
Add to these the role of godly mentors. Sue Edward's blog from April 24, 2015, How Mentoring Can Save Your Child From Walking Away From The Faith, spoke volumes about the influence mentors can have on our children. As we were discussing "sticky faith" at our Moms Together table last week, I related how godly mentors made a huge difference in the faith walks of our children. Our son had a sixth-grade Sunday School teacher who was passionately in love with God (beautiful young woman, now working with her husband as Wycliffe missionaries in Papua New Guinea). Over that year, I watched our son develop a love for God he didn't have the year before and one he has continued to have ever since. He still remembers her influence on him. Godly mentors are a great support to parents.
Several years ago we asked our now 30-something children who do have "sticky faith" what they thought we did right to encourage a walk of faith in them while growing up and to prepare them to be Christian adults. They already tell us what we did wrong! It's nice to hear what we did right. Frankly, some of the things they mentioned, I don't even remember doing! Probably because I was so busy managing family life at the time — just like the young moms at my table.
This is how our children responded, showing what really mattered to them:
"You encouraged our walk of faith and prepared us to be Christian adults by: 1) Making sure we were actively involved in church, prioritizing church involvement over other out-of-school activities. 2) Modeling your walks of faith in front of us (for the most part), which made a big impact. Seeing your desire to grow as Christians and your devotion to your churches made an impression on us. 3) Emphasizing prayer in our lives — before meals, before bedtime. Patterns and habits that, 'I had ingrained in my life.' 4) Discussing theological issues (developed deeper thinking skills in us, usually around the table or in the car) and rewarding us verbally for making "new" discoveries in our personal walks of faith. 5) Surrounding us with God-fearing people. 6) Getting us involved in helping out/serving church members in need or the church in general (housecleaning for a bedridden pregnant mom and chair set-up for church came to mind). 7) Modeling for us a response of gratitude for food God provided and church members who helped us out on occasion."
I am so grateful to God for leading us as parents to do enough things right so that our children had "sticky faith" beyond their teen years. Even if I don't remember the details.
But, we knew, as every parent knows, regardless of how much we influence them in the right direction, each child must still respond to Jesus' call on his or her life individually. So, we pray and trust in our God to capture the heart of our child as He has already captured our hearts. Then, we depend on Jesus to help us do our part and leave the rest up to Him. Once a child trusts in Christ as Savior, the best influence for "sticky faith" ever — God's Holy Spirit — moves inside to impact that child from the inside out for the rest of his/her life! Thank you, Jesus!
---
More Resources:
The God-Dependent Woman Bible Study (read online)
The God-Dependent Woman Bible Study (download pdf)
Disciple-Making Resources (download pdfs)