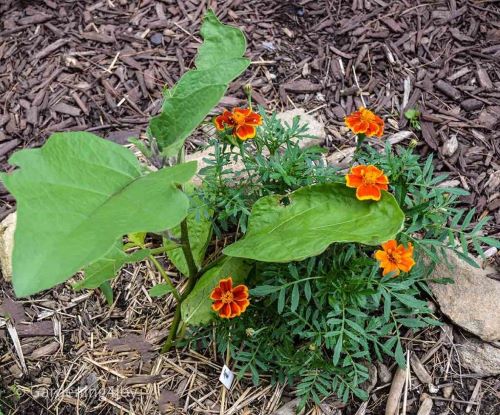 This is My Father's World
Maltbie Babcock, a nineteenth century pastor, often said, "I'm going out to see my Father's world" as he left for his morning walks. Babcock was an admirer of nature and penned the poem, "This is My Father's World", which was later put to music.[1] I enjoy singing this hymn, especially when I am out in my Father's world. Recently, I was reminded of this hymn as I was learning about flowers as companion plants to vegetables and fruits. Several parallels to my life unfolded.
Historically, planting flowers in vegetable gardens has been a common practice. For various reasons (including food, beauty, and medicinal access) vegetable/flower gardens were placed near kitchens. Also, gardens contained plant diversity that made diseases difficult to take hold or slowed disease spread.[2] Diversity as a prevention of plant disease parallels to the disease of sin. In the church, accountability exists, insights ensue, and needs are addressed. The disease of sin can be uncovered quicker where accountability exists. Also, hearing other's insights can provide clarity to the Scriptures. Furthermore, in a church, needs can be addressed so sinful habits can be stifled. The previously stated ways diversity can look in church provides deterrents to the disease of sin.
But even more important than diversity, is the composition of the soil. The proper balance of organic and inorganic matter leads to healthier plants. Flowers such as lupine, comfrey, and clover put necessary nitrogen back into the soil. Other flowers like borage, marigold, alyssum, and chamomile contribute other nutrients to the soil. Similarly, our souls need nutritional soil to grow. Nutritional soil of our souls includes responsive, submissive, and tender hearts that welcome God's Word and leadings which lead to spiritual growth.
Another part of vegetable gardens are harmful bugs. Aphids, cabbage loopers, potato beetles, thrips, squash bugs, whiteflies, and scales appear in vegetable gardens damaging and destroying crops. Fortunately, flowers such as borage, nasturtium, chamomile, marigold, lavender, dill, and cilantro either deter or trap harmful bugs. For our soul care, we need to learn to identify the harmful things (like ungodly media, wayward friends, pride, greed, gluttony, sloth, and lust) in our lives and get rid of them. It takes Christ's power to get rid of harmful things and sin.
Beneficial bugs should be a part of vegetable gardens. Lady bugs, green lacewings, hoverflies, and parasitic wasps assist in harmful bug control. For our soul care, the spiritual disciplines provide means by which harmful habits can be identified and controlled. The spiritual disciplines include meditation, prayer, fasting, Bible study, silence, solitude, service, worship, and celebration. These and other beneficial disciplines provide a means for God's Spirit to transform us into Christ's image.
Moving back to the garden, the nasturtium flower has a hard seed that needs to be scarified (cut or softened) in order for it to germinate. In life, sometimes God uses suffering and trials to transform us (Romans 5:3-5; James 1:2-4). The hard things in life show us who we really are and our desperate need for God.
I have a lot to learn about flowers as companion plants to vegetables and fruits. But more significantly, I have a lot to learn about a deeper life with God. Gardening provides me with opportunities to observe parallels to life. For instance, all the flowers I enjoy will fade, but the Word of our God will stand forever (Isaiah 40:8). My temporary flowers even point me to God!
The next time you or I go outside let's remember we are going out to see our Father's world. Let's notice what reminds us of life with God for the purpose of knowing Him in a deeper and richer way.
---
Image from https://www.gardening4joy.com/flowers-in-the-vegetable-garden-7-that-provide-beneficial-effects/, accessed February 20, 2023.
[1] Kenneth W. Osbeck, 101 Hymn Stories: The Inspiring True Stories Behind 101 Favorite Hymns, (Grand Rapids, MI: Kregel Publications, 1982), 101.
[2] Amy Grant, "Beneficial Flowers for the Vegetable Garden," Gardening Know How, 2022, accessed February 20, 2023, https://www.gardeningknowhow.com/ornamental/flowers/fgen/flowers-for-the-vegetable-garden.htm.