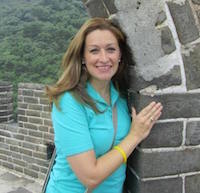 Three Things About Suffering
These next few weeks bring a graduation with much celebration emphasizing the busy season in my life. I asked my friend Kimmy Tan to guest blog for me. Not only did she deliver despite the short notice, she also encouraged me! She reminded me of how precious our heavenly Father proves Himself to us every day.
I dread taking my son to his well check-up appointments. When the nurse arrives holding the tray of immunizations, my heart starts pounding. Every single time I see the vials and shots perfectly aimed for my baby, my mind plans an extravagant escape route rivaling any "Mission Impossible" scene.
On this particular, gloomy doctor's visit, something inside me felt different. I immediately caught a glimpse of something in my mind I will never forget. Instead of wanting to grab my baby and mentally run away, I stopped and looked down before me. I experienced what God must feel as we go through painful trials—as He felt when His own Son suffered on the Cross.
As I held my son's little arms, I saw my youngest look up at me with pain all over his face. Why Mommy? As mothers, we hold our little ones understanding it'll only hurt for a moment. We know as soon as the nurse gives the last injection, our children will be in our arms receiving the comfort they need. It's okay baby. Mommy's got you.
Our heavenly Father continually holds us as we walk through suffering. As we look up at Him in the same child-like manner, He looks down at us with tears in His own eyes. Sweetie, it'll only hurt for a moment, but you need this to help you. It will protect you from further, unnecessary suffering later in life. What a comforting thought!
What do we need to understand if we currently find ourselves in the midst of suffering?
It will feel painful. Our heavenly Father does not like suffering any more than we do. He did not create us for pain and suffering. After the Fall, pain entered the earth. Tears soon filled the rivers and cries started to echo over the thunder. God aches every time another child cries, just like we cry every time our little ones come to us with open arms wanting comfort. We need to admit our suffering hurts and we need to let people feel their grief. Holding it inside amplifies our pain and makes it more excruciating. We should strive for authenticity in our communities, not stoicism to the point of denying pain.
It will help us. Tell a toddler or a baby getting their immunizations, "This will help you," and they will look at you like you have lost your mind (well maybe you have). Remember nothing comes to us that has not gone to the Father already. I love this thought! Romans 8:28 tells us that He works everything for good. Not pain-free or easy, but good. Just like immunizations, the benefits behind the vaccinations prevent unnecessary pain later in life from preventable diseases. So if today hurts, expect tomorrow to be better because of today.
It will end one day. Some of our suffering may not end today. It may not end tomorrow, next week, in a few months, or even next year. It may never end on this side of heaven. However the Good News tells us one day, all suffering will end. I cannot imagine how John felt as he witnessed Jesus telling him about the New Heaven and Earth. The joy he felt to hear Jesus say, "I will wipe away every tear and there will cease to be any sorrow or pain" (Rev 21:4). The exiled, old man now found himself at the end of his life. His own body—falling apart and in excruciating pain— heard the Great I AM say that all suffering will cease. What a relief! What a peace to know one day the pain will end!
As we left the pediatrician's office my son wore his cool superhero Band-Aid on his thigh. Actually my older son felt more excited about it! I remember thinking how quickly my son forgot about his suffering when he saw his big brother trying to hug him. His little leg still hurt but he no longer focused on the pain. What a lesson to learn from my son!
Why do children forget the agony and suffering once they are in the arms of their parent? Why do we fail to remember the comfort of our Father's arms when we go through suffering and tough times? Why do we feel we must do this alone without Him? Simply, we don't forget. The LORD gives us just enough grace and comfort to make it through another day.
Kimmy loves to spend her time chasing after her boys as a full-time mommy (to two kids) and wife to Sam. She is a student of Christ who left the classroom to finish seminary and raise a family. She is a Texan by the grace of God and a sweet tea connoisseur. She's a country gal stuck in the middle of asphalt and concrete. To visit Kimmy's blog, Missionmindedmommy, click
here
.