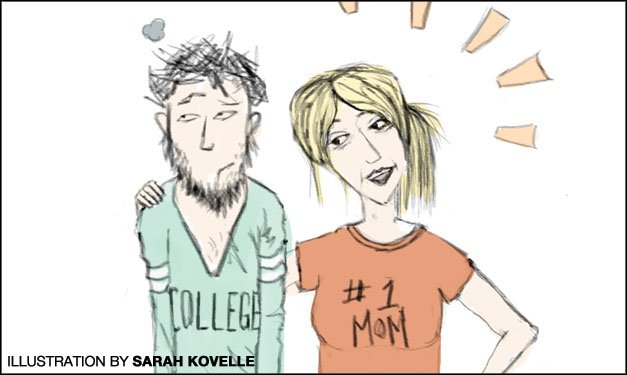 What Does It Mean to Parent Our Adult Children?
As our children grow up and fly the nest, so to speak, what is our role to be in their lives? We never stop being their parents, but we do stop parenting per se.
By the time our children leave home, we have instilled in them, the morals, values and life skills that we find important. When they leave, it is time for them to use what we have taught them. Some of what we have instilled in them will be used; other things will be set aside, as they make their own life and find, ways of doing things that better fits them.
However, that does not mean they do not love us or value our opinions and ways of looking at life. It just means that they are learning to live life as a young adult. So, how do we parent our adult children?
First, we love them, pray for them and make ourselves available to them. As the mother of two grown sons and one grown daughter, I was reminded of this recently. If you have a millennial, then you know it can be hard to pin them down. I would ask questions such as, "When are you coming by?" "What day do you want to do dinner?" I thought these were legitimate questions, but I was met with hesitation. Then it hit me like an ocean wave right in my face. Stop asking when and just state what you want. Be clear.
So I texted, "Hey babe, I don't want to tell you what to do or take up all your time. I just miss you and want to hang out with you." Do you know that he is over every week now? No pressure, no strings, just time.
I think the Lord is like that too. He does not demand our time. He asks for it because He loves us and desires to have a relationship with us.
"Here I am! I stand at the door and knock. If anyone hears my voice and opens the door, I will come in and eat with that person, and they with me." (Revelation 3:20)
Our adult children have so many pressures on them and we do not need to be another one, but rather be a safe harbor. Because remember we are done raising them.
Second, we prepare them for hardship and trials when they are young and remind them when they are grown that this is not our home.
Part of parenting is preparing our children for the future is equipping them to handle it. The best way I know how to prepare them for the unseen future is to teach them who God is. To teach them they can rely on Him, even when things look very bad or very confusing. That in times of heart break and sorrow, He is right there by them. To teach them that He is a loving, but jealous God, Who desires time with them and a relationship with them. Because, when those hard times come, and they will, they need to know they can go to Him with their hurts. In much the same way, I find that is more of my role these days.
I am here for my adult children. I am available to give advice when asked, listen without giving unwanted advice and love and pray with my children. I am here to love them, cheer them on, encourage them and help when true help is needed. This is not to say that we should enable adult children, keeping them in a co-dependent relationship. In addition, it is not to say that we should rescue them from natural consequences. It is to say, that when there is a true need, they know they can come to us for prayer and support.
Being the parent of adult children does not have to be difficult. It can be some of the most fun and rewarding years, you will have with your children. They know the difference in living a Christ-centered life and not living for Christ. They know the difference between right and wrong. We are done parenting. It is not an easy place to be, but the truth is once our children grow up and leave home, we are done parenting them.
Now, that is not to say we are done being influencers in their lives. We are to be involved with them, praying with them and for them, loving them.
I don't know about you, but I sure didn't tell my children to expect hardship. From the time each of my children was born, I tried desperately to protect them. I disciplined and allowed natural consequences to teach them to follow through and be responsible. However, I am not sure how many times, I said to them, "Expect trials, hardships and suffering, because these things will come." Nevertheless, they do and the Bible even tells us to expect trials and suffering.
John 16:33 says, ""I have told you these things, so that in me you may have peace. In this world you will have trouble. But take heart! I have overcome the world."
When our adult children struggle to find a soulmate, to have a child, to find a job, we should be there praying and reassuring. When they are not accepted to the college they had their heart set on, or an illness or injury rocks their world, we should be there to cheer them on and point them to Christ. Even when they fall into ongoing sin and confusion, it is imperative to pray for them and be there waiting to welcome them home if they turn from it.
God has not forgotten them and we as parents need to reassure them of that. As He forgives, we should too. Is there a secret formula? No, there isn't. But, I do believe that 1 Corinthians 13: 1-13 sums it up in the most beautiful of ways.
If I speak in the tongues of men or of angels, but do not have love, I am only a resounding gong or a clanging cymbal. If I have the gift of prophecy and can fathom all mysteries and all knowledge, and if I have a faith that can move mountains, but do not have love, I am nothing. If I give all I possess to the poor and give over my body to hardship that I may boast, but do not have love, I gain nothing.
Love is patient, love is kind. It does not envy, it does not boast, it is not proud. It does not dishonor others, it is not self-seeking, it is not easily angered, it keeps no record of wrongs. Love does not delight in evil but rejoices with the truth. It always protects, always trusts, always hopes, always perseveres.
Love never fails. But where there are prophecies, they will cease; where there are tongues, they will be stilled; where there is knowledge, it will pass away. For we know in part and we prophesy in part, but when completeness comes, what is in part disappears. When I was a child, I talked like a child, I thought like a child, I reasoned like a child. When I became a man, I put the ways of childhood behind me. For now we see only a reflection as in a mirror; then we shall see face to face. Now I know in part; then I shall know fully, even as I am fully known.
And now these three remain: faith, hope and love. But the greatest of these is love.
(1 Corinthians 13:1-13)