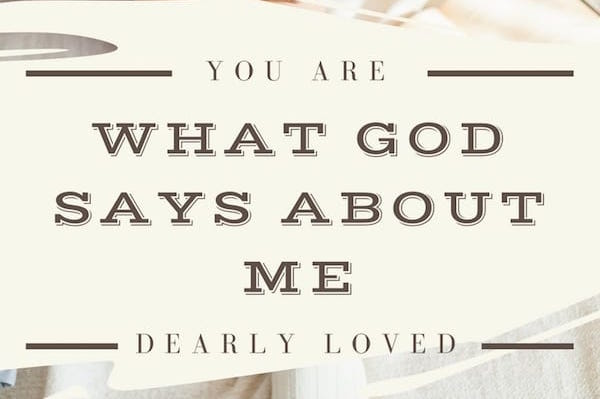 Listen to this blog as a similar podcast:
One of the top search phrases leading people to Bible.org is this question, "What does God say about me?" That could be a natural question for anyone to ask who does not already know the Bible's teachings. But, a lot of times, that question is wrapped up in mega insecurity, even among Christians. Perhaps this question is constantly rolling over in your mind.
Looking at stuff on the internet and reading through some devotionals and Bible studies, it's obvious that there is a lot of shallow teaching out there that focuses constantly on our sinfulness (and, yes, every human is prone to sinfulness) but leaves out the good news of God's grace toward us and His life in us. It drives me nuts when I see it in women's Bible Studies—application questions that focus only on avoiding sin in your life.
No wonder many women look at their lives, which may be very messy compared to others, and think to themselves, "God must not like me as much as He does her." Then, you resign yourself to your "fate" because you don't deserve better, or you do as many good deeds as you can to try to get back into God's good favor so He will love you again. Stop it! Grasp the fact that as a Christian you are dearly loved by your God. And, God loves all of His children equally. That's what God says about you.
Grasping the truth that God loves you dearly
Your God loves you, and He wants you to know it, to grasp it and never let go of that truth. The Apostle Paul writes about this in Ephesians. It's a prayer rich with the truth about God's love for you.
I pray that out of his glorious riches he [God] may strengthen you with power through his Spirit in your inner being, so that Christ may dwell in your hearts through faith. And I pray that you, being rooted and established in love may have power, together with all the saints, to grasp how wide and long and high and deep is the love of Christ, and to know this love that surpasses knowledge — that you may be filled to the measure of all the fullness of God. (Ephesians 3:16-19, NIV)
Christ already lives in the heart of every believer through the Holy Spirit. "Dwell" refers to Jesus being so at home in your heart that He is the dominating factor in your attitudes and behavior. That will be evident as you live each day. And, Jesus wants you to be rooted and established in love. That means to be grounded in it, stabilized by it, so that you can firmly grasp the immensity of how much you are loved—how wide and long and high and deep is the love of Christ for you and for me! Jesus wants you to firmly grasp this so that it is deeply rooted in you. You can know this love intimately and experientially. It's not just head knowledge. Sure, you can quote John 3:16 saying God so loved the world and believe you are part of that world. But, as believers in Christ, you are an individual recipient of God's personal love for His children.
Through God's power in you, you can GRASP God's love for you and make it your own. God gives you and me the power to overcome our insecurities and doubts and comparisons in order to see and experience His love. Paul uses "love" 22 times in Ephesians, more in this short letter than any other except 1 Corinthians. And, in Ephesians 5:1, we are called, "dearly loved children."
What does God say about you? You are dearly loved.
I found this quote and really liked what it said.
"There is nothing you can do to make God love you more! There is nothing you can do to make God love you less! His love is Unconditional, Impartial, Everlasting, Infinite, Perfect!" (Richard C. Halverson, former chaplain of US Senate)
Wow. Wouldn't it be great to be loved like that? Well, you are! God is not stingy with His love. The moment you believe in Jesus Christ, He loves you dearly like that.
And, He wants you to really KNOW it, to FEEL it intimately, and to GRASP it. You can ask for this. God's power can do this in you.
The power of God overcomes what we've heard from others
Have you heard that God loves you but your brain is telling you, "No way!" Or, maybe you know in your head that God loves you, but you just don't feel it in your heart. It's okay to feel God's love for you. He wants you to feel it.
Why do we need the power of God to know God's love for us? Most of the time we don't believe it or our concept of a Father's love has been skewed by those who should have shown us this kind of love. What if your parents didn't genuinely love you like that? That affects your view of God and His love for you, especially if you only know performance-based love. Performance-based love says, "I will give my love to you if you meet a certain standard of performance. Otherwise, I will be disappointed in you and withhold my love." That hurts. That breeds insecurity. That is not true love. That's not how God's love works.
Think of the best father in any book, movie or TV show. God is even better than that. God's love is unconditional. He loves you for who you are now. He loves you for who you are becoming because He sees you perfected through His Spirit working in you. He looks upon you with love because you have trusted in His Son. His love allows things in your life that will strengthen and mature you as you learn to rely on Him more. Colossians 3:12 says that you are "holy and dearly loved."
What God says about you
My dear sisters, write this phrase on your mirror. "You are dearly loved by your Father God"(Ephesians 5:1; Colossians 3:12). The next time you ponder what God says or thinks about you, remember this truth. It doesn't matter how many mistakes you've made in the past or what's in your bank account. Whether you've been a Christian for 3 weeks or 30 years, you are dearly loved by your Father God—equally, no more, no less than every other Christian alive today or in the past.
If believing that God loves you unconditionally is a struggle for you, ask Him to help you really know His love. Grasp it. Allow yourself to feel totally wrapped up in His arms of love. Thank Jesus for that. Maybe today will be the best day of your life!
Christian, you are a dearly loved child of God. Tell yourself, "That's what God says about me."
---
More Resources:
Graceful Living Bible Study (read online)
Graceful Living Bible Study (download pdf)
Satisfied…No Longer Angry at You
Satisfied by His Love Bible Study (read online)
Satisfied by His Love Bible Study (download pdf)
Christianity, the Best Thing that Happened to Women