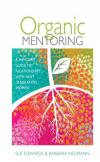 Why curriculums often shut down mentoring
In her eye-opening book Shaping the Journey of Emerging Adults: Life-Giving Rhythms for Spiritual Transformation, co-author Jana Sundene describes her first attempt at mentoring. "I was guilty of approaching her with an agenda—one that really didn't have much to do with her—rather than exploring her questions. . .. I was also serving a method. The discipleship book that was placed in my hands became the way to serve her. . .. it hung between us like a film that I could barely see her through, and our discussions fell flat."
Like Jana, the goal for many older mentors is to teach a Bible study or spiritual curriculum. We love curriculums because they simplify the mentoring process and show us what to do with our mentee. The material is easy to follow, provides a focus, and gives us that all-important feeling of accomplishment. Curriculums are often expertly crafted and full of valuable information, but frequently don't have much to do with a mentee's questions. They may gain new information but not know what to do with it.
The woman sobbed and buried her head in the crook between her husband's neck and shoulder during a scene from The Joy Luck Club. I remember thinking that I'd never heard so much audible weeping from so many women during a film. Salty tears streamed down my cheeks too. The scene struck a deep chord in my soul, a yearning for the love of a mother who had so little to give. After the movie, we strangers, some still sniffling, encountered each other in the bathroom and bared our souls in an unusual but honest conversation for a public restroom. The power of story and film on display that night.
The movie chronicles the lives of five Chinese immigrant mothers and their American-raised daughters. Relationships writhe in misunderstandings due to cultural and generational gaps. These mothers love their daughters fiercely with the best intentions but their high hopes often come across as impossible expectations that leave their wounded daughters feeling like failures.
The scene that caused all these tears centered around an exchange in the kitchen as mother Suyuan and daughter June clean up after a tense Chinese New Year's dinner. Mom has cooked her famous crab, all best quality except one with a damaged leg. To Suyuan this crab is no longer edible, worst quality, but more dinner guests attended than she expected, requiring her to include the damaged crab on the serving plate. As the plate made it rounds, June instinctively grabbed the crippled crab, leaving the best quality crabs for the other guests.
During dinner June and Waverly, lifelong friends and rivals, scrapped over a business issue. June felt humiliated when her own mother complimented Waverly by saying, "True, cannot teach style. June not sophisticate like you. Must be born this way."
Cleaning up in the kitchen, June confronts her mother by telling her how much those words stung, adding to her frustration that she had disappointed her mother throughout her whole life. Tearful, June accuses, "You never see what I really am." Her mother responds by honoring June above Waverly for taking the worst quality crab. "Only you try to take it. You took because you have best quality heart. You have style no one can teach. Must be born this way." Then she takes the face of her beloved daughter into her hands, looks deeply into her eyes and declares, "I see you. I see you." For the first time June felt seen.
Young people today long to hear those words, "I see you. I see you." Many never have. Powerful, soothing, healing words straight from Jesus through you. Mentoring the next-generation requires a new goal. Instead of the transfer of prepackaged information that informs thinking, our goal is to "see" the mentee, help them walk with God in a postmodern environment, and discover the person God created them to be. This is what most young people yearn to learn from us. Curriculum can be valuable, but unless it's introduced at the right time and in the right way it can "hang like film" between mentor and mentee.
So when you come alongside a woman, "see her" first. Over time, she'll tell you what she needs and you can draw on your own reservoir of biblical truth cloaked in your own life experiences to show her how God's Word has led you and will lead her too. Mentoring is not an "information dump" but a rich relationship for the purpose of drawing both mentee and mentor closer to Christ as they do life together, with the mentor showing the way because she's been on the journey a little longer. "See her" first and watch God use your relationship to transform the women God entrusts to you.