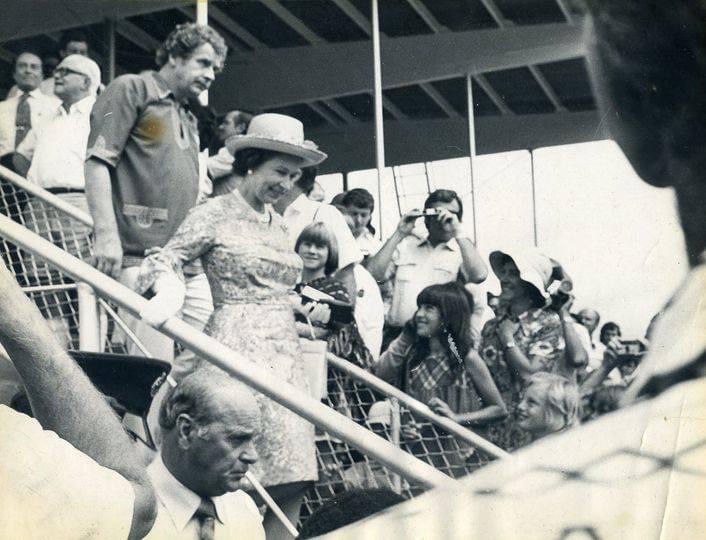 Why I'm Sad About the Queen's Passing
"Rest in Peace, Queen Elizabeth" popped up on my social media feed on September 8, 2022. I immediately felt sad. For Her Late Majesty's family, for friends in the United Kingdom, for those who actually knew her. But also, weirdly, for me.
Here's why I, an American, am sad over the death of a foreign head of state whom I never met nor knew personally:
It stirs up childhood nostalgia
Like many Americans I am an anglophile, an admirer of all things British. I feel I come by it naturally since I grew up in the commonwealth nation of Papua New Guinea. As a multi-national missions community, we took turns recognizing our various passport countries by singing each national anthem or reciting their flag pledges during school assembly. Therefore, as a child I thought Queen Elizabeth II was "my" queen. I saw her face on stamps, and regularly sang "God Save the Queen." Sadly, I missed her visit to PNG in 1974 (see photo above) because my family was in the USA at the time.
The world has lost a great leader
Queen Elizabeth II was generally respected by all. She exhibited integrity, grace, morality, and fortitude. While she had no actual power to make decisions or laws, she modeled leadership by example, influence, and character. In a world with a dirth of good leadership models, I feel her loss more keenly.
We lost an example of a woman in leadership
Very few women have reached the highest positions of leadership in our world. Queen Elizabeth II proved to me that women can lead capably (sometimes better than a man). She took her job seriously, demonstrated wisdom, and depended on God. She served because she felt called, not because she desired fame or power. And she did it for 70 years.
It's yet another big change
Because Her Late Majesty served in the same place and the same role all the years I have been alive (and more of course), she represented continuity, longevity, and security. Her death then reminds me that I won't live forever, that the world changes, and the future is uncertain. Any major shift in the world, even in another country, causes fear and instability.
No one is all good nor all bad
Her Late Majesty's death reminds me that everyone, including photoshopped public figures, are human. Some see only her grace and goodness. Others her failure to repair the results of colonialism. She, like me, was God's image bearer needing his mercy. I'll remember that and neither idolize nor demonize her.
As we reflect on Queen Elizabeth II's passing:
May we choose leaders who demonstrate moral character, fortitude, dedication to duty, grace, and dependence on God.
May we accept the calling to leadership even if we don't seek it or feel adequate and then be the kind of leader we desire others to be.
May we support, encourage, and be examples to other women leaders.
May we trust God in the midst of change. He is our true sovereign, so we are secure when facing an unknown future.
May we recognize that all are made in the image of God, deserving neither demonization nor idolization.
Photo by Jack Ruth: Queen Elizabeth II's visit to Papua New Guinea in 1974 was witnessed by some of my classmates.