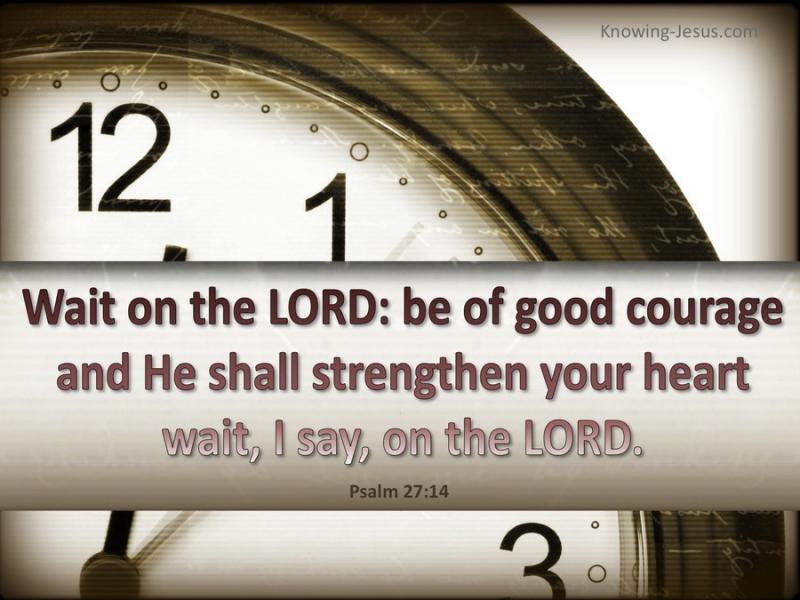 Wisdom in Waiting- A Timeless Truth
In a world of instant everything, a third world country appears to be backward, deprived, even antiquated. They seem slow in their thinking, in their decision making, and especially in their everyday living. A person who visits these countries where living is harder, might verbally give thanks for modern advances while they secretly enjoy the slower pace.
Modern cultures have life easier, faster, and more productive. Technology has advanced our ability to do more but sadly reinforces our tendency towards impatience. Impatience comes naturally to all who have a sinful nature. Just try to get a baby to wait when they are hungry or when their diaper needs changing. In our modern world as children are rushed from one exciting thing to the next they are easily overwhelmed with the possibilities of all they can do. Without meaning to, we can reinforce the impatience of the sinful nature.
Genesis 3 is the story of God's interaction with Adam and Eve after they sinned. It ends with these gracious words:
22 Then the LordGod said, "Behold, the man has become like one of Us, to know good and evil. And now, lest he put out his hand and take also of the tree of life, and eat, and live forever"— 23 therefore the LordGod sent him out of the garden… and He placed cherubim at the east of the garden of Eden, and a flaming sword which turned every way, to guard the way to the tree of life. (NKJV)
Genesis 1- 3:20 is about God creating life. He placed Adam and Even in a garden paradise. The intro to death is a brief warning of what will happen if they eat from one tree out of hundreds maybe thousands from which they are free to eat. It appears again when Eve is tempted to eat from that one tree. She is assured that she won't die.
At the end of chapter 3 God wisely points out that if man eats from the tree of life he will live forever separated from God's blessing. The clock starts ticking. Our stubborn sinful nature doesn't like to wait.
For this is what the master, the Lord, the Holy One of Israel says:
"If you repented and patiently waited for me, you would be delivered;
if you calmly trusted in me you would find strength,
but you are unwilling. Isaiah 30:15 (NET Bible)
"Therefore, theLord will wait, that He may be gracious to you; And therefore, He will be exalted, that He may have mercy on you. For the Lord is a God of justice; Blessed are all those who wait for Him" Isaiah 30:18 (NKJV). I love how this reads in the NKJV because it emphasizes this truth: sin made it necessary but it is His great love for us that makes God willing to wait.
It was sin's and consequently death's entrance into our world that changed the way we view the passing of time. With an invention to track our hours, eventually our minutes, and even our seconds we suddenly became aware of how quickly the little time we have is passing before our eyes.
The Lord's words to Isaiah about waiting are reinforced in several other verses. Let's purpose in our hearts to apply them and then teach them to our children through our words and examples.
Psalm 27:14
Psalm 37:9
Psalm 37:34
Isaiah 40:31
Lamentations 3:26
Zephaniah 3:8 &9
Time was meant to be a gift not a curse. It is a gift because it limits how long we must live in this fallen state. It is a gift because it reminds us that our opportunity to repent is limited, "Today is the day of salvations." 2 Corinthians 6:2 NKJV
It is a curse when we make lists in our hearts and minds of what we want to do and then we race to get as much done as we can before our time is up instead of waiting on the Lord. Let's slow down our own lives and then teach by example and word to our children the joy of waiting on the Lord: letting God direct our steps.