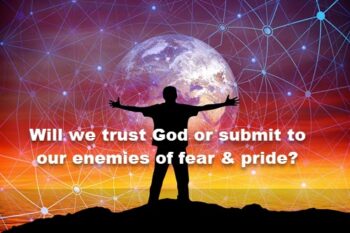 Are you trying to hide from God?
Judges 6-7 Why is it that we think we must be the strongest, bravest, and wisest for God to use us? We are not all heroes like David, the shepherd who took down Goliath. Some of us are like Gideon, who, when afraid, hid in the wine press! King Solomon understood that some of us are more like Gideon than David, Joshua, or even like Caleb. Yes, King Solomon understood this clearly. Listen to his counsel:
Ecc 9:11 Again, I observed this on the earth: The race is not always won by the swiftest, the battle is not always won by the strongest; prosperity does not always belong to those who are the wisest; wealth does not always belong to those who are the most discerning, nor does success always come to those with the most knowledge—for time and chance may overcome them all.
Go read about Gideon, who came from the smallest clan. He was not just afraid but exceedingly afraid. In fact, when it was harvest time, he went and hid in the winepress so the Midianites couldn't find him. Are you like Gideon? Are you trying to hide so God "can't" find you? Remember this: We try to hide when we are afraid. But remember another verse from King Solomon: "The fear of men is a trap, but he who trusts in the Lord will be exalted!" [Prov 29:25] Sometimes, we are fearful of being called to do a large or hard task. We fear making a mistake, just like Gideon did. Yet, God knew that He could use Gideon, and He can use you. He chose Gideon not because of his strength or his bravery. He chose Gideon because He knew that Gideon would bring honor to God. That is why God calls any of us. Perhaps God is calling you, little one, to be God's warrior, His Gideon, for Him.
God wanted to prove a point in this story: you don't need to be the bravest, strongest, or most wise. You just need to be available. True, Gideon wanted a sign, but ultimately, he led the nation to a victory over their enemies. And God can use you to bring victory for Him so He gets the glory.
Where are you hiding? Will you allow the Angel of the Lord to find you and to use you?