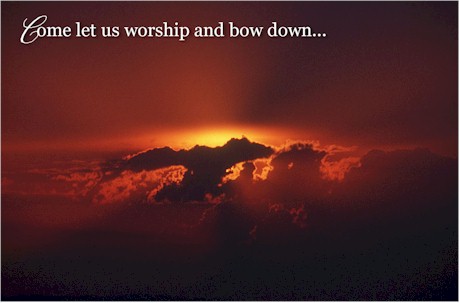 Come Let Us Worship and Bow Down
Do you remember the popularity of what became known as the Jabez Prayer? This prayer is recorded in 1 Chronicles 4:10 "Jabez called upon the God of Israel, saying, 'Oh that you would bless me and enlarge my border, and that your hand might be with me, and that you would keep me from harm so that it might not bring me pain!'" The teaching that spread rapidly included the idea that we did not have a blessed life because we did not ask for it. People were instructed to pray this prayer repeatedly and God would shower them with blessings and freedom from pain.
I recently was studying the Lord's Prayer in Matthew 6:9-13:
Our Father in heaven, hallowed be your name. Your kingdom come, your will be done, on earth as it is in heaven. Give us this day our daily bread, and forgive us our debts, as we also have forgiven our debtors. And lead us not into temptation, but deliver us from evil.
In Jen Wilkin's Sermon on the Mount Bible study, she suggests this prayer could be divided into 6 categories: worship, allegiance, submission, petition, confession, and deliverance. The Jabez Prayer consists of only 2 categories—petition and deliverance. These self-focused categories are included in the Lord's Prayer along with the God-focused categories of worship, allegiance, submission, and confession. Just praying petitions and deliverance results in the dangerous health, wealth, and prosperity philosophy.
In Wilkin's study, the readers were challenged to see what their prayers would look like if they were recorded as a psalm. I quickly realized my prayers had become filled with requests for myself and others. Praise for who God is and thanks for what He has done were sadly missing from my prayers. As a result, over the past month, I have increased my reflections on who God is and what He has done as I pray. Now some of my prayers are solely praise and thanksgiving. Also, in my petitions, I find myself praying petitions in light of who God is. This practice keeps my focus on Him. Furthermore, I frequently include hymns in my time alone with God and have discovered several books that have helped me contemplate God in view of specific hymns (see for your consideration at the end of this blog).
I am grateful for the refocus on and adjustments in my prayer life. I find my time with the Lord is sweeter, richer, and more satisfying as I focus more on Him! If your prayers were recorded as a psalm, what would they look like? Is there any refocusing and adjusting you need to do in light of the categories of the Lord's Prayer? "Come let us worship and bow down"[1] Psalm 95:6
For your consideration: Leland Ryken's book: 40 Favorite Hymns on the Christin Life: A Closer Look at Their Spiritual and Poetic Meaning, Phillipsburg, NJ: P&R Publishing, 2019.
Joni Eareckson Tada's and Bobbie Wolgemuth's book Timeless Hymns for Family Worship: Bringing Gospel Centered Moments into Your Home, Eugene OR: Harvest House Publishers, 2021.
Joni Eareckson Tada's book Songs of Suffering: 25 Hymns and Devotions for Weary Souls, Wheaton, IL: Crossway, 2022.
Jen Wilkin's Sermon on the Mount Bible study, Nashville, TN: Lifeway Press, 2021.
---
[1] Image from Keith, "Psalm 95:6," WatwuzIthinkin?, 2006, accessed November 27, 2022, https://fivepts.blogspot.com/2006/09/psalm-956.html.