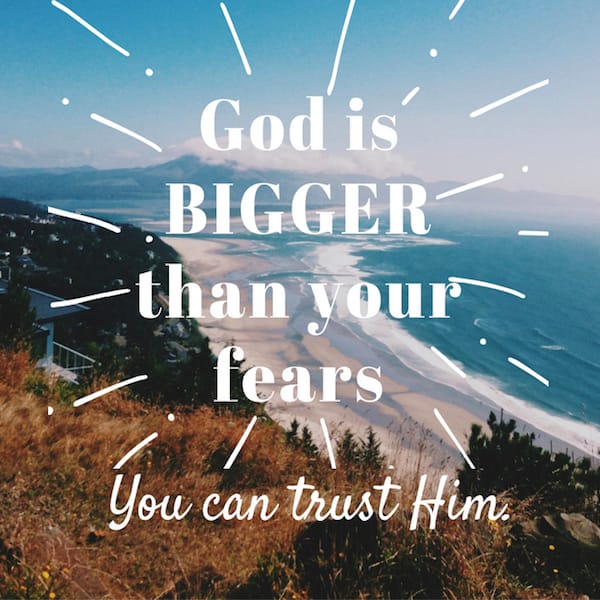 God Is Bigger Than Your Fears
I heard Jill Briscoe once say, "Women are a fear-driven, performance-oriented species." She's right. Fear is an ever-present emotion with us. Real fears and imagined fears. Is it realistic to think we can live without fear? No!
Fear is a normal human emotion designed by God to alert us to danger so that we will take action against it. Yet, fear can take root in us and cause us to give way to panic and hysteria. God knows this about us. I am so grateful for that. And, one thing I have learned through the years of walking by faith is that God is bigger than anything that causes me fear.
Got fear? Trust your God
I can remember times in my life when something happened suddenly that caused that creepy-crawly feeling down my back. A car cutting in front of me sending me to change lanes quickly, hoping there wasn't an 18-wheeler occupying that lane.
One night, a feeling of fear my oldest daughter's safety hit me in the chest. I quickly prayed for her protection. Of course, she didn't answer her phone when I called so I had to wait until the next morning to hear from her that she was okay. What. A. Scary. Night.
Thankfully, some wise mentors have taught me to trust God all the time, especially when I am afraid. One such wise woman, Vickie Kraft, drilled a couple of verses into my heart and mind.
"When I am afraid, I will trust in you. In God, whose word I praise, in God I trust; I will not be afraid. What can mortal man do to me?" (Psalm 56:3-4)
This wise friend said, "Melanie, the psalmist doesn't say, 'If I am afraid.' He says, 'When I am afraid.' When we are afraid, God wants us to trust Him and not give way to fear."
If fear alerts us to danger so we will take action against it, the most significant action is to not give into fear but to trust God instead. That's the walk from fear to faith. And we can experience God's faithfulness through any trouble, danger, suffering, or pain that we face.
God is as faithful now in our everyday circumstances of life as He was years ago to some Old Testament women who are examples to us of walking from fear to faith.
God is bigger than your weaknesses
Sarah was faced with overwhelming circumstances, mistakes, and inadequacies. Yet, she learned that God has bigger purposes for our weaknesses than what we can see or know each step of the way. It doesn't matter if your fear is driven by circumstances you cannot fix, stems from making mistakes, or is caused by feelings of inadequacy. God is bigger than your weaknesses. He asks you to trust Him and His purpose when you don't understand.
God is bigger than your enemies
Miriam experienced that amazing exit from Egypt along with more than 2 million others. When the people were terrified, the Lord fought for them. They needed only to stop being terrified and trust Him. Through Moses' instructions, the trembling people (including Miriam) were able to apply faith to their fear. They confronted it and turned it over to God. Their faithful God took over and proved that He was stronger than their enemies. He's stronger than your enemies, too.
God is bigger than your times of waiting
You will probably never be faced with the dramatic circumstances of Rahab, but you will have your own distressing situations in life. Rahab had to wait patiently for God to act. Remember that she did not know the "marching" orders. Most of us don't like to wait for God to work. And, we say to each other, "God is good all the time," but do we really believe that when we have to wait? Times of waiting strengthen your relationship with Him as you learn to rely on His timing and trust in His goodness.
God is bigger than your needs
We often overlook what God has already provided for us and concentrate instead on what we don't have. In 1 Kings 17 and 2 Kings 4, God used what two widows already had as a resource to multiply on their behalf. Most of the time, God's provision is going to come through people, not miraculously appear from the sky. People design products and services to sell; they take the risk to start businesses and hire workers, including you. People buy farmers' crops. And, people provide meals for someone in a time of need. You must learn to trust in whatever manner God chooses to meet your needs.
There may be a problem in your life right now where you need to choose to do right, but you are afraid of the possible consequences. Will you choose to trust God with whatever you are facing and walk from fear to faith?
---
More Resources:
Everyday Women Bible Study of Old Testament Women (read online)
Everyday Women Bible Study of Old Testament Women (download pdf)
The God-Dependent Woman Bible Study (read online)
The God-Dependent Woman Bible Study (download pdf)
What's Left When Our Props Are Removed