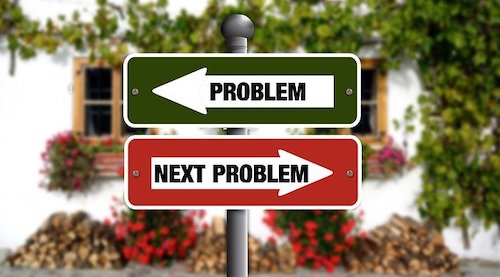 The pediatric dentist had delivered bad news. Our son needed oral surgery on not just one or two teeth, but on multiple teeth. And given the extent of the dental work anticipated and our son's medical history, the procedures would need to be done in a hospital and under anesthesia.
I began reviewing the cost estimates the dentist's office manager had given to me as my husband drove us home. Hospital operating room + anesthesiologist + dental work = big bills.
And it wasn't just about the additional medical and dental expenses. (Though those were sufficient stress alone.) It was also that, due our son's other medical needs, he'd already undergone a multitude of procedures and operations at his young age. This bad news also meant more medical trauma.
My mind processed all these details in quick succession, and I thought, "Our little man just cannot catch a break." My stressful thoughts started rapidly spinning and my anxiety levels quickly ascended to high levels. But as I opened my mouth to lament to my husband, our son started singing from the backseat:
"My God is so big,
So strong and so mighty,
There's nothing my God cannot do."1
I stopped mid-sentence, my husband gave me a side glance, and with his free hand, gave my hand a squeeze. Our son continued singing:
"My God is so big,
So strong and so mighty,
There's nothing my God cannot do."
I said nothing more on the car drive home because God had spoken—through the small and sweet singing voice of a four-year-old—and reminded me of something I'd forgotten. In the face of big problems, I'd forgotten that God is bigger still.
The Psalms also remind me of the greatness of God:
Psalm 48:1
Great is the LORD, and greatly to be praised, in the city of our God, His holy mountain.

Psalm 86:10
For You are great and perform wonders; You alone are God.

Psalm 95:3–5
For the LORD is a great God, a great King above all gods. In whose hands are the depths of the earth, the peaks of the mountains are His also. The sea is His, for it was He who made it, and His hands formed the dry land.

Psalm 96:4
For great is the LORD, and greatly to be praised; He is to be feared above all gods.
Bless the LORD, O my soul! O LORD my God, You are very great; You are clothed with splendor and majesty.

Psalm 135:5
For I know that the LORD is great; our Lord is above all gods.

Psalm 147:5
Great is our Lord, and mighty in power; His understanding has no limit.

Psalm 150:2
Praise Him for His mighty acts; praise Him for His excellent greatness.
Like the song my son was singing, these Psalms speak truth of God's character:
He is great.
He alone is God.
His is above all.
He created all—from the depths to the highest peaks.
He is to be rightly feared.
He is mighty.
His understanding is without limits or boundaries.
He is excellent in his greatness.
In the face of big problems, I need reminding that my God is bigger still. I need to bring those big problems to my great God:
My son's oral surgery is pending. His teeth issues have not gone away.
But my God is so big.
Our insurance will not pay for the anesthesiologist or the operating room.
But my God is so big.
I fear our son's medical trauma will resurface and wreak havoc.
But my God is so big.
I wish my son could get a medical break.
But my God is so big.
My understanding is limited and short-sighted.
But my God is so big.
My strength wanes easily.
But my God is so big.
My faith wavers easily.
But my God is so big.
In the weeks that followed, my son sang that song on repeat and, quite often, I'd join in with him. It was then I realized this song was for his preschool's end-of-the-year program.
When the day of the program arrived and the time came for his little class of eight four-year-olds to take the stage and sing the song with gusto, half stood frozen in wide-eyed shock at all the people in the audience, a few did the hand motions, and a few others (like my son) danced to the music. But none sang.
I'm certain the teachers probably sighed and shrugged their shoulders at the lack of performance at the appointed time. But I smiled, knowing that my son had sung that song at the most important time—the perfect time—for God to remind me that He is bigger still.
In this broken world I will always face problems, bills, sicknesses, stresses, job issues, and insecurities. And so will you. But our God is so big.
Listen for the full song:
Song: "My God is So Big." Ruth Calkin. 1959, Nuggets of Truth.
This article was originally posted on June 4, 2021.