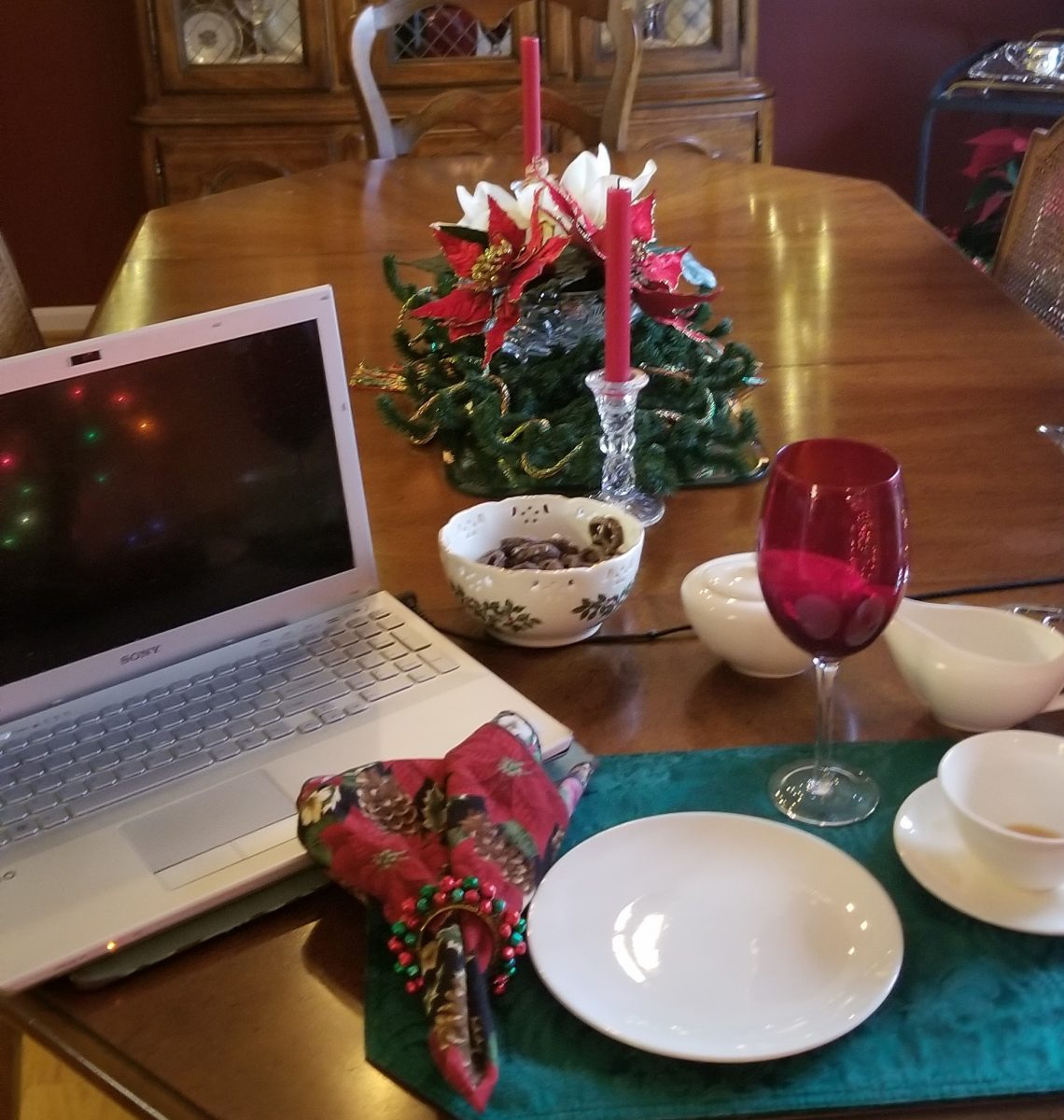 How To Have a Sorrowful Yet Always Rejoicing Christmas
We will be alone this Christmas. Eleven hundred miles from any family. Distanced from friends who will take the risk to be with their grandchildren (as I would if we had them), but it means we won't be visiting them either. Ah, Covid. You are such a joy stealer. Such a prime example of the curse of sin in a fallen world.
Often I wake up thinking of the distance and the empty calendar ahead. Today, as I play my Christmas music, I'm fighting back a few tears. Maybe you're fighting for joy too. How can we reclaim the joy of this Advent season?
I've been surprised how our fall Bible study of the book of Revelation has helped. The angel's announcement of the first Advent, "He has come!" invites us into a story of great joy, but also great sorrow. An almost- divorce over an out of wedlock pregnancy, no room in the inn, Herod's slaughter of babies in his search to destroy Jesus, Simeon's prophecy that Jesus will cause the rising and falling of many and his postscript to Mary that "a sword will pierce her heart" certainly proved true. What a reflection of our own Covid Christmas–celebration fraught with sorrow.
But expanding our Advent celebration to Jesus' second advent taps into that our future sorrow-free joy. Jesus' second advent stands in stark contrast to his first. Consider how they are similar but wildly different, and how the second advent magnifies our joy by intensifying but then erasing sorrow:
At Jesus' first advent, one moment the sky is quiet, dark, spangled with stars. The night air is quiet, except for the occasional bleating of sheep. The next moment heaven opens and the radiant, glory of God pierces the dark and floods the field. A mighty angel materializes, and the shepherds shrink back in terror. "Fear not! Good news! Unto you is born a Savior, your Messiah! You will find him in a manger in Bethlehem."
Just as suddenly, the night sky is filled with myriads of angels bursting with praise, "Glory! Glory to God, and on earth peace!" And as suddenly as they appear, they disappear into heaven.
At Jesus' second advent, at one moment, armies roll into attack formation in the valley of Armageddon. The current world leader, kings, presidents, generals, captains, mighty men gather to fight the real mother of all battles. Suddenly, heaven opens, and a white horse comes plunging down, the armies of heaven sweep down behind him.
First, Jesus came as a sweet baby, entering our world from his mother's womb, nursing at her breast, wrapped in swaddling clothes.
Second, he will enter our world with eyes like fire, crown on his head, clothed in a robe dipped in his enemies' blood.
First, he came in extreme humility and vulnerability to a poor family, a carpenter's son. He had no form or comeliness that we should desire him. Or that the world would even notice him.
Second, he will come with a name written on his robe and on his thigh, "King of Kings and Lord of Lords." The world will not be able to miss him. "All the tribes of the earth will mourn, and they will see the Son of Man coming on the clouds of heaven with power and great glory."
First, his angels announced that he came to bring peace to all in whom he is well pleased, that is, all who would, like him, become vulnerable and humble themselves. He came to save us. We humble ourselves in repentance to receive his salvation as a free gift. To be reconciled to God the Father through the blood of his Son. To be forgiven of our sin because he who knew no sin was made sin in our place, so that we might become the righteousness of God.
Second, his angel will stand in the sun, calling all the birds of the air, "Come, gather for the great supper of God,  to eat the flesh of kings, the flesh of captains, the flesh of mighty men, the flesh of horses and their riders, and the flesh of all men, both free and slave, both small and great." To believers, the sight of Jesus' second coming will mean deliverance! Sheer 100% joy. He's come! It's true!! But to unbelievers it means time's up. Sheer terror. I thought it was a lie, but it's true!
First, he came as a servant to make things right by loving sacrifice, to bring his Kingdom, asking his followers to follow him in laying down their lives for others. To love as he loved. To partner with him in his redeeming love.
Second, after centuries of unbelievers resisting and refusing his love, he will come to make things right by judgment and war. The world's leader, a false Savior, along with his false prophet, will be captured and thrown alive into the lake of fire. "One little word shall fell them." The nations will be slain by the sword of the word of his mouth and he will rule them with a rod of iron.
First, Jesus came to persuade us to follow him, to become part of his Kingdom, where his rule holds sway. We must choose to follow him or not. Love and enjoy him or not.
Second, if we reject him and choose to follow our own way, rule in our own domain, we finally have our own way—separation from him. Only, sadly, we discover that we have no domain apart from what he has created. Anyone whose name is not written in the Lamb's book of life will spend eternity apart from God. Left with nothing. For eternity.
First, Jesus came to invite us to life to the full. To joy. But in a fallen world where people still choose sin and creation itself is broken and subjected to futility, our joy can never be complete. We are sorrowful, but always rejoicing. The major theme of joy is intertwined with the minor theme of loss, pain and sorrow.
But second, Jesus will come to make all things new. A new heaven. New earth. New home with him. No more sorrow or pain. No more sin as our hard, corrupted hearts will be transformed into new incorruptible, tender hearts. And our ancient enemy, Satan will be thrown into the lake of fire and tormented forever and ever.
Without the joy of Jesus' second advent, the joy of Jesus' first advent can be taken out by the plagues and losses of this world. But taken together, they fill our hearts with all the joy we can stand.
British pastor and hymn writer Isaac Watts understood this completely, and when we sing his famous hymn, "Joy to the World" we are celebrating the second advent as much as the first.
Joy to the world! the Lord is come;
Let earth receive her King;
Let every heart prepare him room,
And heaven and nature sing.
Joy to the world! the Saviour reigns;
Let men their songs employ;
While fields and floods, rocks, hills, and plains
Repeat the sounding joy.
No more let sins and sorrows grow,
Nor thorns infest the ground;
He comes to make His blessings flow
Far as the curse is found.
He rules the world with truth and grace,
And makes the nations prove
The glories of His righteousness,
And wonders of His love.
We rejoice this Christmas because we prepare room for Christ—who has come to indwell our hearts *and* who will come to rule this world! Banishing the curse of sin and ruling the nations with truth and grace.
Isn't that what we really long for?!
Our Savior coming to rule with the same grace poured out at the cross. Not "there-there-ing" us with shallow compassion and overlooking our "mistakes." But dignifying our voices and choices with real consequences. Then, in wondrous love, delivering us from their pain and loss by his precious blood.
Our King coming to rule as the Living Word of Truth, banishing all the lies. No more spin or using words to gain power and advantage. A king we can trust completely, ruling in power and glory and wanting us to share in his reign.
This Covid Christmas, may we, like Jesus, for all this joy set before us, endure the isolation, the distance, the chaos in great hope. We can fight for joy by grabbing poinsettias or baked goods and dropping them off to people who are hurting far more than we are. We can invite dear friends to Zoom a Christmas tea or holiday meal. Open gifts together. Even when it's cold we can invite friends to drop by for a Christmas "Happy Hour" around an outdoor fire to enjoy some hot chocolate before it gets too cold.
Above all we can cast all our cancelled trips, lonely meals, missed faces and corona fears upon him because he cares for us. We have no idea how much.
Taken from Luke 2, Revelation 19, Psalm 96 and 98