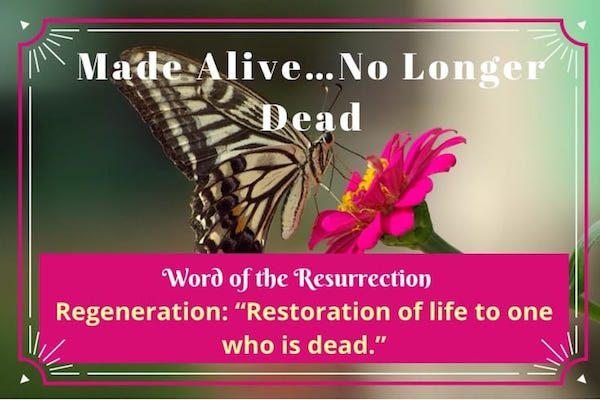 REGENERATION: Made Alive…No Longer Dead
Listen to this blog as a similar podcast:
Are you overwhelmed by failure, discouragement, and insecurity resulting from your attempts to live as a Christian by your inadequate human effort? Did someone promise you that your life would be a whole lot better if you just got saved, but you aren't seeing any difference? Do you keep trying to live "a Christian life," but your woefully inadequate human efforts leave you feeling defeated?
You might be like many Christians who have a lack of understanding of two vital truths: (1) Christ's finished work on the cross to secure your complete acceptance before God, and (2) "Christ in you" as the reality of daily Christian living.
You may have a fairly solid understanding of God's grace as it relates to your initial salvation experience. Your sins are forgiven, and you are going to heaven when you die. But if that's all you know, you will have an incomplete understanding of God's grace toward you and ignorance of the Holy Spirit's role in your ongoing life as a Christian.
Let me assure you once again of this truth. By your faith in Christ, you are completely accepted before God because of Christ's finished work on the cross. Done. No more need to feel insecure about that. My recent blogs have covered six direct results of the cross that restored your relationship with God permanently — Propitiation, Reconciliation, Redemption, Forgiveness, Justification, and Sanctification.
But, there is another very important thing that was restored to us that makes daily Christian living not only possible but also joyful. It was the reason Jesus had to rise again from the dead even though His death on the cross secured your complete forgiveness of sins. You needed something else. This blog will cover what Christ's resurrection did for us — REGENERATION.
What is regeneration?
The English word "regeneration" means simply a new birth, a new beginning, or a new order. Regeneration is often used to describe the restoration of a thing to its pristine state, as in the restoration of a piece of furniture or a car. In the New Testament, regeneration primarily refers to the restoration of spiritual life to one who is spiritually dead.
From the time sin entered into humanity's relationship with our Creator God, all humans have had a spiritual problem that can be compared to death caused by a fatal disease: (1) Sin ("the disease" Romans 3:23) and (2) Death ("result of the disease" Romans 6:23). Our twofold problem demanded a twofold solution:
1) For the problem of sin, every human has a need for forgiveness and righteousness. God's Answer: Christ's death on the cross. We can now be cured of the disease by faith in Christ's finished work on the cross (those 6 relationship changes).
2) For the problem of death, man needs regeneration (the restoration of life). God's Answer: Christ's resurrection. We can now be given life that is forever.
Did you know that all humans are born spiritually dead and are sinners by nature? As Paul wrote about our life before Christ in Ephesians 2:1-3, we were "dead…gratifying the cravings of our sinful nature and following its desires and thoughts (NIV)." Not a pretty picture, is it? As an unbeliever, your problem was not just that you were a sinner in need of forgiveness. You were dead and in need of life!
Jesus said that He came to give us life, abundant and full (John 10:10). In John 3:3-6, Jesus told Nicodemus that he had to be "born again." Everyone is born once in the flesh (physical birth), but salvation requires a new life-giving experience, being born of the Spirit. In John 5:24, Jesus declared that anyone who believes in Him is given this new life (born again), crossing over completely and permanently from death to life. Paul writes that we are made alive in Christ (Ephesians 2:5) and are a new creation from that moment onward (2 Corinthians 5:17).
Consider how a caterpillar transforms into a butterfly. Something totally changes. The butterfly doesn't look anything like the caterpillar that preceded it. In the same way, the Christian is not just a "forgiven caterpillar." She has been transformed into a "butter­fly." Her greatest daily need is, first, to grasp the freedom of God's acceptance through Christ and, second, to learn how to live in Christ to experience true and abundant life. Salvation is not just receiving some­thing we did not have before (i.e., forgiveness of sins). It is becoming someone we were not before!
Restoration of life by the indwelling Holy Spirit
But, how do we get this new life? In John 14:16-17, Jesus promised that God would give the Holy Spirit to us to be with us and in us forever. It is the Holy Spirit who makes our spirits alive through His presence.
As the Holy Spirit indwells us, He unites (fuses) us to Christ. We get this from Romans 6:5 which says, "For if we have become united with Him in the likeness of His death, we will certainly also be united in the likeness of HIs resurrection."
Resurrection brings life. And, this life of Christ is in you, dear believer. Paul describes this as Christ living in you, "Christ in you" (Colossians 1:27). We, who were once dead, are made alive by the indwelling Holy Spirit who unites you to Christ so that "Christ in you" is a fact of your new existence. It happens at the moment of salvation (Romans 8:9) and lasts forever. With the restoration of life begins a new adventure of learning how to live while abiding in Christ (making your home with Him) and living dependently upon Him to do anything of value. You are to live by faith; faith leads to dependency upon God.
This quote says it perfectly:
"Jesus Christ laid down His life for you…so that He could give His life to you…so that He could live His life through you." (Ian Thomas, The Saving Life of Christ))
Made alive…no longer dead
The restoration of life is God's solution to every human's state of spiritual death. The Spirit of God enters the human spirit and brings eternal life with Him. Because of God's great love for us, He takes humans like you and I who were once spiritually dead and makes us alive in Christ. It is His love that does this. It is His grace that gives this. It is His power that makes this happen. What a gift!
Dwell on the FACT that God's life is now indwelling you forever. You are alive in Christ. Christ is alive in you. Now you can enjoy the life given to you by Christ Himself as your power for daily Christian living. Through this life, you will experience freedom and joy. As you consider Christ's resurrection, thank God for His indescribable gift of life to you. And, consider all the benefits of having His life in you.
As Paul writes in Colossians 3:12, you are dearly loved!
The information about the 6 words of the cross and this word of the resurrection has been adapted from the daily devotional, Graceful Living Today, by Melanie Newton.
---
More Resources:
Word of the Cross #1 Propitiation: "God's holy wrath is fully satisfied."
Word of the Cross #2 Reconciliation: "Our relationship with God is restored."
Word of the Cross #3 Redemption: "Purchased out of bondage to sin."
Word of the Cross #4 Forgiveness: "Your guilt has been taken away."
Word of the Cross #5 Justification: "Declared righteous in God's eyes."
Word of the Cross #6 Sanctification: "Perfected…No Longer Flawed"
The Resurrection of Jesus—What It Really Means
Graceful Living Bible Study (read online)
Graceful Living Bible Study (download pdf)