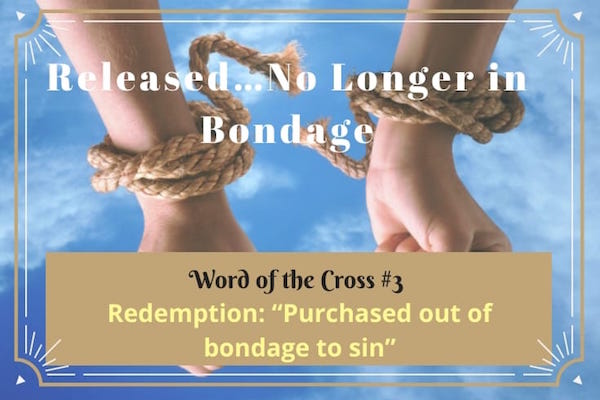 REDEMPTION: Released…No Longer in Bondage
Listen to this blog as a similar podcast:
Bondage. No one likes being in bondage. Whether it is to a person, a contract, a debt, or something controlling your life, bondage stinks. It stifles. It discourages. It makes you a slave of whatever is holding you "in chains." Every person who is in bondage longs to be released from those chains. Released.
Did you know that every human being born on this planet is born into bondage? I don't care how much money or status you have. You were born into bondage. Bondage to what? Colossians 1:13 calls it "the kingdom of darkness." Romans 6:15-18 describes it as being a "slave to sin." The slave master "sin" calls the shots. Obedience comes too easily. It's a trap. But, you are released from that trap the moment you trust in Jesus Christ. The Bible calls this "redemption." We sing songs about being redeemed. But, do we really understand what that means?
Six terms describe how our relationship with God is changed because of our faith in Jesus Christ—Propitiation, Reconciliation, Redemption, Forgiveness, Justification, and Sanctification. These 6 relationship changes are the direct result of Christ's finished work on the cross so they are often called "words of the cross." My recent blogs have covered Word of the Cross #1 Propitiation and #2 Reconciliation. This blog will cover #3 REDEMPTION.
What is redemption?
The concept of redemption refers to recovering ownership by paying a stipulated sum. Or, it can mean to set something or someone free from bondage by paying a ransom, such as for a kidnapped person or releasing a slave to become free. Either way, a price is paid.
Biblical redemption is based on an understanding of the pain of slavery—a common practice in the Roman Empire at the time. Nearly 50% of the people were slaves—1 out of every 2 men, women, and children! The readers of the New Testament were very familiar with the hopelessness of being owned by a slave master, the buying and selling associated with the slave market, and the only two ways out of the miserable cycle—either die or be bought by someone who would set you free. Jesus did that for us.
Jesus Christ set you free
Jesus declared that He came not to be served, but to serve and to give His life as a ransom for many (Mark 10:45). It is through Christ's blood (the purchase price) that we are redeemed. We are redeemed from the slavery of sin and from the empty way of life handed down to us by our forefathers.
Redemption represents an important change in our relationship with God. Before Christ, we were in a state of slavery to sin and to death (spiri­tual & physical). Biblical redemption means that we have been purchased by the blood of Christ out of slavery and released into freedom to serve God in obedience.
The life of slavery to sin leads to someone offering their bodies to impurity and ever-increasing wickedness, free from the control of righteousness with no benefits, only shame. The end result is death. The life of freedom leads to someone offering their bodies to God and His righteousness leading to holiness, lavished grace and eternal life. Their life is characterized by hearts under obedience to God.
Released…no longer in bondage
God chooses to redeem us. It is an extension of His love and His purpose for us.
God redeems us to rescue us from the dominion of darkness and bring us into the kingdom of the Son He loves (Colossians 1:13-14) where we have forgiveness of sins.
God redeems us from all wickedness to purify for Himself a people that are His very own, eager to do what is good (Titus 2:13-14).
God redeems men and women from every tribe, language, people, and nation (Revelation 5:9-10) to be a kingdom and priests to serve Him.
When God redeems you, you become the possession of a loving, merciful God and can live in the security of your freedom from bondage to sin. And, here's the best part. You have a new master now with greater power living inside of you—the Spirit of God Himself—who can give you freedom from any entrapping sin. Claim that freedom now. Choose to obey the Spirit inside you who will lead you and empower you to say "no" to sin.
Bask in the freedom
You CAN KNOW and live with confidence that you, as a believer, have been purchased by the blood of Christ out of slavery to sin and released into freedom as God's act of redemption. The third verse of In Christ Alone, illustrates redemption this way:
There in the ground His body lay; light of the world by darkness slain: Then bursting forth in glorious Day; up from the grave He rose again! And as He stands in victory
sin's curse has lost its grip on me
, For I am His and He is mine –
bought with the precious blood of Christ
.
Are you experiencing the freedom from slavery to sin in your life right now? If not, do you have confidence that you do not have to listen to the voice of your old slave master sin? You have been RELEASED…NO LONGER IN BONDAGE. Believe it, sister. Embrace it. Relish in it. Bask in it. Sing it,
"Redeemed how I love to proclaim it. Redeemed by the blood of the Lamb. Redeemed through His infinite mercy, His child and forever I am." (Fannie Crosby)
As Paul writes in Colossians 3:12, you are dearly loved!
The information about the 6 words of the cross and this word of the resurrection has been adapted from the daily devotional, Graceful Living Today, by Melanie Newton.
---
More Resources:
Word of the Cross #1 Propitiation: "God's holy wrath is fully satisfied."
Word of the Cross #2 Reconciliation: "Our relationship with God is restored."
Word of the Cross #3 Redemption: "Purchased out of bondage to sin."
Word of the Cross #4 Forgiveness: "Your guilt has been taken away."
Word of the Cross #5 Justification: "Declared righteous in God's eyes."
Word of the Cross #6 Sanctification: "Perfected…No Longer Flawed"
Graceful Living Bible Study (read online)
Graceful Living Bible Study (download pdf)