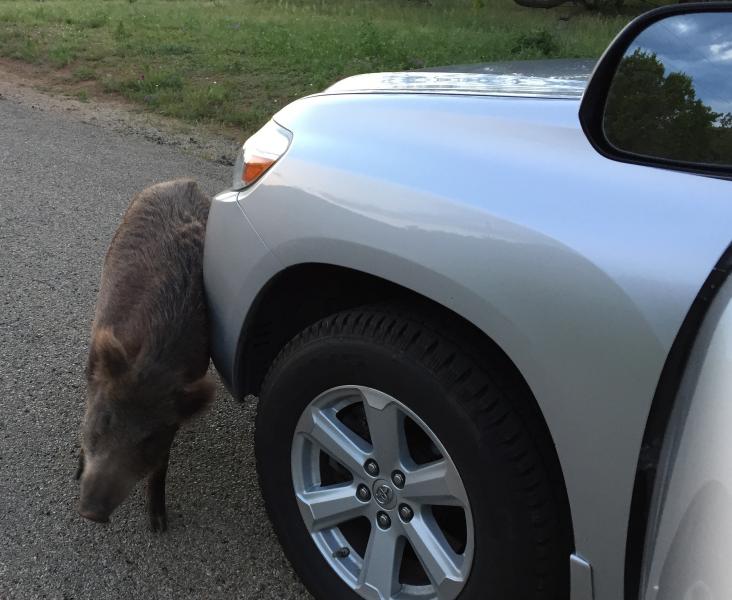 It is almost dusk on the Willow City loop at the height of bluebonnet season in the Texas Hill country when this adorable animal walks out of the brush several yards in front of our car. We stop the car to watch and admire him.
A brief thought flashes through my mind, "Oh, I kind of wish we had some property in the country so we could take our new friend home". The animal walks toward our car, rubs his nose on the bumper at which point my husband gets out of the car and snaps his picture. Getting back into the car my husband closes the car door and the animal walks up to the driver's side and looks up at us longingly.
As we drove away – we noticed out the back window that he is following our car walking behind us in the middle of the road. Out of curiosity we text the animal's picture to a friend, who has a PhD in Wild Life Management. Immediately and emphatically our friend texts back, "Run, run, run; get away as fast as you can; bad, bad, bad – feral hog!"
REALLY? How could this young animal be a true menace? He was so adorable. He looked at us so longingly. Feeling a little "citified" foolish at least now we had the facts.
Mature feral hogs can be as tall as 36 inches and weigh over 400 lbs. They've got environmentally destructive feeding habits and prolific breeding capabilities as young as 8-10 months. They can cause considerable damage to property. They carry diseases than can be transmitted to domestic livestock. They have poor eyesight but a keen sense of smell and hearing. Most likely the one we encountered on the Willow City Loop was a very young feral hog that has not yet grown his four tusks – two on the top and two on the bottom.
Knowing the truth about something totally shifts your perspective. What we admired as "cute" is really a menace and a nuisance. In this masquerade moment I could not help but make the comparison to the enemy of our souls whom Paul warns the Corinthians about – "Satan himself masquerades as an angel of light" (2 Corinthians 11:13-15). We can be fooled if we do not know the truth.
What is the truth about this enemy? Our enemy the devil is real. He is not a figment of folktales or just the host of Halloween. We need to recognize him for who he truly is and what our resources are to resist Him.
Jesus says "the devil is a murderer from the beginning; a liar and the father of lies" (John 8:42-45).
He is described as our adversary (1 Peter 5:8-9)"a roaring lion seeking someone to devour".
He is the ruler of darkness (Ephesians 6:12).
He is the "god of this world who blinds the minds of unbelievers" (2 Corinthians 4:4).
He is the tempter of Jesus in the desert (Matthew 4:1) and the tempter of us.
He wants to steal, kill and destroy our lives (John 10:10 a).
He is the "accuser of believers, before our God day and night" (Revelation 12:10).
He is a created being who wanted to be God (Isaiah 14:2-20). He said "I will make myself like the most high".

Can you imagine the chaos that was created by the prideful, foolish attempt of Satan to make himself like God? That he would so foolishly and arrogantly miss what God intended for him? What a tragedy. The truth still is that God is sovereign, more powerful than Satan. We have powerful resources and we know the devil's final end.
• We are in a spiritual battle; "our struggle is not against flesh and blood but against the powers of this dark world and against spiritual forces of evil in the heavenly realm." (Ephesians 6:10-18)
• "Greater is HE that is in you than he that is in the world" (1 John 4:4). We have an ally –the indwelling Holy Spirit. We are not alone to fight this battle.
• "The Lord is faithful and He will strengthen and protect you from the evil one." (2 Thessalonians 3:3)
• "They overcame him by the blood of the Lamb."(Revelation 12:11) The blood of Christ is a reminder of God's power to protect in persecution.
• "Submit yourselves to God. Resist the devil and he will flee from you." (James 4:7)
• "And the devil who deceived them was thrown into the lake of burning sulphur and will be tormented day and night." (Revelation 20: 10) We know that our enemy is already doomed. He is marking time until his final judgment.
Be informed. Be alert.Be ready to expose any masquerade of "feral hogs" in your life. http://tpwd.texas.gov/huntwild/wild/nuisance/feral_hog / http://feralhogs.tamu.edu/about/