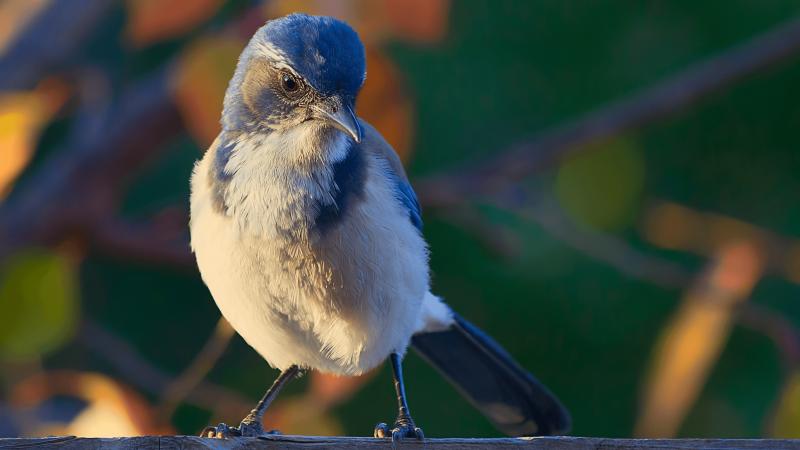 One Blue Bird- A Fable about a Sparrow and a Parakeet
First of a two part Series
Sitting in the backyard, five, brown sparrows bathed in the birdbath. They kept putting their heads under the water and splashing around. A bit later, a brightly- colored parakeet flew over to the sparrows. He attempted to get in the birdbath. The little sparrows chased him off. They chirped at him and flew at him. They didn't want him in the birdbath. Maybe the sparrows had a nest up in the tree, above where they were bathing. Or perhaps in their tiny bird minds, they noticed the parakeet didn't look like them. He looked different. His color was beautifully displayed in hues of blue and white on his body. He was unique. There weren't very many parakeets in the sparrow's backyard or even in their neighborhood. Maybe they chased him off because sparrows are territorial. Either way, the parakeet wasn't allowed to play in the bird bath with the sparrows.
While the blue parakeet looked a little different than that of the brown sparrows; he still continued to fly towards the bird bath, only to be chased off again. He surely would enjoy splashing in the cool, rippling water on this hot day. So again, he tried to fly onto the edge of the bird bath. And, again he was chased off. The parakeet looked at the sparrows and then at himself. He shook his head and said, "I can fly like you sparrows. I have wings like you sparrows. See…two!" And he waved one wing at them. Then he said, "I have two eyes and one beak like you sparrows." And he blinked his eyes and tapped the tree with his beak.
The sparrows just sat there with their beaks hanging agape, as parakeet continued, "I can chirp like you sparrows." And with that he let out a chirp. "I can feel the wind, sun and rain on me wee, little head like you sparrows." And he nodded his head at them. "I even have two little bird feet, like you sparrows." And he stomped his little, skinny legs. The only difference in me and you is that my body is covered in blue and white feathers and your bodies are covered in brown feathers." And he shook his feathers and puffed them up. He hung his head and barely looked up and said, "Why won't you let me into the cooling waters of the bird bath sparrows?"
The sparrows looked at each other, and chirped amongst themselves. Finally, one of the brown sparrows said, "Well it is true that the color of our feathers and the size of our wee, little bird bodies are the only differences. But, if we let you swim you will surely die."
"Die?" said parakeet. "Why on earth would I die?"
"Well," said sparrow, you are already blue from being cold!"
The moral of the story is that you don't know what it is like to be in someone else's feathers. So don't judge someone based on their color.
(You may have thought the sparrows were upset because the parakeet was a different color than them. And that they did not want to be with him because he didn't look like them. Often times, bi-racial children, teens and adults are treated like the beautiful parakeet, by people who act like those sparrows.)
What would have happened if the sparrows had understanding? What wrong assumptions wouldn't have been made about the parakeet?
Psalm 139:13New International Version (NIV)
13 For you created my inmost being;

you knit me together in my mother's womb.
We are fearfully and wonderfully made. God, Himself knit us together in our mother's wombs!
What does God say about the birds of the air and what does he say about us?
All the birds were created by God – the sparrows and the parakeets alike.
Even though the parakeet isn't a sparrow…he is still a bird.
Genesis 1:20-23(NIV) says,
20 And God said, "Let the water teem with living creatures, and let birds fly above the earth across the vault of the sky." 21 So God created the great creatures of the sea and every living thing with which the water teems and that moves about in it, according to their kinds, and every winged bird according to its kind. And God saw that it was good. 22 God blessed them and said, "Be fruitful and increase in number and fill the water in the seas, and let the birds increase on the earth." 23 And there was evening, and there was morning—the fifth day.
God is clear in His word what He desires of us.
We are to treat others as we would like to be treated.
In Luke 6:31 (NIV) we are told,
Do to others as you would have them do to you.
We are to love others as Christ himself has loved us.
In John 13:34-35 (NIV) it says, "A new command I give you: Love one another. As I have loved you, so you must love one another. By this everyone will know that you are my disciples, if you love one another."
We are to be peaceful and edify one another. Build one another up in Christ.
Romans 14:19 (NIV) says,
Let us therefore make every effort to do what leads to peace and to mutual edification.
We are to love one another. We are to be kind and patient. We are not to dishonor others.
In 1 Corinthians 13(NIV) it says,
13 If I speak in the tongues[a] of men or of angels, but do not have love, I am only a resounding gong or a clanging cymbal. 2 If I have the gift of prophecy and can fathom all mysteries and all knowledge, and if I have a faith that can move mountains, but do not have love, I am nothing. 3 If I give all I possess to the poor and give over my body to hardship that I may boast, but do not have love, I gain nothing.
4 Love is patient, love is kind. It does not envy, it does not boast, it is not proud. 5 It does not dishonor others, it is not self-seeking, it is not easily angered, it keeps no record of wrongs. 6 Love does not delight in evil but rejoices with the truth. 7 It always protects, always trusts, always hopes, always perseveres.
8 Love never fails. But where there are prophecies, they will cease; where there are tongues, they will be stilled; where there is knowledge, it will pass away. 9 For we know in part and we prophesy in part, 10 but when completeness comes, what is in part disappears. 11 When I was a child, I talked like a child, I thought like a child, I reasoned like a child. When I became a man, I put the ways of childhood behind me. 12 For now we see only a reflection as in a mirror; then we shall see face to face. Now I know in part; then I shall know fully, even as I am fully known.
13 And now these three remain: faith, hope and love. But the greatest of these is love.