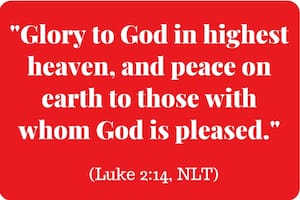 Peace on Earth to Those with Whom God Is Pleased
"Glory to God in highest heaven, and peace on earth to those with whom God is pleased." (Luke 2:14, NLT)
These are the words the host of angels declared to a band of shepherds right after an angel of the Lord announced the birth of Jesus in Bethlehem—the Savior, Christ the Lord. They began with the words, "Glory to God in the highest." Hundreds of years before this night, God promised to send the Christ, the anointed one who would be the deliverer they needed. The people lived with a sense of hope and expectation. Now, that promise is fulfilled! All heaven is giving God the glory. And, on earth—peace. But, what kind of peace? And, with whom?
Since the King James Version of the Bible came out in the 1600s, most people know the end of Luke 2:14 by the familiar words of the KJV translation, "And on earth peace, goodwill to men." Most Christmas carols include this translation. For years, I thought that Jesus came to bring peace on earth. It wasn't until I read Jesus' words in the gospels that I realized He did not come to bring peace on earth. And, modern translations of Luke 2:14 based on better understanding of the original Greek texts communicate that world peace was not promised by the angels. So, what did the angels really declare?
If you do a translation comparison of Luke 2:14, you'll see quite a variety of phrases used.
"Glory to God in the highest heaven, and on earth peace to those on whom his favor rests." (NIV)
"Glory to God in the highest, and on earth peace among people with whom he is pleased!" (NET)
"Glory to God in the highest, and on earth peace among those with whom he is pleased!" (ESV)
From the original words used by the angels, peace is assured only to those pleasing to God, who are the objects of His good pleasure, the ones who delight God and thus receive God's kindness. Those are the ones on whom His favor rests.
As my son John writes in Advent, a Daily Devotional, "The subject of peace comes up frequently around Christmastime. And often the message of the angels in Luke 2 is taken as a call for men and women to all be at peace with one another. But the angel did not call for world peace, nor peace between neighbors…The angels said peace will be among men with whom God is pleased. With whom is God pleased? Those who have placed their faith in His Son. We know…that God is not pleased with all men, in fact, all of mankind is in open rebellion against God. Only those who have placed faith in Jesus have found His peace."
It's all about what God is doing, not about human will. This is the good news. God came to earth to live as a human being, die for our sins, and rise again so that God could offer us His grace—His favor—wrapped up in the gospel. The deliverance isn't from enemies on all sides; it is from the greatest enemy SIN and its greatest consequence—death. Believe in Jesus, commit your life to Him rather than to your own way of living, and God will be pleased with you, His favor will rest on you. You will receive deliverance from sin and death. This is the Good News!
Looking at the translations above, some say peace to those and some say peace among those with whom God is pleased. That is confusing to me. Is it peace of God to all believers, or is it peace of God among all believers? Actually, it's both-and. We have peace with God because of our relationship with Christ, and we can have peace with each other as we let the peace of Christ rule in our hearts (Col. 3:15). It is because of Christ that we can live in peace with one another.
Because of God's promise fulfilled, we can join with the angels in declaring, "Glory to God in the highest." Because we accept the truth of God's promise fulfilled, we can truly experience the peace of God and knowing that it is directed "to those with whom He is pleased"—everyone who trusts in the Lord Jesus Christ. AMEN!
---
Related Resources:
God Works in the Background of Life
Satisfied…No Longer Angry at You
Heartbreak to Hope: Good News from Mark Bible Study (read online)
Heartbreak to Hope: Good News from Mark Bible Study (download pdf)