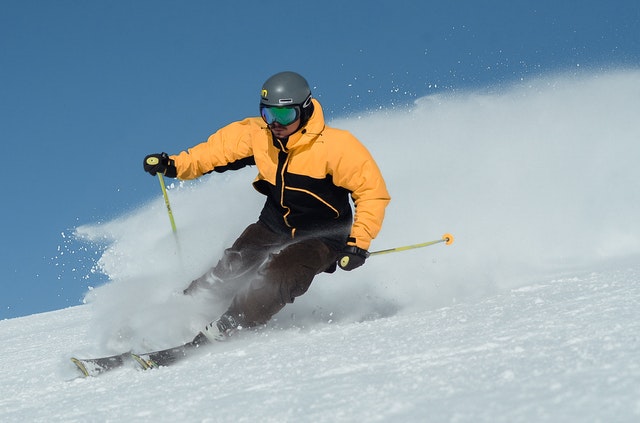 Pursue the Things of God with the Zeal of an Olympian
Along with millions of others, I watched the 2022 Winter Olympics. For three weeks I enjoyed sports that I have never previously shown much interest in and learned new terms like nose butter, dropping in, superpipe, one-foot-steps, and twizzles.
The olympics are beautiful because human exploits reveal the image of our creator God who made the athletes' bodies and minds to achieve incredible feats. I admired their skill and gasped at their daring speed and bravery, but it was their fortitude, ambition, endurance, and drive that really captured my attention.
Because I am nothing like them. Especially in the physical realm. I delay my exercise. I avoid sweating. And when I do take a walk or practice my yoga stretches, I do it with low tone. That's a nice way of saying I don't extend to the full range of motion with enthusiasm. I certainly don't possess the motivation and zeal to pursue physical feats like an olympian.
What is it that makes this super talented group of people push themselves in endless hours of repetitious practice while enduring pain, broken bones, multiple surgeries, and separation from family? What keeps them going toward their goal to win and take home a medal?
Is it the actual gold, silver, and bronze token that spurs them on? Of course not. It's the achievement, the adrenaline rush, the roar of the crowd, the thrill of success. It's proving to themselves, and to others, that they can do it. As one athlete said, "You have to want it."
But what about me? And the majority of other average people who will never achieve these things? Some aspire to this greatness but don't have the means. Others, like me, would rather sit on our couches and watch olympians fly through the air. We're happy just to cheer them on, be part of their team, and console them in times of defeat.
As I contemplate my lack of zeal for personal athletics, the example of the Apostle Paul comes to mind. His heart's desire and prayer was for the salvation of the Gentiles (Romans 10:1) which compelled him to preach the gospel (1 Corinthians 9:16). To this end, he labored and toiled, enduring constant danger, prison, sleeplessness, and shipwreck. He was flogged, beaten, stoned, and left to die (2 Corinthians 11:23–29). He disciplined his body and controlled it, so that he would not be disqualified from ministry (1 Corinthians 9:27).
As a follower of Jesus, I wonder if I have the same zeal for the things of God as Paul did. To what goal should I commit my energy, time, talents, and devotion?
Jesus answered this clearly:
Love the Lord your God with all your heart, with all your soul, and with all your mind. And love your neighbor as yourself.

Matthew 22:37, 39 emphasis mine
Athletes persevere to win a piece of hardware and receive worldly recognition. We do it for an eternal reward (1 Corinthians 9:25) and for God's fame and reputation (Isaiah 26:8).
While watching hours of athletic prowess will not motivate me to become physically fit, it does inspire me to purse spiritual fitness with the same zeal. I deeply desire to love God will all my being and to discipline my mind, soul, and body to follow him, thus enabling me to love others more effectively.
What about you? To that end, let's consider:
What is our zeal level for the things of God? For the task he has given us? It is our heart's desire that others be saved? That his fame and reputation grow?
Do we labor and toil, discipline our bodies, and endure hardship to complete the commission God has given us?
Do we love Jesus with all our heart, soul, and mind, with the same zeal, intensity, dedication, and perseverance that we see the olympians dedicating to their sport?
I have a way to go. Lord, help me.