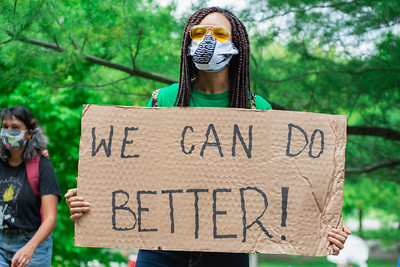 Racism: Where Do Whites Go from Here?
If public prayer meetings, sermons, and social media are any indication, a lot of white evangelicals are finally saying we need to go beyond observing, having conversations, and constantly analyzing semantics in the fight against racism. Yes, it's high time we got way more involved. So, "Where do we go from here"? In this two-part series (come back in two weeks), I'll lay out some baby steps.
First, we start with humility. As members of the majority group, we have a certain ignorance when it comes to knowing what it's like to live as a member of a minority population. I heard a trusted Black brother say this week, "People have to learn to crawl before they can learn to walk." And that is certainly true in this conversation. If we're just learning to toddle in understanding racism and its ramifications while our friends are entering their third Olympics, a little humility is in order.
Remember how annoyed we felt when it seemed like everybody talking about COVID-19 suddenly fancied themselves as arm-chair epidemiologists? We sure don't want to be "those people" when it comes to our approach to racism. Many of us are limited in our knowledge about something that others and their ancestors have spent years, decades, centuries experiencing, thinking about, praying about, talking about, learning about, studying, and advocating about. So, it's time for us to listen and let the real experts talk.
Next, we need to educate ourselves with a view to action. If we're going to listen to the experts, we need to know who they are. And we need to listen with a view to action—not just so we can be Monday-morning coaches, critiquing what everybody else did on Sunday. But so we can partner in working to make a more just world.
Now, we might think if we're going to educate ourselves, we should (lightbulb moment) ask our brothers and sisters of color to make some recommendations. And if you've already asked and your friends have provided that info, thank them profusely. But if you have not yet asked, please don't. We might think, "But asking a friend for book recommendations shows I care—that I'm interested!" And I seriously do believe you. I do. But…and this is a big but…we are just beginning to toddle, and most of our friends have been sprinting around the track on this issue for so long that they're exhausted. So, let's not ask them to do our work for us. We know how to Google. We can do some research. And some reading and viewing and listening.
And after we have read a few books and heard some podcasts and listened to some sermons, we can phone them up to say, "I think I might be at the beginning of beginning to see. Thank you for how much love and perseverance you have shown…."
I have gathered some resources, listed below. Most but not all of these feature Christian leaders. The ones with asterisks feature women. And remember, this is just the beginning.
We can watch films.
Time: The Kalief Browder Story
We can listen to podcasts.
Ashley Irons, guest of Rebecca Carrell and Liz Rodrigues on the Heartstrong Faith podcast*
Diverse Views on Multicultural Conversations
The Church's Role in Racial Reconciliation

A Biblical View of Racial Unity

Biblical Racial Reconciliation
We can watch and listen to messages and sermons.
Dr. Tony Evans, Senior Pastor of Oak Cliff Bible Fellowship Church
Dr. Eric Mason, Lead Pastor of Epiphany Fellowship Church*
Pastor Bryan Carter, Senior Pastor of Concord Church
"Rage and Racism in America" with Dr. Frank Glover
Aaron Armstrong, senior pastor of Dallas Bible Church

"Martin Luther King Jr. Chapel on Unity" with Pastor Trip Lee

"Learn to Cry: A Theology of Tears" with Rev. Vincent Parker

"Hispanos: Reluctantly Welcomed or an Unprecedented Opportunity" with Pastor Carlos Zazueta

"One New Humanity" with Dr. Barry Jones

"Overcoming Our Prejudices Through Christ" with Pastor Matt Chandler

"One New Man" with Pastor Bryan Loritts

"A Discussion on Racial Reconciliation" with the late Dr. Eddie Lane and Dr. Willie Peterson

"The King of Kings" with Dr. Richard Allen Farmer

"The History of the African-American Church" with Dr. Rick Rigsby
We can read books.
Here's a link to a recommended book list. The book that has probably helped me most is Robin D'Angelo's  White Fragility. It hit number one in Amazon sales recently, so apparently it has helped a lot of other folks, too.    
In the words of my friend Ryan Holmes, co-producer and co-host of the We Talk Different* podcast (also a life-changer for me), "The emphasis for us needs to be placed on listening. We need to listen to other voices, other experiences, other ways of navigating the world. Listen, listen, and listen some more." We do all this first. So let us begin to begin by humbling ourselves and trying to really understand. For Jesus's sake, Amen. 
*Featuring women
Photo by Jason Hargrove. Some rights reserved.