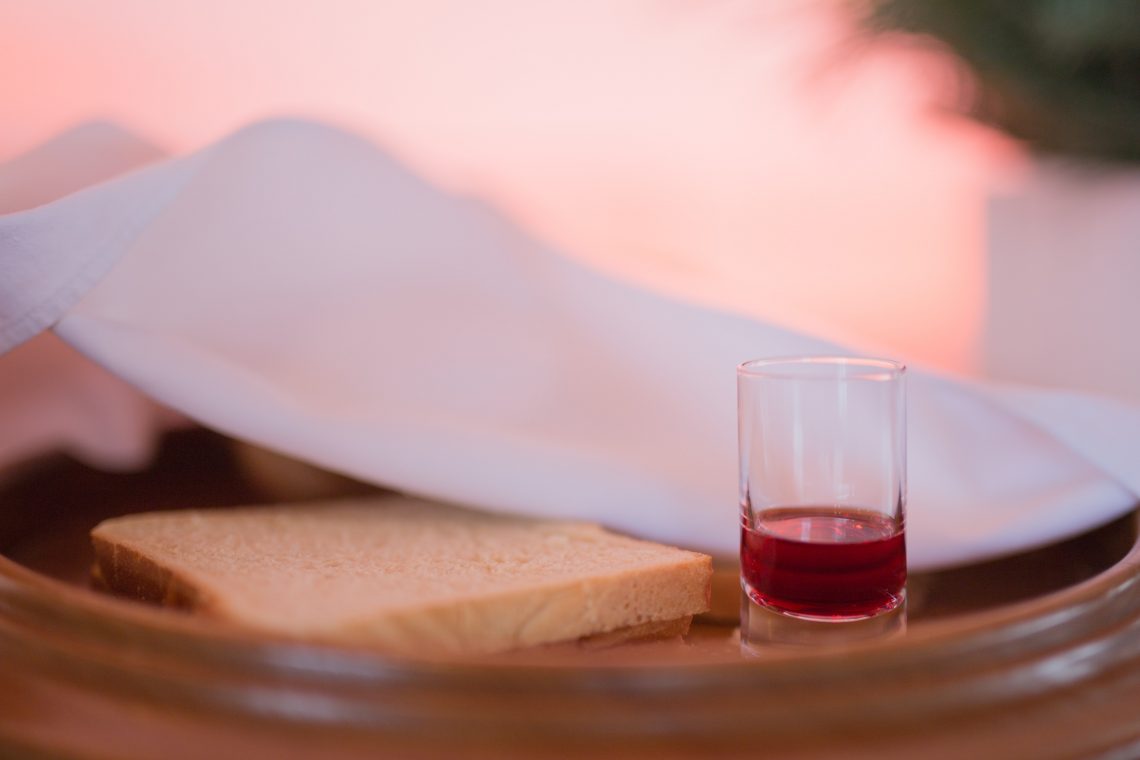 It was a no good, rotten Sunday.
My husband and I both overslept, resulting in a thrown-together breakfast. My daughter refused to nurse. My son instantaneously despised his church shoes. No one got coffee. The car ride to church resembled a chaotic symphony of yawns, bickering and tears. We arrived at church with forced smiles.
As we grabbed seats in the last row, I glanced to the front of the sanctuary, and my stomach dropped. There it stood–a pristine table of bread and juice. I sighed, attempting to curb my rotten attitude, while inwardly thinking, "Of course, communion would be today."
I used to love communion Sundays–a day in which the church pauses to partake of the bread and the cup, symbols of the broken body and shed blood of Christ. A day set aside to follow the tradition established by our Savior on the night in which he was betrayed (Lk 22:14-20, Mk 14:22-26, Mt 26:26-30). I cherished these Sundays and the hushed sanctuary full of reflection and peace. On this no good, rotten Sunday, however, reflection and peace failed to be found.
Service began, and the morning remained a challenge. My two month old projectile vomited all over the church chairs. My two year old's church shoes remained his rival. Our parental patience waned. Sin abounded.
With my son and his church shoes safely delivered to his blessed Sunday School teachers, I sat in hopes of hearing five minutes of the pastor's sermon and attempt to prepare my heart for what was to come. Per usual, however, my infant daughter chose that moment to scream pangs of hunger.
I opened the door to the church's nursing mother's room (a.k.a. the cry room) and pulled out a bottle. Within moments, another mom and her one year old joined us, and then another. As our children played with toys and fussed, we tried to listen to the pastor's sermon broadcasted onto a TV. But, an upset belly (cue the projectile vomiting), and tantrums over the pretend phone made hearing much of anything difficult.
I remember nothing about the pastor's sermon except, "Let's prepare our hearts for the Lord's table." My stomach dropped again. Hidden away in a cry room with a fussy baby and squabbling toddlers, I felt overwhelmed and messy. How could I prepare my heart for anything amid such chaos?
A quiet knock came to the door, and a small crack appeared. A gray haired gentleman peeked through with a smile and offered, "Would you ladies like to partake in communion?"
My initial thought was, "How?" The screams and squabbles in the cry room seemed to be the antithesis of the sacramental standard of a perfect table cloth and a quiet-as-a-mouse sanctuary. I chided myself however, and instead said, "Please."
I grabbed the wafer and tried to listen to the pastor say, "This is my body which is broken for you, this do in remembrance of me" (1 Cor 11:24). But, I failed to focus, as I gently bounced my fussy infant, and tossed the bread into my mouth.
I saw Pastor raise the cup, and from memory I mentally quoted, "This cup is the new covenant in my blood, do this, as often as you drink it, in remembrance of me" (1 Cor 11:25). I struggled to balance the cup without spilling any, but to no avail. Just as I took a sip, a kiddo crashed into my leg, and the remaining juice spilled onto my pants.
Some would say that communion in that room was irreverent and disrespectful. How could I appropriately partake "in remembrance of me" amid the multi-tasking, and stained pants?
All too often the church creates an environment of manufactured reverence around the Lord's Table, and leaves little room for the messy, loud or broken things of our lives. We walk into the sanctuary believing our lives must reflect the pretty lace tablecloth, and not the messy custody battle, loud voices of anxiety we attempt to silence, or the broken relationships that define our daily lives. We come into the hushed room concealing all the components of our lives that fail to represent a man-made model of holiness.
When we pause and reflect on the actual events that bring us the Lord's Table, we see nothing pristine or peaceful. Instead, we find betrayal and brutality, tears and torment, mockery and murder.
Did men not humiliate Christ when they forced him to stand naked? (Matt 27:31)
Did men not strike Christ's head, and smash thorns onto his brow? (Matt 27:30, Mk 15:17)
Did men not mock and belittle Christ with their name calling? (Mk 15:18)
Did men not blindfold and beat Christ? (Lk 22:63-64)
Did men not squabble at Christ's feet over who would get his garments? (Matt 27:35)
Did women not weep while they watched his slow death? (Matt 27:55, Mk 15:40, Lk 23:27)
Did Christ's blood not spill from his wounds for our salvation? (Heb 9:22)
Yes. To all these questions and more, yes.
As we come to the Lord's Table, we must remember the depth of God's love for those who bear his image, and the sin that separates us from him (Rom 5:6-8). We must remember the moments of agony and torture Christ endured on our behalf to secure our freedom. We must remember the brokenness and chaos of not only our lives, but of the world, and our great need for a Savior. My morning of spit-up and squabbling expertly demonstrated this to me.
As a church, we gather around the Lord's Table to rest in the truth of what the bread and cup symbolize. We gather to proclaim the redemption God's children find because of Christ's broken body and shed blood (Rom 5:9-10). We gather to embrace the hope this table provides "until he comes" (1 Cor 11:26). When Christ returns, messiness will find order. Brutality will give way to peace. Brokenness will be made whole. We will forever be with the Lord unhindered by the messy, loud or broken things of our lives and this world.
Communion Sunday began in a no good, rotten way. Among the overwhelming chaos of the cry room, however, I found a place that more accurately depicted the reason for the Lord's Table than any hushed sanctuary ever could. My Redeemer met me amid the messiness of my day, as he does everyday.