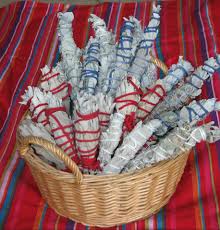 Should Christians Burn Sage?
Smudging, the burning of bundled sage, is an indigenous practice that has been around for centuries. Various people groups throughout history have used this for medicinal and ceremonial purposes. The indigenous beauty blogger, Bianca Millar, says she and her husband burn sage along with other herbs to "thank the Creator for the new day and send up our prayers." Burning sage is also used by herbalists or alternative healers. Claretha Yeager, an Acupuncturist and reiki master based in Chicago says she frequently uses smudging—or burning sage—to help rid her patients of negative emotions. She claims that sage smoke unburdens people of their negative energy to feel better. Burning sage has become a major trend available at popular stores such as Etsy, Urban Outfitters, Free People. Yet the question remains should Christians entertain smudging?
With its rise in popularity it's not uncommon to see believers on social media burning sage bundles often referred to as smudge sticks. However when we dig into scripture we find that the practice of burning sage does not align with God's authoritative Word.
The purpose of burning sage defeats the purpose of Christ.
Burning Sage is said to alter the spiritual environment around a person or place. While the scripture confirms that we exist in a physical world that interacts with an unseen spiritual world, it also prescribes how we are to defeat evil spirits: in Christ, not by burning a natural element.
Ephesians 6:10-12 tells us, "Finally, be strong in the Lord and in the strength of His might. Put on the full armor of God, so that you will be able to stand firm against the schemes of the devil. For our struggle is not against flesh and blood, but against the rulers, against the powers, against the world forces of this darkness, against the spiritual forces of wickedness in the heavenly places."
This scripture points out that the only way we battle in this spiritual realm is through alignment with the Lord to stand against the schemes of the devil. The concept of manipulating the spiritual realm through any other means removes Christ from the equation. If burning sage rids one of evil spirits, then it is our human reliance that does the work, not our reliance on God. Scripture is clear that apart from Christ we can do nothing (John 15:5). He is the source of any power we have in spiritual warfare.
Christians are not to incorporate pagan traditions into our faith in Christ.
Paul warns Christians to not adapt strange philosophies: "Therefore, just as you received Christ Jesus as Lord, continue to live your lives in him, rooted and built up in him and firm in your faith just as you were taught, and overflowing with thankfulness. Be careful not to allow anyone to captivate you through an empty, deceitful philosophy that is according to human traditions and the elemental spirits of the world, and not according to Christ." Colossians 2:6-8 (Also see Deuteronomy 12:30-32)
Burning sage is associated with witchcraft or divination which is abhorrent to our God.
While the intent behind smudging may not seem sinister, any practice, prayer or worship offered up to false gods stands in opposition to Christ. It should also be noted that historians believe burning of sage was used by witches in certain parts of Europe. The scripture stands firm against any practice of witchcraft as seen below.
"Blessed are those who wash their robes so they can have access to the tree of life and can enter into the city by the gates. Outside are the dogs and the sorcerers and the sexually immoral, and the murderers, and the idolaters and everyone who loves and practices falsehood!" Revelation 22:14-15
"When you enter the land the Lord your God is giving you, you must not learn the abhorrent practices of those nations. There must never be found among you anyone who sacrifices his son or daughter in the fire, anyone who practices divination, an omen reader, a soothsayer, a sorcerer, one who casts spells, one who conjures up spirits, a practitioner of the occult, or a necromancer. Whoever does these things is abhorrent to the Lord, and because of these detestable things the Lord your God is about to drive them out from before you." Deuteronomy 18:9-12
Some falsely claim that burning of sage and other secular rituals are promoted in scripture and used in Old Testament worship.
Many confuse the act of burning incense in the Old Testament and smudging. However, the two are not the same. Smudging, although sometimes associated with prayer (not offered to our Triune God of the Bible), is also used to ward off negative spirits or energy. By contrast, the burning of incense in the Bible was seen as a consecrated offering unto the Lord, and an act of worship and prayer. (Exodus 30:7-9)
Dr. Tom Constable describes the symbolism behind the incense offering. "Both [the morning and evening offering] were demonstrations of constant uninterrupted devotion to God. Students of Exodus have almost universally recognized the incense offered as a symbol of prayer that ascends to God (cf. Rev. 5:8). It was a sweet aroma in His nostrils and was essential to the maintenance of the divine-human relationship."
Furthermore, the offering of incense to the Lord is no longer mandated under the covering of our new and better high priest who is Jesus. (Hebrews 8:6)
It is precisely our new covenant relationship with God that empowers us to have no need for contrived methods to ward off spirits, cleanse our aura, or align our chakra. We are indwelled with the Holy Spirit, the same power who raised Christ from the dead. (Romans 8:11) We have already been made new and cleansed of iniquity. (2 Corinthians 5:17) We have been set apart and commissioned for the work of the Kingdom. (Ephesians 2:10) All of this work is complete in us due to Christ's sacrifice on the Cross.
Personally, I love the smell of sage! I even have a Shampoo that is infused with sage extract. While not much has been done to link aromatic sage to health benefits the smell alone may have a calming effect on the body much like lavender. I would not be opposed to using sage oil or diffusing it for this purpose. However, the addition of spiritual benefit to the practice of burning sage is not biblical and therefore should be abandoned by Christians.
Scripture tells us, "For though we walk in the flesh, we do not war according to the flesh, for the weapons of our warfare are not of the flesh, but divinely powerful for the destruction of fortresses. We are destroying speculations and every lofty thing raised up against the knowledge of God, and we are taking every thought captive to the obedience of Christ, and we are ready to punish all disobedience, whenever your obedience is complete." (2 Corinthians 10:3-6)