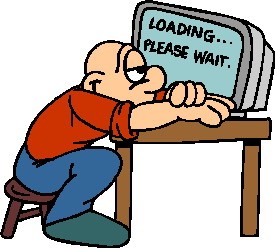 Have you set some New Year Resolutions? How long will you persevere before giving up and returning to the old habits? If you are like me, you have a life time of unfulfilled resolutions and only a few that you actually accomplished. I think often that life is a journey. And when you set out on a journey the one thing that you know for sure is that there will be a period of waiting. There is no, "Beam me up Scotty!" We are all slowly traveling toward our Heavenly destination. And no matter how impatient we are to get there. Even as we progress toward our destination we have a waiting that happens before we finally get there.
"Are we there yet?" How many times did I ask that question as a child as we drove from OK to IN to visit my grandparents? How many times did my girls ask that question as we drove from one supporting church to the next on a furlough trek across the states? We all want to know when we will get there. Children especially struggle with the waiting that it takes as they ride along in the back seat. They struggle with the fact that they don't know where they are. They are confused by how long an hour is when an hour in the car seems so much longer than an hour playing with their friends. They aren't in control. They aren't dealing with the traffic, the speed limit, the directions. Without any real part in the journey they easily get bored and question the necessity of the trip let alone the information that is given to them.
How like children we are as we journey through this life toward our heavenly destination. We easily get bored and want to be the one in control. We doubt the information God's Word, our road map, gives us. We look for shortcuts and make suggestions that soon turn into demands. We are often the child in the back seat that throws a temper tantrum wanting the journey to just end.
The older I get the more I struggle with the waiting part of this Heavenly journey. The already but not yet becomes tedious and sometimes overwhelming. The more I struggle the more I realize that I have taken my mind off the destination and have focused on the discomfort of the journey.
Nothing is free. Everything we get for free costs somebody else. Jesus paid the price for us to be able to go to Heaven but there is a personal price as well on this journey. We have to wait to get there. Waiting is never easy not matter how old we get. Yet the Bible does have some things to say about waiting. It would be an amazing help to our children if they could learn earlier rather than later the skill of waiting well.
WHAT GOD HAS TO SAY ABOUT WAITING:
It is a command: Psalm 37:7 Waitpatiently for the Lord! Wait confidently for him!
It is exampled for us: Psalm 42:5 Waitfor God! For I will again give thanks to my God for his saving intervention.
It is a decision: Psalm 62:5 Patiently wait for God alone, my soul! For he is the one who gives me confidence.
It pleases God: Psalm 147:11 The Lord takes delight in his faithful followers, and in those who wait for his loyal love.
It is the Christian alternative: Proverbs 20:22 Do not say, "I will pay back evil!" Wait for the Lord, so that he may vindicate you.
It is a process of prayer: Isaiah 33:2 Lord, be merciful to us! We wait for you. Give us strength each morning! Deliver us when distress comes.
It is a promise: Isaiah 40:31 But those who wait for the Lord's help find renewed strength; they rise up as if they had eagles' wings, they run without growing weary, they walk without getting tired.
It is our hope: Isaiah 64:4 Since ancient times no one has heard or perceived, no eye has seen any God besides you, who intervenes for those who wait for him.
It is the Christian lifestyle: Lamentations 3:26 It is good to wait patiently for deliverance from the Lord.
It is the Christian daily habit: Micah 7:7 But I will keep watching for the Lord; I will wait for the God who delivers me. My God will hear my lament.
It does have an end: Habakkuk 2:3 For the message is a witness to what is decreed; it gives reliable testimony about how matters will turn out. Even if the message is not fulfilled right away, wait patiently; for it will certainly come to pass—it will not arrive late.
All of creation has to wait: Romans 8:19 For the creation eagerly waits for the revelation of the sons of God.
How to wait: Romans 8:25 But if we hope for what we do not see, we eagerly wait for it with endurance.
God provides all we need to wait well: 1 Corinthians 1:7 so that you do not lack any spiritual gift as you wait for the revelation of our Lord Jesus Christ.
What not to d while we wait: 1 Corinthians 4:5 So then, do not judge anything before the time. Wait until the Lord comes. He will bring to light the hidden things of darkness and reveal the motives of hearts. Then each will receive recognition from God.
What we are waiting for: Titus 2:13 as we wait for the happy fulfillment of our hope in the glorious appearing of our great God and Savior, Jesus Christ.
Jesus also waits: Hebrews 10:13 where he is now waiting until his enemies are made a footstool for his feet.
Even God waited: 1 Peter 3:20after they were disobedient long ago when God patiently waited in the days of Noah as an ark was being constructed. In the ark a few, that is eight souls, were delivered through water.
Know what we are waiting for: 2 Peter 3:13 But, according to his promise, we are waiting for new heavens and a new earth, in which righteousness truly resides.
What to do while we wait: 2 Peter 3:14 Therefore, dear friends, since you are waiting for these things, strive to be found at peace, without spot or blemish, when you come into his presence.