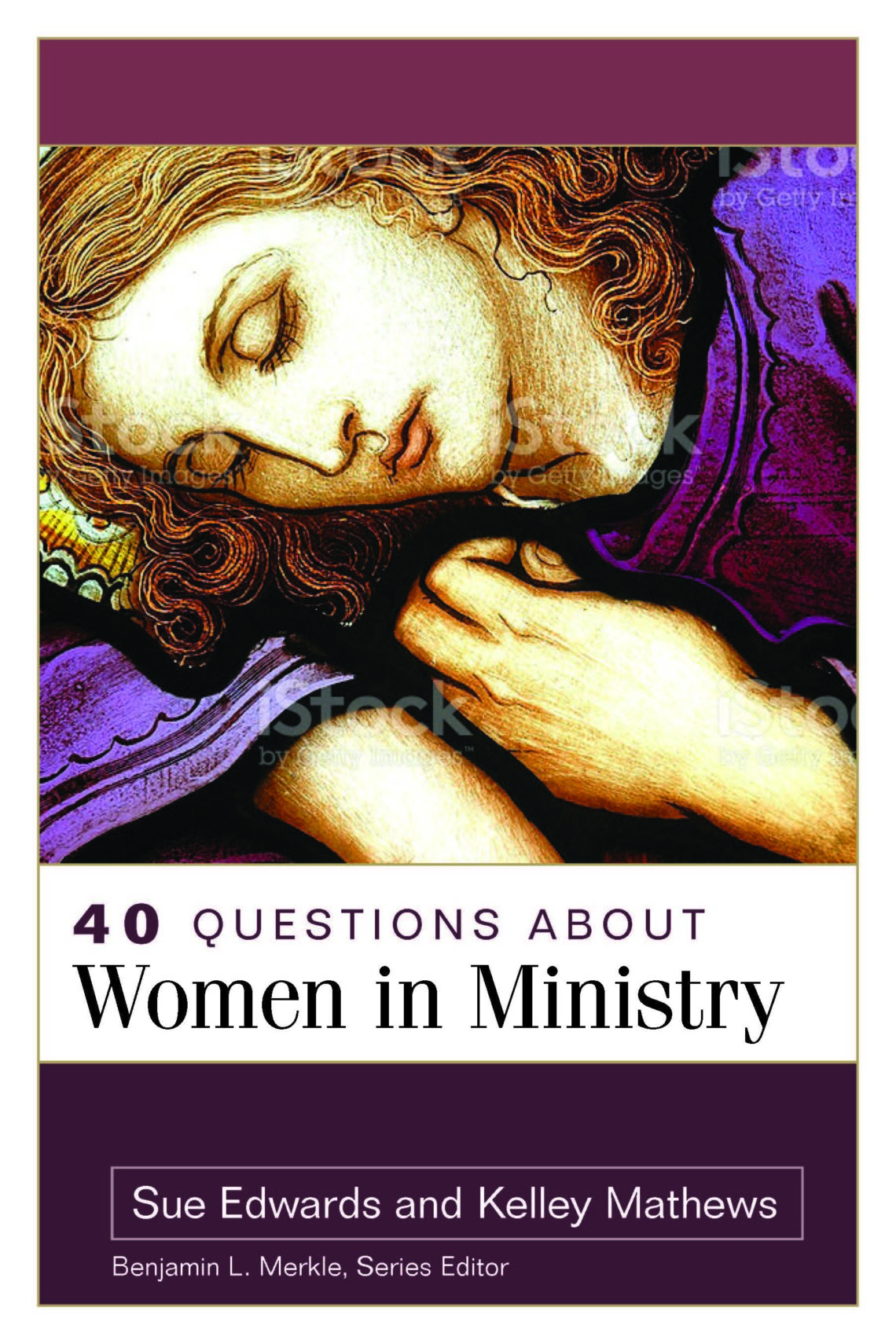 What Does It Mean That God Is Imaged as Both Male and Female? 
The following article is excerpted from a forthcoming book authored by Dr. Sue Edwards and myself. 40 Questions about Women in Ministry offers answers to common questions related to women—what does the Bible say and how do we apply its teaching in home, church, work, and beyond? We answer those questions by showing readers how scholars on each side of the debate (for it is quite a debate) come to their conclusions. We aren't after telling you what to think as much as showing you how to think through each question.
Here, we explore perspectives on the imago dei in women and men (footnotes have been omitted for ease of reading). The book releases in January!
~~~~
Are women made in the image of God in the same way men are, and how does the answer influence the discussion on women's place in ministry? The concept of humans made in God's image first appears in Scripture in Genesis 1:26–27:  
Then God said, "Let us make mankind in our image, in our likeness, so that they may rule over the fish in the sea and the birds in the sky, over the livestock and all the wild animals, and over all the creatures that move along the ground."
So God created mankind in his own image, in the image of God he created them; male and female he created them.
Then God evaluated his creation of man and woman and declared that it was not just "good," the words he used about the rest of creation, but "very good" (1:31). He assigned a special worth and value to those he made in his own image that he did not ascribe to anything else.
"Imaged" Descriptively
"Descriptively, to bear God's image means to bear God's likeness," writes Ali Zimmerman. Jen Wilkin elaborates by listing God's incommunicable attributes, which God alone possesses, and his communicable attributes, which human beings also have the potential to possess:
Incommunicable: infinite, incomprehensible, self-existent, eternal, immutable, omnipresent, omniscient, omnipotent, and sovereign.
Communicable: holy, loving, just, good, merciful, gracious, faithful, truthful, patient, and wise.
The apostle Paul assured Christians that it's possible and expected for men and women to reflect God's communicable attributes in the following passages:
Do not lie to each other, since you have taken off your old self with its practices and have put on the new self, which is being renewed in knowledge in the image of its Creator. Here there is no Gentile or Jew, circumcised or uncircumcised, barbarian, Scythian, slave or free, but Christ is all, and is in all. (Col. 3:9–11)
And we all, with unveiled faces reflecting the glory of the Lord, are being transformed into the same image from one degree of glory to another, which is from the Lord, who is the Spirit. (2 Cor. 3:18 NET)
For those God foreknew he also predestined to be conformed to the image of his Son, that he might be the firstborn among many brothers and sisters. (Rom. 8:29)
At the fall, however, sin hindered the potential for humans to reflect God's character well. But Jesus came to redeem us from our sin and to model the image of God to us, challenging us to become more and more like him as we grow in our faith.
The Son is the image of the invisible God. . . . Once you were alienated from God and enemies in your minds because of your evil behavior. But now he has reconciled you by Christ's physical body through death to present you holy in his sight . . . if you continue in your faith, established and firm, and do not move from the hope held out in the gospel. (Col. 1:15, 21–23)
So, God desires that both Christian men and women look more like the image of Jesus as they mature in their faith. But there's more.
"Imaged" Functionally
Zimmerman continues, "Functionally, it [bearing the image of God] means to represent Him and to rule on His behalf." Genesis 1:26 and 27 clearly call both men and women to be his representatives and to rule over the rest of his creation. Nothing in the text infers that God gives this responsibility differently to men than to women. What is God actually asking men and women to do?
J. Richard Middleton argues that God is delegating rule over the earth and its creatures to human beings created in his image. But to understand the phrase "image of God" (in the Hebrew, tsalem elohim), we must understand what that phrase meant to people in the ancient world.
The image (eikon) of a god was a statue placed in a temple, and people believed that the deity they worshipped somehow channeled his or her power and presence through the statue to the worshippers. The primary function of an image, therefore, is mediation.
The first command God gave his followers was not to make any carved images of him like the pagans made of their gods, and for good reason. Middleton contends that this is because men and women are the "authorized mediators of God's presence," and "it is the human task to fill the earth not just with progeny but ultimately with God's presence, a task accomplished by faithful representation of the divine King, who rules from heaven."
Thus, the creation of men and women as imago Dei in Genesis 1 means that God's people are mediating divine presence from heaven to earth. This responsibility isn't automatic but is missional because it can be furthered or hindered by how men and women exercise their delegated authority on behalf of Almighty God.
In his book Cultural Intelligence, Living for God in a Diverse, Pluralistic World, Darrell Bock writes that this mission has never been more important than it is today:
Still, none of these challenges or changes alters the need for the church to image God in the world. That is the assignment God gave those he calls to him. It is why the church bears the description "the body of Christ." We are called to be an incarnation of God's presence in the world, his audio-visual in a unique set of individuals and a special community. How we engage in showing God's grace and character matters.
Divergent Views
Traditional View
For centuries, theologians taught that women were not made in the image of God in the same way as men. For example, Augustine states, "The woman together with her own husband is the image of God, so that that whole substance may be one image; but when she is referred separately to her quality of help-meet, which regards the woman herself alone, then she is not the image of God; but as regards the man alone, he is the image of God as fully and completely as when the woman too is joined with him in one."
In the fifth century, Theodoret of Cyrus, bishop of Cyprus and influential theologian of the School of Antioch, saw the creation order as grounds for women's inferiority. In the seventeenth century, English Baptist pastor and theologian John Gill explained his view of Genesis 1:26–27:
Man was first originally and immediately the image and glory of God, the woman only secondarily and mediately through man. The man is more perfectly and conspicuously the image and glory of God, on account of his more extensive dominion and authority.
Hierarchs
Wayne Grudem admits that men and women are "equal in value and dignity" and that "to be in the image of God is an incredible privilege." However, Grudem also argues that women do not reflect God's image related to authority in the way that men do, based on the authority differences in the Trinity, nor are both men and women needed to reflect the full expression of the image of God.
Thomas Finley makes a similar argument. He insists that God created both men and women to bear God's image but states that "in his headship man images God in a way that woman does not. Woman is the 'glory' of man in responding to his headship even as man is the 'glory of God' in responding to His headship." Then he cites Proverbs 12:4, "A wife of noble character is her husband's crown, but a disgraceful wife is like decay in his bones."
Heterarchs
Aída Besançon Spencer claims that "the complete image of God will only be manifested in its full expression when men and women stand side by side in the church" and that both "men and women leaders are needed to fully reflect the image of God." Also, if we want to show the world what God's image looks like, as well as helping both men and women to mature into God's image, Spencer says, we must have both men and women modeling all the aspects of God's image. Philip Payne writes: 
God's image is not restricted to the male [in Genesis 1:26–27] nor does the text imply any difference between the image of God in man and woman. . . . Nothing in the first chapter of Genesis grants man priority in status or authority over woman. Genesis 1–3 consistently depicts the unity of the man and the woman as equal partners, not woman under man.
He goes on to offer support from the New Testament:
All believers are created in God's image: their new self in Christ is "being renewed in knowledge in the image of its Creator" (Colossians 3:10). In Colossians 2:10 and 11, he affirms that all Christians, female as well as male, "have this fullness [of the Godhead] in Christ . . . in whom you were also circumcised." Paul depicts females as . . . being circumcised and males as the bride of Christ (Ephesians 5:22–27) because their gender is irrelevant to their being in the image of God and their being in Christ.
Summary
Being made in the image of God means to reflect his likeness, to represent him on the earth, and to rule over his creation. Throughout history, many leaders taught that women were not made in the image of God in the same way that men were. Today, many hierarchs argue that both men and women bear that image except related to authority, and that the Bible teaches that woman is the glory of man, particularly related to their relationship in marriage. Heterarchs counter that both men and women bear the image of God, and both are needed to fully reflect that image; thus, for Christian ministry to flourish, both are needed working side by side.
Wherever you land in regard to this beautiful picture of God creating all of us in his image, we hope you will agree with Elizabeth Garn in this related article. She concludes:
This is a beautiful call to imitate the creative work God himself accomplished in creation. It's about  being  who he created you to be. Filling the earth is about filling the empty spaces with beauty and using your gifts and talents to show the world the creative nature of its God. Having dominion is about bringing order—ordered hearts, ordered relationships, ordered businesses, ordered homes—out of chaos. We must know him, be with him, and rest in him if we are going to reflect him to the world.