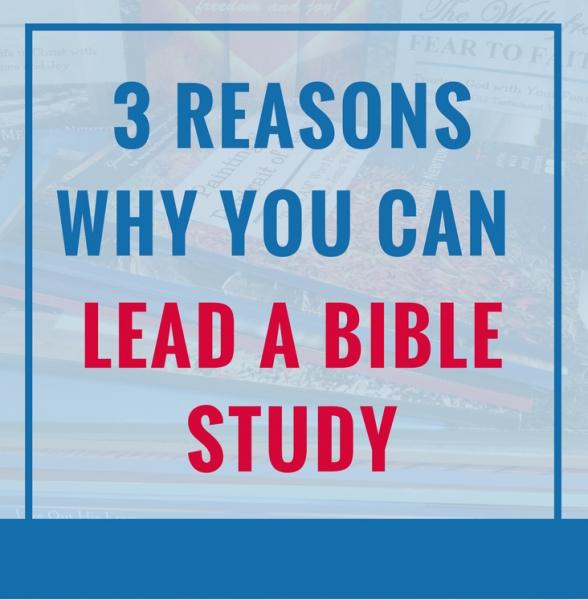 3 Reasons Why You Can Lead a Bible Study
Is Jesus prompting you to lead a Bible Study but you don't know how to start?
Are you afraid that you don't know enough of the Bible to lead a Bible Study for a group?
Does the thought of directing a discussion make your knees tremble?
Did you know that everyone feels inadequate when they start out?
You are not alone. I've been where you are. Thankfully, Jesus took me beyond my insecurities. He'll do the same for you.
Where It Began
I remember being a young Christian woman who was just learning how to dive into the Bible and find all its treasures. I was learning so much about Jesus that I wanted to share that learning experience with others. But, I didn't know how.
I tried a few small study guides and just basically read through them with a group of friends. Then, I joined an organized women's Bible Study where I was learning so much from my personal study, but the discussion leaders just had us go around the circle reading and answering the questions. It was not very enthusiastic, either!
I knew there had to be a better way to make the Bible come alive for people so they would want to soak it up as much as I wanted to do. Sharing what you are learning from your personal Bible study should be fun, not boring! After all, it is God's words to us so that we can know His immense love for us more and more.
Women's Bible Study Discussion Should Be Joyful and Fun!
Fast forward a few years. We were led by the Lord to a church that had a fledgling women's Bible Study going. The group wrote their own studies so they were invested in them. I saw the enthusiasm of the women involved. The leaders met together to share their own answers and what they were learning on their own from the study then carried that enthusiasm to the small group discussion. This was full of joy, and fun!
They asked me to be a part of that ministry, and that's where it took off for me! Many of the Bible Studies on my website came directly from that ministry, which was appropriately called JOY Bible Study.
My joyful walk with Jesus was stimulated through that ministry. As I participated in different small groups, watching other joy-filled women lead the Bible Study discussion, I learned that I could do it. I was able to step above my insecurities and learn how to lead a Bible Study discussion with joy and confidence. That so changed my life!
From my experience, I want to share with you 3 reasons why you can lead a small group Bible Study even if you've never done it before.
3 Reasons Why You Can Lead a Bible Study
1. You can lead a Bible Study…by faith.
Christians are to live every day by faith. Anything Jesus leads you to do, He enables you to do it by His Spirit living inside you. If you are being prompted by the Lord to lead a Bible Study, just say yes — "I will do this, Lord. Please help me." Jesus is with you every step of the way.
2. You can lead a Bible Study without knowing all the answers.
No one knows all the answers anyway! Just delete that insecurity from your mind. You don't need a seminary degree to lead a Bible Study for others, just a teachable heart and mind. Ask Jesus to teach you what you need to know for your group. Being the leader presses you to grow and learn for yourself. Then, you share what are learning as you lead others to do the same. Win-win!
3. You can lead a Bible Study even if you are scared.
Actually, being scared is a good thing. It teaches you how to depend on Jesus Christ more. And, whatever leads you to rely on Him more than relying on yourself is a good thing for you. We are to live by faith in Him and let Him live His life through us. It is okay to say, "Lord, I can't do this on my own, but you can do this in me and through me. I will trust you with this."
So, just hand over your insecurities to Jesus and trust Him with whatever is holding you back from leading a Bible Study for your friends.
If you have led a bible study before or you are thinking about leading a bible study for your friends, leave a comment to answer this question:
What are your biggest concerns about leading a study?
---
More Resources:
How to Choose a Bible Study for Yourself or for a Group
3 Reasons Why You Can Lead a Bible Study
Women's Bible Study Curriculum on Bible.org
The 5 C's of Small Group Leadership on Bible.org (read online)
The 5 C's of Small Group Leadership on Bible.org (download pdf)
Leadership Resources (read online)
Leadership Resources (checklists and pdfs)
Bible Study Small Group Guidelines and Priorities on Bible.org