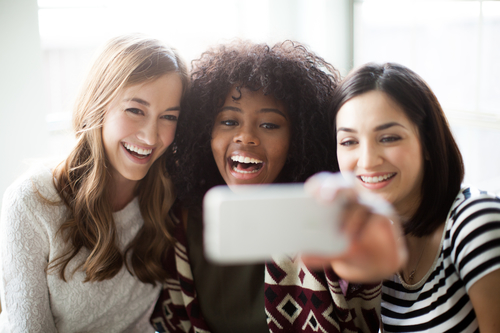 What is it like to be "Unseen"?
Do you live your life wanting to be seen or unseen? Whether seated in an office maze of cubicles, standing behind a podium before a grand audience, or mopping up spilled milk and cereal for the third time today, we want to be acknowledged, understood, and liked.
Our current world of social media has not helped our helpless and desperate desire to be noticed. These days if we do not post a photo of our dinner out, our vacation, our birthday, our promotion, or our child's new accomplishment, it's as though it never happened. Additionally, we want our online friends to see, like, or love our posts.
Only if the digital world sees do we feel seen.
Even if it's not on social media that we desire acknowledgement, we still look for it in our daily lives from those physically around us.
We want that job promotion that tells everyone how valuable we are to the company. We want our college paper to be an exceptional grade, not just a passing grade. We want a business card with a fancy title that reeks of importance.
We want to be known by what we do and how we do it.
Without realizing it, we have set ourselves up to be weighed and measured by the world's standards. And in this fast-paced world of corporate ladders, "selfie" posts, and snappy 140-character comebacks, we have forgotten how to be hidden in God. That last statement bears repeating:
We have forgotten how to be hidden in God.
Such is the basis for Sara Hagerty's book, Unseen: The Gift of Being Hidden in a World That Loves to Be Noticed. By sharing her personal journey from that of ministry leader to barren wife to retail employee to adoptive mother to author and speaker, Sara instructs us how to "waste our resources, our time, and ourselves out of love for God without producing anything or having anyone else's eyes on us" (Hagerty, cover).
Hagerty's book convicted and challenged me.
In the last seven years I've gone from being an unmarried corporate architect quickly climbing the ladder of senior management to that of a stay-at-home mom.
In between those two roles there was a marriage, a ministry, a master's degree, a valley of infertility, and a journey to China and back to adopt our son. If you were to look at my life from a social media standpoint only, you would have no idea that my flesh cringes whenever I struggle to answer the question, "So, what do you do [for a living]?"
Why do I cringe? Because the title "unemployed homemaker" does not impress me.
Turns out I like to be seen and admired by the world, too.
Weaved throughout her personal story, Hagerty reminds the reader of Mary of Bethany. Mary of Bethany, unlike the Pharisees, disciples, and countless others, acted to be seen by one and one alone—Jesus. Prior to Jesus's betrayal and crucifixion she came to Jesus with "an alabaster jar of very expensive perfume, that of pure nard. She broke the jar and poured the perfume on his head" (Mark 14:3). The people surrounding Jesus then rebuked her harshly for her wasteful extravagance. But Jesus commended her (Matt. 26:6–13, Mark 14:4–9, John 11:2, John 12:3–8).
Hagerty explains, "In Mary, we see what it means to waste ourselves on God. In situations we might otherwise avoid or resent—the fourth-floor cubicle, the back row of singers, the laundry room—God invites us, through Mary's forever retold story, into an expression of radical love. The kind of unhinged love that lays everything at His feet whether or not anyone else ever sees, approves, or applauds." (Hagerty, 34.)
In the subsequent chapters Sara explores what it means to be hidden in God, how to find time in a crazy, calendar-filled-to-the-limit world, how to train our eyes to see God's daily beauty, and how to hear God's truth of who we are over our own (or other's) criticism of us.
In recent weeks I've started changing my habits during my son's naptime. Usually naptime meant I got to take a shower, eat lunch, and check off as many items on my to-do list as possible. (Well, I still shower and eat.) But lately, dishes have gone undone (I love a clean kitchen), clothes have gone unfolded (I really like completed tasks), and social media accounts have been checked less frequently. Instead, I've grabbed Hagerty's book, my Bible, curled up in my bedroom comfy chair, and made time to be hidden with the Lord.
That time made me recognize what I had forgotten—that my soul longs for unseen moments with the Lord. My soul had been starving and I'd not even realized its hunger.
I grasped something else as well. While fellow architects and seminary graduates may not understand my current life decisions, possibly thinking my "unemployed homemaker" status seems like a misuse of talent, I doubt my son thinks my time with him is a waste. My son is my current ministry, one that I'm certain the Lord sees and approves of daily, even if no one else does.
So the next time you compare yourself against others, criticize your lot in life, place value on yourself per the world's accounting system, and care about your online friends' "likes" more than what your Creator might like, I challenge you to spend unseen moments with the One who sees everything.
It's better to be unseen with the Lord than seen by the world.
He who sees all sees you. He is after all, named El Roi, "the one who sees me." (Gen. 16:13–14)
Challenge: How will you live your life to be more "unseen" with the Lord?
---
Hagerty, Sara. Unseen: the Gift of Being Hidden in a World That Loves to Be Noticed. Grand Rapids, Michigan: Zondervan, 2017.
Photo courtesy of Lightstock.
This blog was originally posted on October 8, 2018.