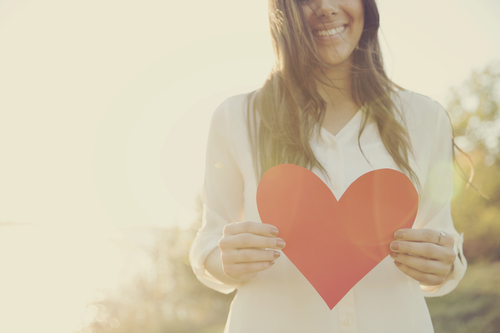 A Single Girl's Revolt Against the Day of Love
Many cultures and countries consider a woman over the age of 30 to be an "old maid" (in Spanish: solterona). So at the age of 34, I was definitely past my prime according to many. I disliked Valentine's Day. Too many past disappointments and brokenhearted moments meant I just tried to survive until February 15. (Para español, lea abajo.)
I ignored the flowers on my female coworkers' desks. I ignored the male coworkers' conversations about dinner plans. I ignored the heart-shaped cookies sold at bakeries. I ignored the stuffed teddy bears and candy boxes at grocery stores. I viewed Valentine's Day as "The-Survival-of-the-Fittest" Day and I used various tactics throughout the years in order to carry on:
I ordered take-out food and watched a movie at home.
I went to dinner with other single (or single-again) friends.
I bought chocolate on February 15 at half-price. (All the chocolate is always a good idea.)
I bought my own flowers on other days of the year. (Single girls need flowers, too—just because—so go treat yourself.)
I read the Valentine's card my parents always mailed me. (Thanks, Mom.)
And I was as sarcastic and cynical as possible, inside my head. (If filtering sarcasm before speaking were a sport, I would have won the gold.)
When did this day of love that is such madness—both good and bad—start? Look up the history of Valentine's Day and you will find that it's a bit convoluted. In her article, How Do You Feel about Valentine's Day?, Dr. Sandra Glahn remarks, "Quick! What do you get when you mix history, myth, marketing, romance, and angst? Yes, indeed—Saint Valentine's Day."
Dr. Glahn describes the frustration that many men and women feel about Valentine's Day. But she also states that we have a choice with how we view the day. Explaining traditions from other countries, such as Japan and Mexico, she challenges us to use the day to express real love, valuing others, regardless of their marital status, so as to "show what agape really is—a picture of the one who gave his all for the sake of love. And that's true regardless of our status."
Agape is a Greek word for love. It expresses the idea of "warm regard for and interest in another, esteem, affection, regard."[1] It is defined as "an attitude of appreciation resulting from a conscious evaluation and choice;" and in its plural form means, "fellowship meals, meals in which members of a…community eat together in fellowship."[2] Agape conveys well the Spanish idea of sobremesa. (To gain more understanding about biblical sobremesa, read my article here.)
What are some ways we can use Valentine's Day to express our agape love for others? Here are few ideas:
Surprise a divorced or widowed friend with a Valentine's Day delivery. One year I bought my newly divorced friend flowers and a teddy bear and had them delivered to her office.
Ask your church to host a widow's luncheon. Our church does this every year and the widows appreciate the special time.
Send flowers to your single sibling. One year my brother had flowers delivered to my college dorm room.
Celebrate like Mexico. Mexicans see February 14 as "The Day of Fraternal Love" and share cards and small gifts with close friends, family, and coworkers.
Host a dinner in your home, inviting friends and family of varied marital and dating status.
Last, remember your single, single-again, and widowed friends on other holidays, too. Valentine's Day is not the only day that can feel lonely. I had several friends who always made sure I did not celebrate my birthday or Thanksgiving Day alone. They fed me well, proving true the Spanish proverb, "A full stomach makes a happy heart." (Barriga llena, corazón contento.)
This is the point at which I must now confess. Eventually I did get married and I had to give up my sarcastic ways regarding Valentine's Day. Getting married at the age of 36 was a shocking surprise to me and to some others. If you want to read more about that Israel-Mexico-Guatemala surprise, read my article, Throwing Stones.
But as my husband was 43 years old at the time we married, living far away from his Mexican family, he, too, understood the pain and loneliness of the holidays. Our years of singleness did give us something precious. It gave us a tender place in our hearts for our single, single-again, far from family, or international friends. We try to make sure they know they are always welcome around our holiday table. In this way, we feel we are expressing agape—a love in which we eat together in fellowship.
Action Item: Make your own list of ways to express agape to others on Valentine's Day. The term agape is found more than 100 times in the Greek New Testament. As you write your V-Day list, consider these agape verses:
No one has greater love than this—that one lays down his life for his friends. (John 15:13)
Love does no wrong to a neighbor. Therefore love is the fulfillment of the law. (Rom. 13:10)
Love is patient, love is kind, it is not envious. Love does not brag, it is not puffed up. (1 Cor. 13:4)
And now these three remain: faith, hope, and love. But the greatest of these is love. (1 Cor. 13:13)
Everything you do should be done in love. (1 Cor. 16:14)
We know love by this, that he laid down his life for us—and we ought to lay down our lives for one another. (1 John 3:16 NRSV)
---
La rebelión de una chica soltera en contra del día del amor
Muchas culturas y países consideran que una mujer que pasa de los 30 años de edad, puede ser considerada una solterona. De manera que, a la edad de 34 años, yo ya me encontraba en esa categoría, según algunas personas. No me gustaba el Día de San Valentín. Las muchas decepciones y partidas de corazón hicieron que yo solamente deseara sobrevivir hasta el día 15 de febrero.
Ignoraba las flores sobre los escritorios de mis compañeras de trabajo. Ignoraba las conversaciones acerca de los planes para cenar de mis colegas. Ignoraba las galletas en forma de corazón que vendían en las panaderías. Ignoraba los ositos de peluche y las cajas de bombones en las tiendas. Yo veía el Día de San Valentín como el día de "la supervivencia del más apto" y había utilizado diversas tácticas a lo largo de los años con el fin superarlo y seguir adelante:
Ordenaba comida para llevar y veía una película de acción en mi casa.
Iba a cenar con otras amigas solteras.
Compraba cajas de chocolates el día 15 de febrero a mitad de precio. (El chocolate es siempre una buena terapia).
Me compraba flores en otros días del año. (Las chicas solteras necesitamos flores también—sin motivo alguno—así que, dese ese capricho).
Leía la tarjeta del Día de San Valentín que mis padres siempre me enviaban. (¡Gracias, Mamá!).
Y yo era tan sarcástica y cínica como me fuera posible, dentro de mi cabeza. (Si filtrar el sarcasmo antes de hablar fuera un deporte olímpico, yo me hubiera ganado la medalla de oro).
¿Cuándo empezó este día del amor que es una locura tanto buena como mala? Busque la historia del Día de San Valentín y encontrará que es un poco complicada. En el artículo llamado "¿Cómo te sientes respecto al Día de San Valentín", la Dra. Sandra Glahn comenta: "¡Rápido! ¿Qué obtienes cuando mezclas historia, mito, mercadotecnia, romance y angustia? Sí, así es—el Día de San Valentín".
La Dra. Glahn describe la frustración que sienten muchos hombres y mujeres por el Día de San Valentín. Pero también afirma que todos tenemos una elección en la forma de ver este día. Explicando las tradiciones de otros países, como Japón y México, ella nos desafía a utilizar este día para expresar un amor real, valorando a los demás, independientemente de su estado civil; esto con el fin de "mostrar lo que realmente es el amor ágape—una imagen de Aquel que se entregó completamente por amor. Y eso es verdad, sin importar nuestra condición".
La palabra ágape, es una palabra griega que significa amor. Expresa la idea de "una consideración cálida hacia y por interés en otra persona, estima, afecto, respeto".1 Se define como "una actitud de apreciación resultante de una evaluación y elección conscientes"; y en su forma plural significa: "Comida fraternal de carácter religioso entre los primeros cristianos, destinada a estrechar los lazos que los unían".3 La palabra ágape transmite bien la idea iberoamericana de sobremesa. (Para obtener una comprensión bíblica sobre el significado de sobremesa, puede leer otro de mis artículos aquí).
¿Cuáles son algunas maneras en que podemos aprovechar el Día de San Valentín para expresar nuestro amor ágape hacia los demás? Aquí le presento algunas ideas:
Sorprenda a alguna amiga viuda o divorciada con un regalo en el día de San Valentín. Un año compré flores y un osito de peluche para una de mis amigas divorciadas e hice que se los entregaran a su oficina.
Pida a su iglesia que organice un desayuno o almuerzo del Día de San Valentín para las viudas. Nuestra iglesia hace esto cada año y las viudas aprecian este momento especial.
Envíe flores a un hermano o hermana soltera. En una ocasión mi hermano me hizo llegar un ramo de flores a mi dormitorio del colegio.
Celebre este día como en México. Los mexicanos ven el 14 de febrero como "El Día del Amor y la Amistad" y comparten tarjetas y pequeños regalos con amigos, familiares y compañeros de trabajo.
Organice una cena en su casa e invite a familiares y amigos solteros, comprometidos y casados.
Por último, recuerde a sus amigos solteros, divorciados y viudos en otros días festivos también. El 14 de Febrero no es el único día en el que pueden sentirse solos. He tenido varias amigas que siempre se aseguraron de que yo no celebrara mi cumpleaños o el Día de Acción de Gracias sola. Me alimentaban bien, demostrando que es cierto el dicho que dice: "Barriga llena, corazón contento".
Este es un buen momento para hacer una confesión. Eventualmente me casé y tuve que renunciar a mi forma tan sarcástica de ver el Día de San Valentín. Casarme a los 36 años de edad fue una gran sorpresa para mí y para algunos otros. Si desea leer más acerca de esta sorpresa "Israel-México-Guatemala", le recomiendo leer mi artículo titulado "Throwing Stones" (Tirando Piedras).
Debido a que mi esposo tenía 43 años al momento de casarnos, y estaba viviendo lejos de su familia en México, también él comprendía el dolor y la soledad que se siente durante los días festivos. Pero esos años de soltería han hecho algo precioso en nosotros. Han hecho que tengamos un lugar especial en nuestros corazones para para nuestros amigos solteros, divorciados y viudos, y aquellos que están lejos de su familia de origen y amistades en el extranjero. Procuramos que ellos sepan que siempre serán bienvenidos a nuestra casa y a nuestra mesa durante los días festivos y siempre. De esta manera, creemos que estamos expresando el amor ágape—un amor en el que comemos juntos con amor fraternal.
Pasos de acción: Haga su propia lista de maneras de expresar el amor ágape a otros en el Día de San Valentín. La palabra ágape se encuentra registrada más de 100 veces en el Nuevo Testamento Griego. A medida que escriba su lista, considere estos versículos donde aparece la palabra ágape:
---


[1] William Arndt, Frederick W. Danker, and Walter Bauer, A Greek-English Lexicon of the New Testament and Other Early Christian Literature (Chicago: University of Chicago Press, 2000), 6.
[2] Timothy Friberg, Barbara Friberg, and Neva F. Miller. Analytical Lexicon of the Greek New Testament. Baker's Greek New Testament Library. (Grand Rapids: Baker Books, 2000), 30.
[3] Real Academia Española, Diccionario Panhispánico de Dudas 1ra ed. (Madrid: Santillana, 2005), bajo: "ágape", consultado el 13 de febrero de 2017. http://dle.rae.es/?id=13JJXR8.
Photo courtesy of Lightstock.
Many thanks to my husband, Carlos A. Zazueta, for the English-to-Spanish translation.