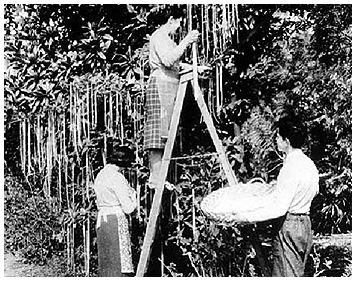 April 1st is commonly known in the United States as April Fool's Day and is a day of practical jokes. The joke player typically reveals his or her joke by saying "April Fools!"[1] Pranks are played on peers, family, co-workers, and the public (for instance the Spaghetti Harvest in Switzerland[2]).[3] Pranks can involve an errand for an absurd item like a left handed screw driver, snipes, snarks, or frog whiskers.[4] Nancy McEntire, a folklorist, observes that the victim needs to be laughing, too, for the prank to have worked.[5] Other countries celebrate this day with jokes and pranks as well such as France where a paper fish may be taped to someone's back or in Scotland where pranks are also played involving someone's back side.[6]
The start of April Fool's Day is unclear. Some say it came from the Greco-Roman festival called Hilaria, others say when the Gregorian calendar changed New Year's Day from April 1st to January 1st those that continued to celebrate on April 1st were fools, while others insist April 1st is just a jocular time.[7] Still others indicate that the day is associated with the spring weather that has sudden changes.[8]
The positives of April Fool's Day include laughter, reduction of stress, creativity, and effort while the negatives include rudeness, confusion, deception, and misinformation.[9] Certainly, the type of prank and the intention plays in to the value of the joke.
While April Fool's Day's pranks leave people laughing in good, clean fun, the Scriptures refer to a fool as no laughing matter. A fool, as described in the Scriptures, is generally someone who "lives life as though God and God's will were of no consequence."[10] Fools are characterized by: despising wisdom and instruction (Pro 1:7); doing what is right in their own eyes (Pro 12:15); reckless, careless, quick-tempered (Pro 14:16-17); quarreling (Pro 20:3); and ignoring God's Word (Matt 7:26). The consequences of a fool's choices are a ruined life (Matt 7:26-7) and denial of God (Psa 14:1, 53:1).
As you and I live out each day, we can choose to act as fools by living independently of God, rejecting wisdom, rejecting instruction, living recklessly, living carelessly, being quarrelsome, or ignoring God's Word. The result is ruination. Or we can choose to act wisely and depend on God (through His enablement), receive wisdom, receive instruction, be orderly, be thoughtful, be peaceful, and live by God's Word. The result is abundant life (John 10:10).
What areas of your life seem to be on the path to ruin? How would choosing to act wisely effect that area? What will you do today, through God's empowerment, to get back on the path to life abundant?