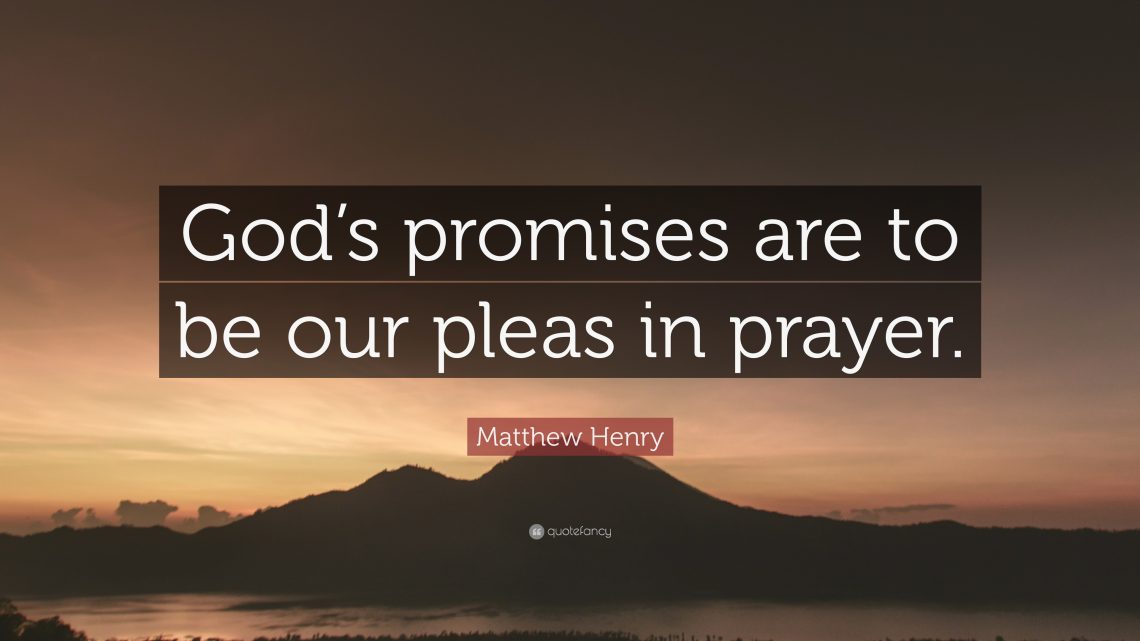 Discover Prayer (Part III): Pray the Promise, Not Just the Problem!
Pray the PROMISE, NOT just the PROBLEM.  God was aware of our problem(s) before we were and provided a promise as the solution (i.e., scripture verse(s) in the Bible) long before it came to our attention.  Furthermore, rehearsing ONLY the problem to God makes it grow larger in our hearts (1).  Praying the promise causes our hearts to believe in God more than the problem.  Remember, whatever you place your attention on will grow larger in your heart – PROMISE or PROBLEM.
The scriptural basis for praying the promises:
Praying the promise(s) guarantees that it will be answered according to our request (John 15:7. Isaiah 55:10,11). Furthermore, God has stated that if we pray according to a promise, the answer will always be yes and amen (i.e., make it so)! (2 Corinthians 1:20. Joshua 21:45. Joshua 23:14). However, this does not mean we will get just about anything we want, but rather, as we abide in His Word (i.e., the Bible), our desires change to become what God desires for us. Then we ask for what He desires for us and receive it! (Psalms 37:4) Do not worry; God wants us to have all things that pertain to life and godliness (2 Peter 1:3).
Again, God has stated that if we pray according to His will (God's Word is His will), our prayers are answered according to our requests (1 John 5:14,15). Notice the emphasis is on the change in our lives and not God's. If we pray according to His will, then we will have confidence that He hears us. Furthermore, if we have confidence in God hearing us, then we know that our prayer will be answered according to our request.
For example, say you are in a situation that seems hopeless, and you do not know what to do. If you were just to pray the problem, it could go something like:
Heavenly Father, I just do not know what to do; please help me.
This is good, but it does not include WHY God should help – other than the fact that He is Love (i.e., Grace, Mercy, and Compassion) Himself! Recall we ask in Jesus' Name (1) because our right to have anything from God the Father is NOT based on our performance or works but rather the completed works of Jesus Christ!
In fact, a covenant (i.e., an eternal contract) has been made between God the Father and Jesus His unique Son for us! This contract is the New Covenant or New Testament of the Bible, which has many promises to use in having our needs, wants, and desires met by God, our Father.
Furthermore, the Old Covenant promises are given to us and some clarifications, as stated in the New Covenant. That is, the whole Bible and its promises are available to us! Therefore, we need to read the Bible to find promises that will help with our problems. For example, help with the problem of not knowing what to do is answered nicely by the following promise in the New Covenant:
But if anyone is deficient in wisdom, he should ask God, who gives to all generously and without reprimand, and it will be given to him. (James 1:5 NET)
Now let us use the same problem of not knowing what to do and pray the PROMISE along with the PROBLEM (remember motive (1) is important, too):
Heavenly Father, I just do not know what to do; however, you have promised in Your Word that if we lack wisdom, we are to ask you for it, and you will not give us a hard time about waiting so long before coming to you, but you will simply give it to us (James 1:5). I am asking for your wisdom to let my light so shine before people that they may see my good works and give you, my Heavenly Father, all the glory! (Matthew 5:16) I ask in Jesus' name, Amen
In addition to getting what we need, want, and desire, it is through praying the promises of God that we learn them by spiritual heart, which is what transforms us into Jesus' image! (2 Peter 1:4)
Take note that God is saying that his children are destroyed because they lack the knowledge of God (Hosea 4:1,6). Often we blame God for not doing or giving us what we want when the problem is with our asking (1). We do not know what God has already said and done about our situation; therefore, we base our prayer on the PROBLEM only and not with the addition of the PROMISE. That is, we fail to understand what has been placed on the table before us (Psalms 23:5).
Lastly, the New Covenant promises (which includes the Old Covenant with some clarifications) are secured in Heaven by the blood of Jesus (Hebrews 9:11,12, 24,25,26). This means that God our Father takes the promises as seriously as God His unique Son Jesus' shed blood!
Application Prayer:
Heavenly Father, without your promises, we have no confidence in receiving the things we ask of You. Please reveal your promises, your will, to us that we might show the world your joy – our strength. Amen. (Based on 1 John 5:14,15.John 16:13,24. John 14:26. Nehemiah 8:10).
Discover Prayer Series:
---
---
Shalom
(Peace, Wholeness, Success)
Dear friend, I pray that all may go well with you and that you may be in good health, just as it is well with your soul. 
(3 John 1:2 NET)
---
---
(1) Select the link to open another article in a new tab with additional information.