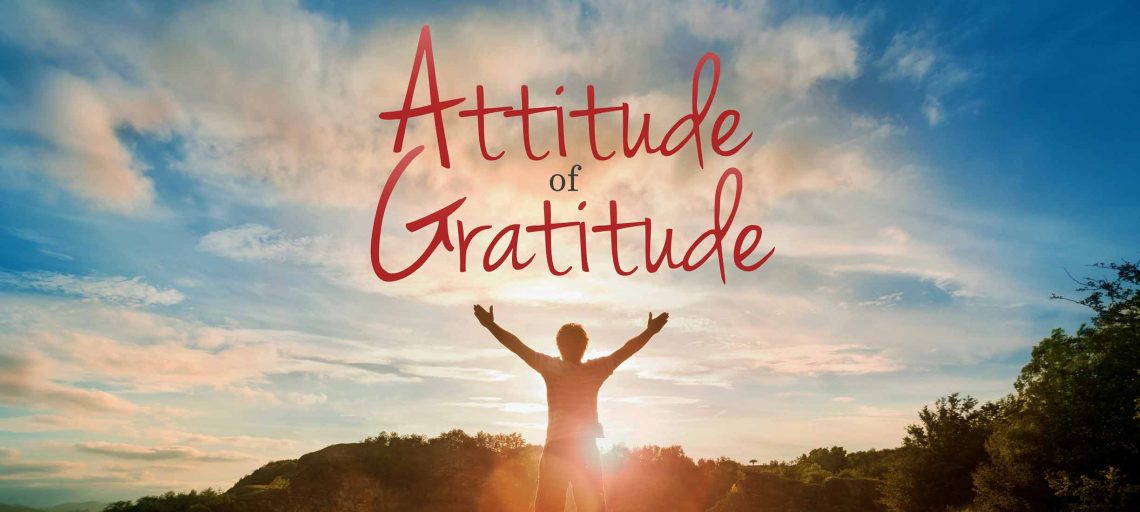 Discover Prayer (Part VI): Have an Attitude of Gratitude!
Thankfulness is to render gratitude or express thanks for words spoken or actions taken on our behalf. However, to be thankful, we must be able to recognize the giver's favor, gifts, or promises on our behalf. Realize the Bible is filled with as many as 30,000 different promises from God to us His children. Every day we receive God's grace (i.e., God's unearned favor) for the fulfillment of these promises — and yet we often let them go unrequited.
We must learn to give thanks to God in all circumstances (1 Thessalonians 5:17,18). God is not asking you to be thankful but to give thanks. There's a difference between feeling thankful and giving thanks. The first involves trusting our feelings, the latter involves trusting God. While our feelings will mislead us, God will not (Proverbs 3:5,6).
As we mature spiritually (1), we learn to give thanks to God for all circumstances (Ephesians 5:20). This is because we understand that everything (including bad things) that have come our way can be caused to make us more like Jesus Christ as we turn to God our Father in childlike FAITH (1) trusting Him (Romans 8:28,29).
And we know that all things work together for good for those who love God, who are called according to his purpose, because those whom he foreknew he also predestined to be conformed to the image of his Son, that his Son would be the firstborn among many brothers and sisters. And those he predestined, he also called; and those he called, he also justified; and those he justified, he also glorified. (Romans 8:28–30 NET)
Note those three previous verses are not saying that God is causing all things to make us happy! But rather, all things can be used to fulfill God's "purpose" of making us Christ-like as we trust Him in "loving" childlike faith. We can demonstrate this trust in God by thanking Him – by faith – that what He has promised is as good as done (Colossians 3:17. Colossians 4:2).
Sometimes we have to trust God through difficult circumstances, recognizing that He is sovereign and in control. Even if we don't immediately see the fulfillment of His promise, it does not mean we will not see it fulfilled eventually (Philippians 4:6,7. 2 Peter 3:9. Hebrews 11:13).
Realize, you become like what you think about in your spiritual heart for good or for bad (Proverbs 23:7. Ephesians 5:1-4. Philippians 4:8). If we continually are thankful to God for what He has done, is doing, and will do in our lives, our faith will be strengthened (Romans 4:16-20).
When we live a lifestyle of thanksgiving, we communicate to God that we appreciate what we have already been given – no matter how small – causing God to desire to give us more than we can ask or think (Psalms 37:3-5. Proverbs 22:11. Luke 17:12-19. Ephesians 3:20). Furthermore, if you continually give thanks to God for everything, you will live a life filled with the contentment that only God gives (Isaiah 26:3. Philippians 4:11-13).
We initially were saved by faith that received the grace of God (i.e., unearned favor Ephesians 2:8,9), and we are to live the rest of our Christian lives in this manner (Colossians 2:6,7)). That is, living a life of faith receiving grace which is best demonstrated by a thankful heart! (Psalms 100:4) . While it is easier to thank God when things are going well; however, when they are not, we have a unique opportunity to offer up the sacrifice of praise (Hebrews 13:15). That is, thanking God when every one of your emotions wants to have a "pity party" is costly – hence the "sacrifice."
Having an attitude of gratitude will keep our spiritual hearts tender towards God (Psalms 107:1,2,43). Consequently, we will have a heart through which God's grace can pour to meet the needs of others and ourselves. Remember, when the trials come our way, we can either get bitter or get better. The stones in our path can be either our stepping stone or tombstone. Therefore, let us stop whining and start winning! (Jeremiah 29:11)
Some suggestions for living a life of thankfulness to God:
Be humble and focused on God (Jonah 2:8,9)
Be thankful for everyday blessings (Matthew 5:43-48)
Spend time in the Word of God to learn His promises and how He plans to fulfill them in your life daily (2 Peter 1:3,4)
Always thank God in the midst of adversity and trials (Habakkuk 3:17-19)
Record blessings in your Bible or a journal and continually reference them when you encounter difficulty (Malachi 3:16)
Express your gratitude publicly (Matthew 10:32,33)
Continue God's cycle of thanksgiving by blessing others in the Spirit of Christ (2 Corinthians 9:10,11)
Application Prayer:
Heavenly Father set a watch over our mouths to only speak words that build up and not tear down. Fill our hearts with your joy that our mouths may sing of your wondrous works. Sing through me Jesus in the multitude of the congregation! (Based on Psalm 141:3, Hebrews 2:12)
Discover Prayer Series:
---
---
Shalom
(Peace, Wholeness, Success)
Dear friend, I pray that all may go well with you and that you may be in good health, just as it is well with your soul. 
(3 John 1:2 NET)
---
---
(1) Select the link to open another article in a new tab with additional information.