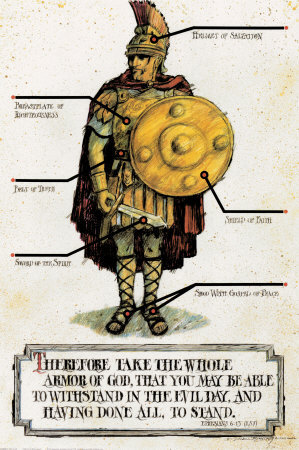 Discover Prayer (Part VIII): Power Dressing for Prayer!
Power dressing refers to wearing a style of clothing intended to make the wearers seem authoritative and competent. This is also known as dressing for success or dressing for "prayer" success! This concept was used as an object lesson by the Apostle Paul while he was in prison in Rome for teaching on prayer (Ephesians 3:1;4:1;6:20). He used a Roman soldier's armor (1) to help us understand the important aspects of prayer that must be "put on" (i.e., utilized) for maximum power and effectiveness of prayer (Ephesians 6:10-18).
Finally, be strengthened in the Lord and in the strength of his power. Clothe yourselves with the full armor of God so that you may be able to stand against the schemes of the devil. For our struggle is not against flesh and blood, but against the rulers, against the powers, against the world rulers of this darkness, against the spiritual forces of evil in the heavens. For this reason, take up the full armor of God so that you may be able to stand your ground on the evil day, and having done everything, to stand. (Ephesians 6:10-13) 

Note this passage of scripture is not describing our being strong in our ability but rather being strong in the ability of Jesus. We are to put on Jesus by putting on or putting into our spiritual hearts the various truths of the scripture identified by armor pieces.
Belt of Truth (Ephesians 6:14) The truth that holds everything together like a belt is that God is grace, mercy-love, and compassion, and He is for us and not against us (Exodus 34:6,7. Romans 8:31). For prayer, this is a reminder that we must pray the truth, also known as praying the promises (1) of the Bible.
So, how do we put on this prayer clothing? (1) (Ephesians 4:24) Remember, in school, we learned things by heart by first memorizing them with our brain but then persisted in saying them until we could quote them without even thinking about it (i.e., we learned it by (spiritual) heart). We must do the same thing with scripture that addresses these fundamental teachings. Similarly, we put this armor on by learning by (spiritual) heart Bible verses that support our understanding of the six armor pieces representing foundational teachings of the Bible.
Breastplate of Righteousness (Ephesians 6:14) Our spiritual heart is protected knowing Jesus entered an exchange at the Cross of Calvary where He took our sin so that we might have His righteousness or right standing with God (i.e., we can stand right with God at His throne!) (2 Corinthians 5:21. Hebrews 4:16). For prayer, this is a reminder that when we make requests of God, this must be done in Jesus' name (1).
Sandals of the preparation that comes from the Gospel of Peace (Ephesians 6:15) We will not slip, trip, or stumble due to wondering if God is angry with us because the war for mankind's eternal fate is over! (Isaiah 54:8,9) God's just wrath against sin has been fully satisfied, having been released in full upon Jesus at the cross (Isaiah 53:4,5,10,11. Colossians 1:20). Consequently, the price for man's sin has been paid in full by the God-Man Jesus Christ at the Cross of Calvary, thus canceling it (i.e., making it as if we never owed the debt!) (Colossians 2:13-15;1:13,14). We have peace with God, and the offer is available to all that will, by FAITH, accept it – the free gift of God's salvation through Jesus Christ! (Acts 2:39. Ephesians 2:8,9. Romans 10:9,10,13). For prayer, this means that we must forgive others and ourselves even as God has forgiven us (Ephesians 4:32), leading to a lifestyle of gratitude (1).
Shield of Faith (Ephesians 6:16) The shield of FAITH stops the fiery thoughts of Satan that attempt to undermine our relationship with God. For prayer, this means that we must pray the promise in faith (1) and then stay in faith even when all things in the natural look hopeless.
Helmet of Salvation (Ephesians 6:17) The Roman soldiers' helmets signified that he was fighting for the glory of Rome. For prayer, we must recognize that the motive for the request must only be to seek our Heavenly Father's glory. (1)
Sword of the Spirit (Ephesians 6:17) The sword is an offensive weapon in the armor of the Roman soldier. The sword of the Spirit is sharper than any two-edged sword, and this sword design is for stabbing the enemy to their death. (Judges 3:16-22. Hebrews 4:12,13) The soldier had to wield the sword as it would accomplish nothing in its sheath. For prayer, this means that we must ask (1) and be persistent (1) with our requests to God.
In conclusion, to have the armor of God on, we must spend time studying and memorizing the Bible until we know it by (spiritual) heart (2 Timothy 2:15). An excellent way to learn scripture by (spiritual) heart is to say it over and over to God out loud in prayer! (1) (Isaiah 55:10,11) Over time, we will find that this will change how we think, respond, and pray about the events in our lives (Romans 12:2). We will also cultivate our relationship with the Holy Spirit, and it is He who will cause us to live according to the Word of God and not the flesh (Ezekiel 36:27. Galatians 5:16. Isiah 58:8). It is He, the Holy Spirit (1), who empowers the Word of God coming out of our spiritual hearts to rout the enemy! (James 4:7. Psalms 149:5-9. Romans 16:19,20)
Discover Prayer Series:
---
---
Shalom
(Peace, Wholeness, Success)
Dear friend, I pray that all may go well with you and that you may be in good health, just as it is well with your soul. 
(3 John 1:2 NET)
---
---
(1) Select the link to open another article in a new tab with additional information.