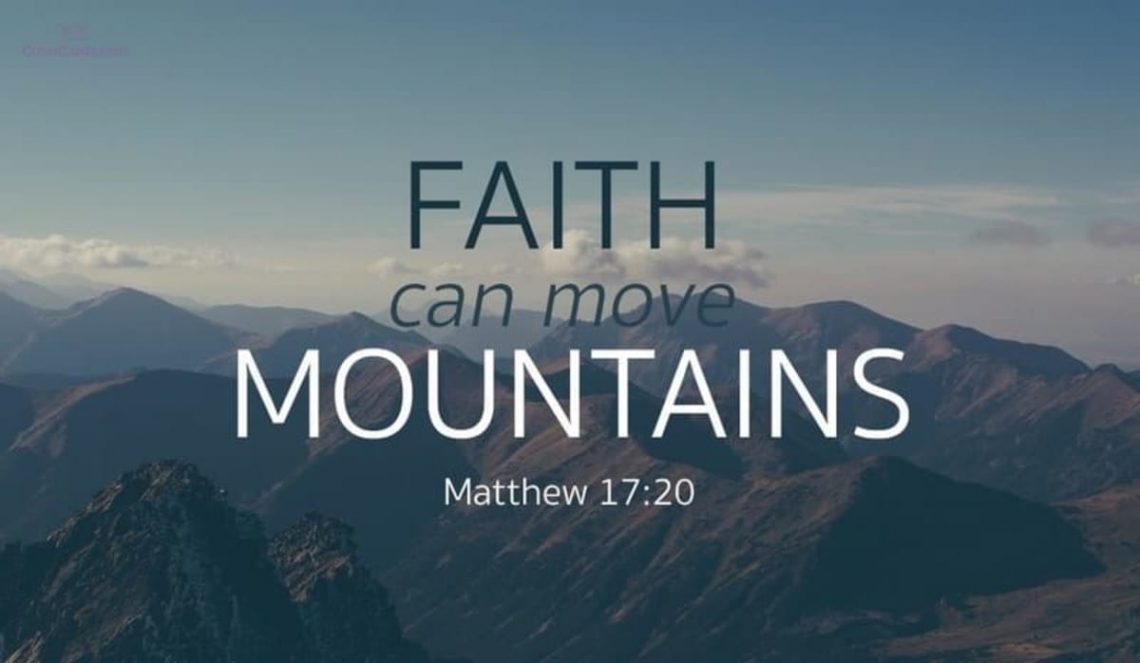 Discover Prayer (Part IV): Pray in Faith!
if you have faith the size of a mustard seed, you will say to this mountain, 'Move from here to there,' and it will move; nothing will be impossible for you." (Matthew 17:20)

In the previous Discover Prayer blogs we have reviewed the following tenets of prayer:
With the introduction of these important foundation principles, we are now poised to analyze the process of prayer to increase our prayer efficiency.
We will start by explaining the third tenet of making our requests based on the provisions (i.e., promises) of the contract (i.e., covenant) we have with God (Isaiah 55:10,11). Again, we will use the example of being in a situation where you do not know what to do – a situation that appears without hope or is hopeless (Ephesians 2:12,13). At the root of this situation will be a problem(s) that seem overwhelming to our natural ability and resources. Furthermore, if we continue to look upon and rehearse the problem(s), then our belief or faith in them will grow. (1) Realize belief or faith in the PROBLEMS(s) is another way of defining FEAR.
However, instead of focusing on the problem, we can look to God for Him to allow us to see the situation as He sees it. God will then speak to us (1) in one or more of the following ways to restore our sight (Jeremiah 29:13. Jeremiah 33:3. Isaiah 48:17):
Directly to our spirit (John 10:27)
Reading the Bible (2 Timothy 3:16,17)
The Counsel of Godly people (Proverbs 19:21)
Our Circumstances ( Jonah 1:6-17)
Dreams (Joel 2:28)
Visions (Joel 2:28)
Godly Prophesy (1 Corinthians 12:10)
Nature (Romans 1:18-20) (3)
This restoration of our sight by God could also be called restoration of VISION. When God restores our VISION, it results in HOPE being restored, meaning hopelessness is no more! (Proverbs 29:18) However, the HOPE that came from the restored VISION must be believed for it to do any good (Romans 8:24). That is, we must have FAITH in the VISION that has brought us HOPE (Hebrews 11:1. Romans 10:17). Furthermore, FAITH in the VISION that has brought us HOPE must be OBEDIENTLY put into action to be productive in causing the VISION to become a reality (James 2:14-17).
That is, even if God restores your VISION, giving you HOPE and you have the FAITH to trust Him unless you start acting to fulfill the VISION, nothing is going to happen. (2)
Again, the VISION from God brings HOPE and HOPE when acted upon by an OBEDIENT FAITH causes the VISION to become a reality.
It is FAITH that believes in the completed work of Jesus' Cross at Calvary. God does not have to send Jesus to the cross again when we choose to accept Jesus as our Savior and Lord because the whole world's sin debt has already been paid (1 John 2:2). Therefore, we simply ASK (1) God to pass the salvation that has been placed on the table before us (Romans 10:13). The same is true when we are praying for any need, want, or desire to be met in our lives (James 1:6. Matthew 21:22. Mark 11:24).
Realize, we have been redeemed from everything that Adam's sin brought into the World through Christ Jesus our Lord and Savior (Galatians 3:13). That is, God did a greater work through the last Adam (Jesus) than Satan did through the first Adam (1 Corinthians 15:45). (See Deuteronomy 28:15-68 for a description of the curse that came upon mankind due to the fall of Adam). Through faith, we receive the promises that give us Christ's victory over the curse (Galatians 3:13,14. Hebrews 11:33). (See Deuteronomy 28:1-14 for a description of the promised blessings that are available to those that have accepted the last Adam – Jesus – as Savior and Lord of their lives).
Lastly, it is not a matter of having faith in our ability but rather having faith in His ability. That is, faith in the completed work of the cross of our Lord Jesus Christ! (Galatians 2:16. Galatians 2:20. Hebrews 12:2. John 1:1. Romans 10:17)
Application Prayer
Heavenly Father, cause us to walk your walk as we walk, talk your talk as we talk, and think your thoughts as we think. Cause our faith not to fail so we can bring glory to what you have already done in and through your Son – Jesus the Christ. Amen. (Based on Ezekiel 36:27, Luke 22:32).
Discover Prayer Series:
---
---
Shalom
(Peace, Wholeness, Success)
Dear friend, I pray that all may go well with you and that you may be in good health, just as it is well with your soul. (3 John 2 NET)
---
---
(1) Select the link to open another article in a new tab with additional information.
(2) Adapted from a blog entitled "Revival!" by Peter Horrobin of Ellel Ministries
(3) Adapted from the video "Stepping into Your Destiny" by Otto Bixler of Ellel Ministries