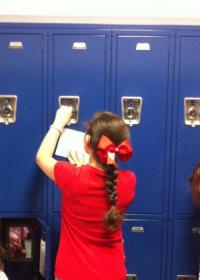 How to Glorify God at School
Just got home from taking my student to walk her schedule and practice opening her locker at her new school. Despite all the fears that come with her disability—you can read about that
here
—I feel so thankful for God's faithfulness in Anna's life, as she gets ready to start junior high in a few weeks.
One of the challenges Anna faces this year has more to do with her desire to glorify God at school than anything else. I told her glorifying God can produce all sorts of blessings, but it can also lead to bullying. She didn't even blink.
Instead she asked, "What am I suppose to do then? How can I glorify God at school?"
Here's what I basically told her.
Stay close to God and depend on Him. When things get hard at school with people or with classes, let God know you need Him. Pray for help! Remember, "Trust God from the bottom of your heart; don't try to figure out everything on your own. Listen for God's voice in everything you do, everywhere you go; He's the one who will keep you on track." Proverbs 3:5–6, (MSG)
Focus on honesty and integrity. Strive to have integrity in everything you do at school. Strive for honesty and trustworthiness with all of your teachers. Do your best to respect others. Follow the rules and work diligently as "for the Lord." Colossians 3:23–24.
Work towards excellence. Work hard and do your best. God has given you all kinds of skills and when you go to school you learn to improve the gifts God has given you. Learn to be a good steward of the talents and gifts God gave you.
Take advantage of your influence and opportunity. Every day you meet new kids, you have the opportunity to influence their lives for God's glory. You don't have to preach to them. You just have to show them Jesus in the way you love and relate to them.
Learn to communicate. Kids these days don't know how to talk to each other. Speak boldly and honestly to your friends. Weave your Biblical worldview into your conversations at school. Don't hide it from your friends. They will learn from you.
Serve Others. Look for ways to serve your teachers, friends and those you see have a need. You can say a word of encouragement, offer to pray for someone or walk alongside someone who needs a friend. Express kindness to all. And smile!
Stay thankful. Everyday—especially the hard, difficult days—give God thanks for your life and how He made you. Do your best not to complain, but instead have a heart of gratitude. Joy springs up from having an attitude of gratitude.
My conversation with Anna reminds me God gives each of us moments in our day to serve and glorify Him. We just have to learn to see and to take advantage of each situation. As I explained this to her, I told her, "It's like opening your locker. At first it seems hard and tricky, but before you know it, you'll be able to do it without thinking about it."