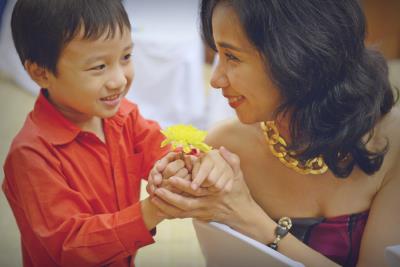 Marriage and Mother's Day- What They Have in Common
Love and respect are fundamental for a solid marriage. We are told by all the experts that in a marriage relationship, men need to be respected and women need to be loved. The Bible supports this but also commands us to love and respect both men and women. Since these things are essential for a happy marriage and commanded by God then it is imperative that part of training up a child in the way he/she should go must include teaching them how to love and respect well.
As we teach children to love and respect their parents we are giving them the basic tools for building a lasting marriage. One of my professors in college taught that men need to look for a wife that speaks lovingly of the father she greatly respects and loves to obey. He taught us women to study how the man we dated was treating his mom and sisters. Did he love them, cherish them, and care for them respectfully?
Mother's Day is a great opportunity to remind our children that giving begins in the heart, grows our hearts, and blesses the hearts of others. Humans are born sinfully selfish. It is essential that we teach them to be thankful and express that thanks with words, cards, gifts, and acts of service.
It can be argued that all these holidays that encourage us to focus on mothers, fathers, grandparents, teachers, secretaries, we could go on, were drummed up by the card industry. Commerce uses guilt to get us to spend more money to line their pockets. To fight against such coercion, many begin to ignore these days all together.
As believers, we are to take every opportunity that this world affords us to teach our
children truth. What would happen if we taught our children that every day is the day to express our big thanks with thoughtful words, homemade cards, wild flowers, handmade gifts, and acts of service? When these special days come, they wouldn't be coerced into spending money they don't have. They would already be doing something special because they practice daily loving well. A child taught to express their love through honest words of gratitude and affirmation, giving thoughtful gifts with meaning, and doing acts of helpful service daily will understand the meaning of loving their spouse well.
The world's take on love is t bent out of proportion. Buying someone flowers, gifts, or serving them on certain calendar days may make them feel honored and even special but it will never satisfy the deep longing to truly be loved. Our daily actions of respect and love in the everydayness of everyday are the building blocks that make bridges for forgiveness and pave roads forward in relationships.
In western culture a parent's love for their children is evaluated by the quality of their child's education, the time and money spent to allow them the privilege of sports and the arts, and the plethora of toys/ technology they provide. These things may make our children feel like they are loved but they do not teach our children how to love, how to respect, how to give to others. This emphasis on our children's needs is out of balance with their need to learn how to love and respect well. Jesus said, "For what benefit is it for a person to gain the whole world, yet forfeit his life?" Mark 4:36 NET Bible
The great love chapter in 1st Corinthians ends with this admonition: And now these three remain: faith, hope, and love. But the greatest of these is love." In the end we must evaluate our love for our children by how well we have taught them the importance of respect through daily expressions of faith hope and above all love.