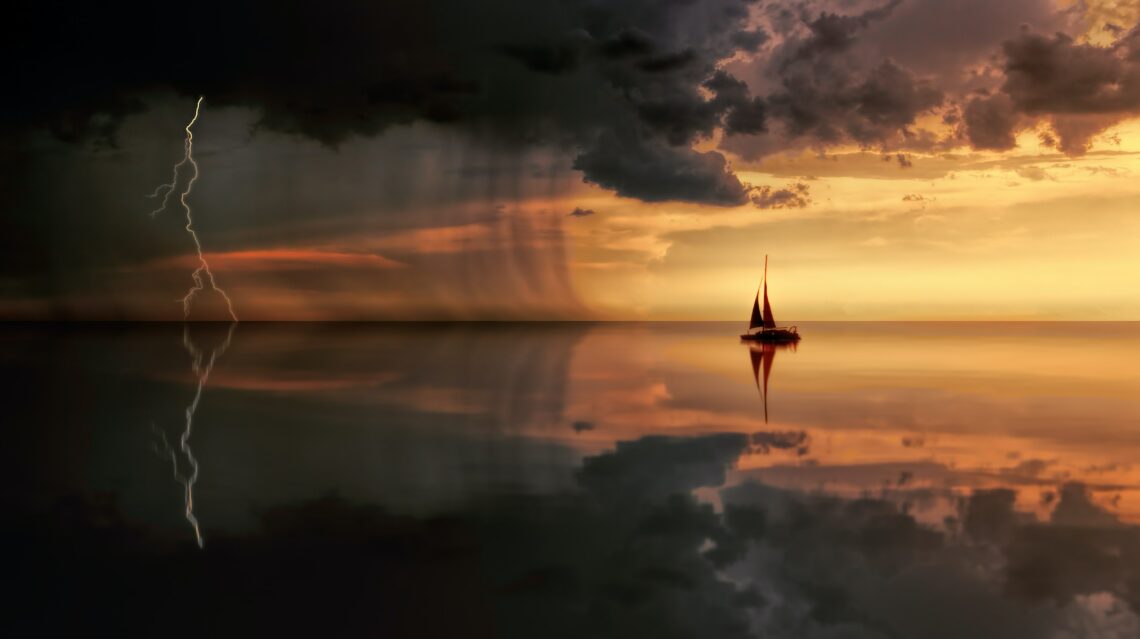 I toss and turn as the minutes turn to hours. Sleep seems far away. Have you been there?
I've struggled with sleep as far back as I can remember. Even with pillows and blankets on a fairly comfortable bed, rest feels so elusive some nights. I find it striking that Jesus could sleep on boat tossed by a violent storm.
It's almost as if you can see storm clouds on the distant horizon as Jesus steps into a boat in Matthew 8. Two men approach him, applying for discipleship, and ask to follow him. Jesus tells them they must leave personal comfort and family obligation behind. Following him requires our complete devotion.
The irony isn't lost as the Son of Man who has "no place to lay his head" (verse 20) soon settles into the ship's stern for a much-needed nap. And soon his teaching comes alive on turbulent seas.
There is risk in following Jesus. And to test his disciples' mettle—and their commitment to what he just taught them about discipleship—Jesus leads them straight into a storm.
The disciples packed into the boat aren't the kind of people who fear the rain. With four former fishermen on board, they knew how to navigate a storm.
But this storm isn't like most. It seems almost supernatural. It comes out of nowhere, as often happens on the Sea of Galilee, engulfing their boat. The large lake threatens to swallow them whole.
Where is Jesus? His disciples are floundering. How could he possibly sleep through such conditions? As someone with lifelong insomnia, I can't even fathom it. And as someone who strongly dislikes life's storm, I can't help but question his timing.
Jesus' sleep seems as supernatural as the storm—perfectly planned to illustrate truth for us. Otherwise why would Jesus sleep when his disciples are about to drown?
The disciples weren't being dramatic when they woke Jesus and told him they were about to die. It wouldn't have been long before the boat, and all its passengers, would have plunged deep into the 12- by 8-mile wide, vast sea. And every person would have been in a fight for his life.
Have you felt that way before? A health problem threatens your future. A deep depression floods your mind. An unanswered prayer drags down your soul.
I imagine the disciples tried everything before waking Jesus. But when nothing else worked, they rouse him.
Jesus doesn't mind the disturbance. He promptly sits up and listens. But before calming the sea, he corrects his disciples—not for coming to him, but for coming without faith.
He sees the fear flashing in their eyes. He knows their heart is submerged.
In their coming, they are really asking: Jesus, do you see us? Do you care about us?
Don't we often respond much the same? Frustrated and fearful, we come to Jesus. We've tried everything else first. But the waves won't stop crashing in on us. Overwhelmed we let fear swallow our faith, and we question if Jesus really has our situation under control.
It's all so ironic, isn't it? Jesus isn't napping unaware. He's giving his disciples—and us—a proper picture of faith. We can sleep in the storm, trusting God's sovereign care.
The more I consider sleep from a biblical perspective, the more I'm convinced that laying down to sleep is one of our greatest expressions of faith. We close our eyes, and drift off. And as we do, we must trust that God will protect us, provide for us, and keep the whole world going while we rest.
Sleep is an ultimate expression of faith and the ultimate realization of peace. We can rest, without fear or worry, knowing someone else is looking out for us.
Too many nights I'd rather sail my own ship and solve my own problems. I want to keep watch. I want to control. But I can't—the storms still come. Fear floods my weary soul, and I toss and turn like a ship at sea.
But there's another way. One filled with peace and rest even as the world tumbles and rages around us. We can have faith that the one who led us into the storm has a plan for it and will lead us out of it.
In Matthew 8 the same word describes the greatness of the storm and the intensity of the calm. Both are unexpected and unexplainable. Both are in Jesus' hands.
We can't stop the storms of life. But we can sleep through them, just like Jesus did, trust him to get us safely to the other side. And when we do, we'll learn more about the one who is sovereign even over the wind and waves.