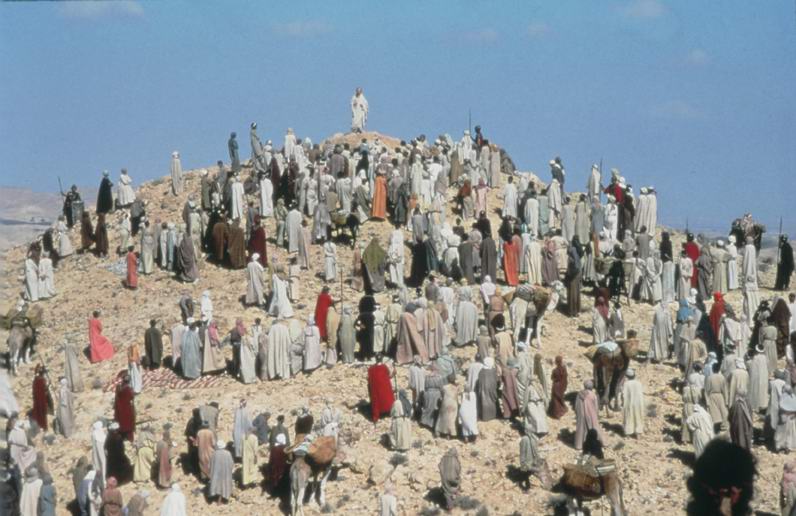 The Beautiful Attitudes – Part I: Blessed are the Poor in Spirit
Understanding the Bible promises us that the fallen world we live in, where evil is called good and good is called evil (1), will never become better but rather become worse and worse until it is replaced (1) – how then should we live? To answer hard questions like this, we should always look to the one that came to Earth to show us the way – Jesus Christ! (John 14:6) What did Jesus say and do when He started His earthly ministry at the age of thirty-two? (1) (Luke 3:21-23) Recall, He started His approximately three and a half year-long Earthly ministry in a time when Rome ruled (1) with its brutality, hedonism, and worship of false gods. A time not unlike today… and our world will only become increasingly worse in the not so distant future (2 Timothy 3:1. Hebrews 1:1,2. 2 Peter 3:3,4).
Jesus knew the ultimate fate of planet Earth (2 Peter 3:7-14) and that the very people He came to save would largely reject and crucify Him! (Mark 8:31) Furthermore, Jesus did spend the majority of His time warning those of things to come (Matthew 4:17, Matthew 23:15-39). Nevertheless, He also taught us to have BEAUTIFUL ATTITUDES while we live in a world that daily afflicts and oppresses the righteous souls of those that love God with all their spiritual heart, soul, and body (2 Peter 2:7-9. Mark 12:28-31).
Furthermore, when Jesus looked upon the crowds of people, He saw them as helpless sheep without a shepherd (Mark 6:34). His spiritual heart being full of grace, mercy, and compassion, moved Him to teach them the way unto the life of God (Psalms 103:8. Luke 19:41-47. John 10:10). He is the Good, Great, and Chief Shepherd (1) of us His sheep! (John 10:11,14,15. John 15:13. Hebrews 13:20,21. 1 Peter 5:4).
We, believers, are called to be salt and light to our world that is set on a course of self-destruction (Matthew 5:13. Colossians 4:5,6. Philippians 2:15). Salt in that we are to preserve, season and heal humanity (1 Peter 4:8. James 5:20). Furthermore, we by the Holy Spirit are the restraining force that is delaying the inevitable destruction of this world long enough to save as many as are willing (2 Thessalonians 2:7. 2 Peter 3:9). Light in that we are to show the way to God the Father through Jesus Christ the Son (Matthew 5:16. Luke 8:16. Acts 26:18. Romans 2:19. 1 Peter 2:9). That is, we are to continue to do what Jesus did when He was on Earth! (Matthew 10:7,8)
With that contextual framing, we begin a series on one of the most famous sermons that Jesus preached in His earthly ministry. Specifically, the section of the Sermon on the Mount commonly referred to as the Beatitudes or by my wordsmithing – Beautiful Attitudes! Again, the purpose of the study is to answer the question – how now should we daily live in a world that seems to be teetering on the brink of destruction?
Let us begin the study:
Blessed are the poor in spirit for the kingdom of Heaven belongs to them (Matthew 5:1-3).
The Greek word for blessed used here has the meaning of being fortunate, prosperous, or successful. That is, successful are those that realize they are poor in spirit! Why? Only those that realize their true bankrupt fallen spiritual nature will accept the free gift of Jesus as their Lord and Savior and thus become spiritually rich! (Luke 12:32. John 14:1-3. Hebrews 11:13-16. Hebrews 11:10).
There are six things that the Lord hates, even seven things that are an abomination to him: haughty eyes, a lying tongue, and hands that shed innocent blood, a heart that devises wicked plans, feet that are swift to run to evil, a false witness who pours out lies, and a person who spreads discord among family members. (Proverbs 6:16–19 NET)
Jesus did not come to call those that think they are already perfect or righteous to repentance (Mark 2:17). Indeed, unless you know you have a problem you will not seek a solution (John 9:39-41). Unfortunately, many that are highly educated or wealthy think they do not need saving and will be forever lost (Matthew 19:23 .1 Corinthians 1:18-31. 1 Timothy 6:6-19). That is unless we become simple like a child in accepting the realization of our spiritual poverty we will never be able to accept that we are in desperate need of the only true Savior Jesus Christ (Matthew 18:1-5. Luke 18:16,17).
Consequently, the first step in having a BEAUTIFUL ATTITUDE is coming to the realization that all your attainment of material success in this world cannot change the spiritual poverty of your dead to God's spirit. Upon this realization, you can then turn to the one that became poor that we might become spiritually rich! (2 Corinthians 8:9. Philippians 2:5-7).
Realize, God the Father has given all things to His unique Son Jesus the Christ, our Lord and God (John 3:35). Furthermore, God the Father has given us the ability to become His children (John 1:12,13), and when we become His children, we become joint-heirs with Jesus (Romans 8:17). That is, everything that the Father has is yours if you are His child! (Philippians 4:19. Psalms 23:1).
That is, God the Father has shared with us His:
Possessions (2 Peter 1:3,4)
Power (Acts 1:8) and authority (Matthew 28:18-29. Acts 4:12)
Person (Galatians 4:6).
Now that is something to have a BEAUTIFUL ATTITUDE about when the world around us seems to be falling apart! Again, you are no longer spiritually poor but rather infinitely spiritually rich if you have accepted Jesus Christ as your personal Lord and Savior (1). (Ephesians 2:4-10)
The Beautiful Attitudes Series:
---
---
Shalom
(Security, Wholeness, Success)
Peace
Dear friend, I pray that all may go well with you and that you may be in good health, just as it is well with your soul. 
(3 John 1:2 NET)
---
---
(1) Select the link to open another article in a new tab with additional information.