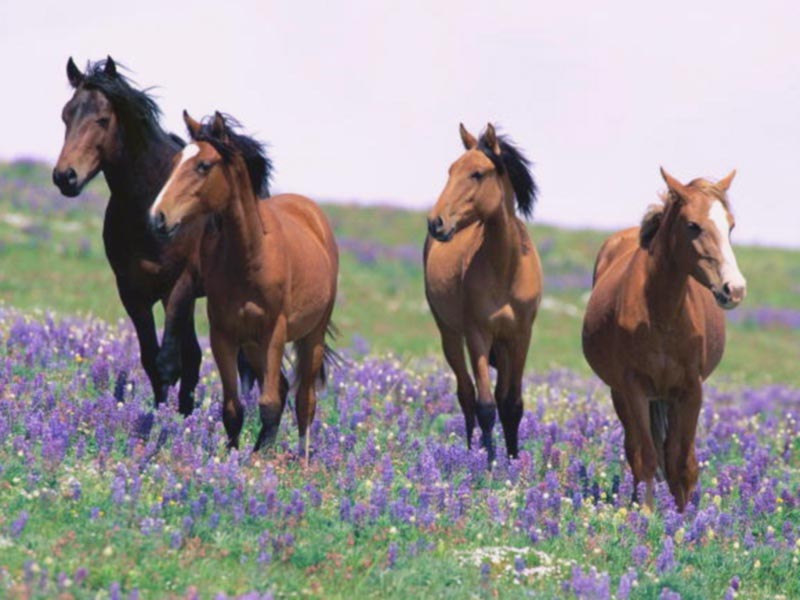 The Beautiful Attitudes – Part III: Blessed are the Meek
"Blessed are the meek, for they will inherit the earth. (Matthew 5:5 NET)
The Greek word for blessed (i.e., makarios) used here has a meaning of being fortunate, prosperous, or successful. That is, successful are those that meek! Why? What is it to be meek? First of all, to be MEEK does NOT mean to be WEAK! Rather meekness is strength under control. Picture a feral horse (i.e., a mustang) that expends its great strength by running the fields yet accomplishes little to nothing in the way of work. However, if that same horse is "tamed", "broken" or "meeked" then that same great strength – that is now under control – can be utilized to accomplish much work for its master!
Consequently, those that have been meeked (i.e., have their strength submitted to God's control, Matthew 11:29,30) will inherit the earth. This is at least partially referring to a time in the future when those that have accepted Jesus as their personal Savior and Lord will receive the Kingdom of God (i.e., The New Heaven and Earth) (1) as an inheritance from God the Father (Matthew 25:34). Realize, presently two spiritual Kingdoms (1) exist simultaneously on Earth: God's Kingdom which exists wherever Holy Spirit-filled Christians live (Luke 17:20,21, Romans 14:17) and Satan's Kingdom of this World which exists basically everywhere else (1 John 5:19. Ephesians 2:2. 1 John 2:15,16. James 4:4).
In this future world Christians will be appointed as leaders under Jesus Christ based on God's criteria for selecting leaders (Luke 19:11-28). Unfortunately, the World chooses leaders that are the opposite or are a counterfeit of God's criteria resulting in leadership that is diametric to what God desires.
God is looking for those with the following qualities to serve as leaders:
Competence
Competence produces influence and leadership simply put is the ability to influence others to some end. Genuine competence comes from:
Knowing the way (i.e., a leader has the ability to create the vision of the preferable future).
Going the way (i.e., a leader has "been there, done that" and has the scars of hardship to prove the competence gained. This includes being able to prioritize, execute and achieve results).
Showing the way (i.e., a leader has the ability to articulate the vision in a way that empowers others to pursue that future with them. This includes the ability to build effective teams, collaborate and inspire others). (3)
Unfortunately, competence can be imitated by stealing the ideas of others and marketing them as your own, utilizing "victory through intimidation" techniques in meetings to convince your opponents and upper management you know more than your perceived competition, or even changing what is important in the workplace so that it reflects their area of expertise and not those they see as competitors, etc.
Character 
The character of Christ Jesus is what is desired in God's leaders (1). Leaders that will do the right thing because they know even if no one else is looking… God is always looking and they desire to please Him! (Psalms 139:7,8. 2 Chronicles 16:9) Godly character also includes NOT being greedy or covetous (Exodus 18:21. Matthew 6:24. Luke 12:15. Hebrews 13:5. Proverbs 15:16. Proverbs 10:22. 1 Timothy 6:6. Proverbs 24:1,2. Psalms 73:1-28).
Unfortunately, Godly character can be imitated for meetings and by performing seemingly altruistic acts. Furthermore, the motive of the heart cannot be seen by the natural human eye, and instead of doing things to bring honor to God, they are simply trying to manipulate upper management into giving them a promotion. Nevertheless, the seed of their own destruction is their greed. The Bible states that covetousness or greed will take away their life (Proverbs 1:19. Proverbs 15:27. Ecclesiastes 5:10. 1 Timothy 6:9,10. Proverbs 23:4. Luke 8:14. Luke 16:15). In addition, those that break the laws of God and lead others to break them will be called LEAST in the Kingdom of Heaven (Matthew 5:19).
When wealth is lost, nothing is lost; when health is lost, something is lost; when character is lost, all is lost

Billy Graham
Chemistry
Chemistry or "being a good fit" to join a leadership team includes the characteristics of:
Commitment – God desires those that will remain loyal to him no matter what the cost. In fact, this is the question of the ages: will you obey me (1) without exception?
Unfortunately, in the world, this can be perverted to require you to be more loyal to the company than to your family and even God in order to move up the ladder. Fair warning, the one at the top of that ladder is Satan, the god of this age, himself (2 Corinthians 4:4) who is simply waiting to kill, steal and destroy you and yours (John 10:10) as you attempt to climb to the top (Proverbs 14:12).
Charisma – Someone who is described as "charismatic" is generally viewed as having a very charming, persuasive personality, and often it's viewed as an almost supernatural trait, with such individuals being remarkably skilled communicators who can often be quite convincing. In my personal experience charisma comes from first of all having a motive to honor God in all that we say, do, think and believe out of a heart filled with love for Him (i.e., not out of obligation or legalistically; 1 Corinthians 10:31. Colossians 3:17,23,24. 2 Corinthians 4:7. Matthew 5:16) and secondly, a strong desire to help those that you lead out of a heart filled with God's grace, mercy and compassion for them (Matthew 9:13. Matthew 12:7. James 2:13).
Communication – Effective leaders have mastered the six basic functions of management: leading, planning, organizing, staffing, controlling, and COMMUNICATING. How do the best leaders motivate and inspire their people? Through clear communication. How do the best organizations promote discipline, accountability, and strategic alignment? With clear communication. In real estate, the old cliché is "location, location, location." In leadership, it is "communication, communication, communication." (1 Peter 4:11)
Summary
Inheriting the Earth in the future, now that is something to have a BEAUTIFUL ATTITUDE about when the world around us seems to be falling apart! Again, if you will allow God our Father to meek you, then you too can inherit the Earth! Do not worry if others have stolen your promotions throughout your career. Forgive them and realize God has a better position of leadership for you in His Kingdom (1 Peter 5:6. Psalms 75:6,7) and allow the tribulation from rejection to build endurance, character, and hope in your life (Matthew 16:24,25. John 12:26. Matthew 6:33. 1 Peter 4:12-14. Romans 5:3-5. Romans 12:3. Philippians 3:18-21. John 7:24).
Oh, so you been overlooked? They have placed someone else before you? They have whispered that you are pretty small stuff, after all? And now you feel hurt because the world is saying about you the very things you have been saying about yourself? Only yesterday, you were telling God that you were nothing, a mere worm of the dust. Where is your consistency? Come on, humble yourself, and cease to care what men think.

A.W. Tozer
Recall Jesus said that He was sending us out as sheep amongst wolves (Matthew 10:16). To be like sheep among wolves is not a situation to envy, but nevertheless, it is a situation that many Christians are familiar with. Mobs in the streets, politicians in government, neighbors in our area, and the media; at times they all act like wolves, looking for prey (1 Peter 5:8). You may feel intimidated in such situations, and yet Jesus says it is possible to live in these circumstances (John 16:33. Matthew 11:29,30). That is, the situation is not hopeless. Jesus then uses two more animals to make His point about that situation. "be as shrewd as snakes!" Jesus tells His followers not to worry, rather trust in Him. But that doesn't mean we should be foolish, or just sit down and wait to see what happens. On the contrary, the Bible teaches us to ask for wisdom (1) (James 1:5-8), a wisdom that's from above; wisdom and shrewdness that makes it possible for us, like sheep, to live among a flock of wolves, and still survive. Again, when Jesus speaks about us as sheep in a land full of wolves He is not giving us a picture of hopelessness and suggesting that we give up (Joshua 1:9). The Christian life is always a life of overcoming, of doing the impossible, of triumph against all odds (Romans 8:35-39). The Christian life, even on the most basic level of survival in the face of satanic resistance, is nothing less than a miracle (1 Peter 4:12-14). For it to happen Jesus tells us we must be shrewd, and seek wisdom from above. And that takes us to the fourth animal, the dove. While involved in the battle between darkness and light, between good and evil, and between God and Satan, be as innocent as doves! No place for conceit, hidden agendas, deception, or cunning. No foul play! (Romans 12:21) So the wisdom Jesus commends is not wisdom to do tricks:
But the wisdom from above is first pure, then peaceable, gentle, accommodating, full of mercy and good fruit, impartial, and not hypocritical. (James 3:17 NET)

Be like doves! Jesus is not putting a heavy burden of things to do on us. He's showing us an arsenal of weaponry that will enable us to overcome the evil one and all his hordes in this dark world (Ephesians 6:10,11). The sheep will overcome the wolves! (1 John 5:4,5) The meek shall defeat the wild! (Psalms 73:17-20) Not just in a distant future, somewhere, but in our daily life, here and now. So, brother, sister: Be not afraid when you see the wolf nature in people, or when you hear the sound of the wolves. Instead, follow the instructions of Jesus (1), and the land of wolves will become a land of sheep (1) for you! (Psalms 23) Today! (2 Corinthians 6:2) (2)
Application Prayer:
Father, in the Name of Jesus Christ, I choose you today. Whatever it takes to break me, do it. I must be yours completely. I am ready for Your Life in and through me. Reveal the deception that is in my life. Search me, O God, and know my heart: try me, and know my thoughts: And see if there be any wicked way in me, and lead me in the way everlasting. Form in me a contrite, poor, humble spirit and heart that trembles at your Word. Cause me to know Jesus, the power of His resurrection and the fellowship of His sufferings being made conformable to His death that I might obtain the resurrection from the dead. Set a watch, O LORD, before my mouth; keep the door of my lips. By your mercies, I offer my body as a living sacrifice, holy, acceptable unto You, which is my reasonable service. I choose to not be conformed to this world: but be rather transformed by the renewing of my mind, that I may prove what is Your good, and acceptable, and perfect, will. I am crucified with Christ: nevertheless, I live; yet not I, but Christ lives in me: and the life which I now live in the flesh I live by the faith of the Son of God, who loved me, and gave himself for me. Give me according to the riches of Your glory to be strengthened with might by Your Spirit in my inner man so that Christ may dwell in my heart by faith. That I, being rooted and grounded in love, may be able to comprehend with all saints what is the breadth, and length, and depth, and height; and to know the love of Christ, which passes knowledge, that I might be filled up to all the fullness of God. Now unto You that is able to do exceeding abundantly above all that I ask or think, according to the power that works in us, be glory in the church by Christ Jesus throughout all ages, world without end. That my love may abound more and more in full knowledge and all perception, so that I may distinguish the things that differ, that I may be sincere and without blame for the day of Christ being filled with the fruits of righteousness through Jesus Christ, to the glory and praise of God. That I might be filled with the knowledge of His will in all wisdom and spiritual understanding; That I might walk worthy of the Lord unto all pleasing, being fruitful in every good work, and increasing in the knowledge of God; Strengthened with all might, according to his glorious power, unto all patience and long-suffering with joyfulness giving thanks unto you my Father.
In Jesus Christ's Name, Amen.
(Prayer based on Psalms 34:18; Psalms 51:17; Isaiah 6:1-6; 57:15; 66:2; Philippians 3:10,11; Psalms 139:23,24; Psalm 141:3; Galatians 2:20; Romans 12:1,2; Ephesians 3:14-16; Philippians 1:9-11; Colossians 1:9-11)
The Beautiful Attitudes Series:
For further study on being meeked or broken see:
The Five Phases of Spiritual Growth Series:
---
---
Shalom
(Security, Wholeness, Success)
Peace
Dear friend, I pray that all may go well with you and that you may be in good health, just as it is well with your soul. 
(3 John 1:2 NET)
---
---
(1) Select the link to open another article in a new tab with additional information.
(2) Adapted from Ellel Ministries International Seeds of the Kingdom Daily Devotional May 10, 2013, Surviving the Wolves by Goran Andersson.
(3) Adapted from John Maxwell's book: The 21 Irrefutable Laws of Leadership: Follow Them and People Will Follow You.