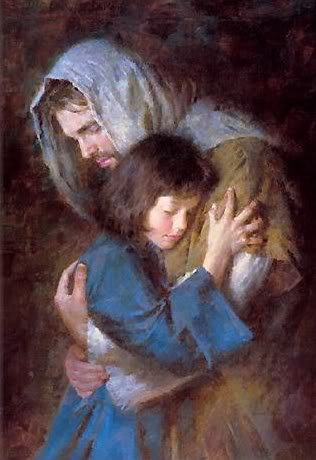 The Beautiful Attitudes – Part II: Blessed are those who Mourn
"Blessed are those who mourn, for they will be comforted. (Matthew 5:4 NET)

The Greek word for blessed (i.e., makarios) used here has the meaning of being fortunate, prosperous, or successful. That is, successful are those that mourn! Why? When do we mourn? Mourning is the proper reaction to the loss of something considered precious and dear… something or someone that we loved. This may be the loss of a loved one, loss of plans for marriage due to unrequited love, loss of plans for your children's future as they become rebellious, or loss of career opportunities while being sidetracked in your place of employment for decades thus effectively wasting your working life, etc. Furthermore, mourning is part of the natural progression as we move through the stages of grief.
Realize, the stages of grief are responses to feelings that can last for minutes or hours as we flip in and out of one and then another. That is, we do not necessarily enter and exit each individual stage in a linear fashion. We may feel one, then another, and back again to the first one as we work through the loss. Someone in grief may feel more than five stages, and that is also normal as grief is unique for each person. Furthermore, do not think of the stages as lasting weeks or months as each person will uniquely experience their grief in their own time.
Denial (Suspension of Reality)
This first stage of grieving helps us to survive the loss. In this stage, the world becomes meaningless and overwhelming. Life makes no sense. We are in a state of shock and denial. We wonder how if we can go on and perhaps why should we? We try to find a way to simply get through each day. Realize denial and shock help us to cope and make survival possible. Denial helps us to pace our feelings of grief. Consequently, denial serves to let in only as much of the loss that we can at first handle (John 20:25).
Our memory, the storage, and recall of information from the past are surely a wonderful, though complex, aspect of God`s design for the human body. It requires detailed interaction between the physical senses, the brain, the soul, and, not least, the human spirit (1 Corinthians 2:11). Trauma can cause a break to these physical and spiritual connections within the body, causing memory loss or distortion. Also, we may make a conscious or unconscious choice to disconnect from painful or guilty memories as a coping mechanism. Any such breaks in the rightful flow of memory, especially when chosen, are contrary to God`s order and can give an opportunity for the enemy to interfere with the complex systems of memory within the body, soul, and spirit (6).
Furthermore, prolonged denial can be a choice not to face the truth of sin or inner wounding. The issues of life often cause deep pain and shame, so we try to minimize the discomfort in various ways, including denial. It can seem beneficial to disconnect from the reality of a wounded heart by convincing ourselves that the damage was nothing, it didn't hurt, it hasn't affected us, it`s forgotten, and it doesn't need God`s healing. We can also do something similar with the sinful choices and the guilty feelings from the past, justifying ourselves or denying the fact of wrongdoing (2).
Rightful remembrance should be part of normal life (Luke 22:19). Those memories which have been painful cannot be brought to a place of peace with Jesus when we choose not to allow brokenness to be the way (even unconsciously) of dealing with the wounds or sins of the past. Just deciding to forget them does not resolve them; it merely buries them in a place of spiritual isolation and darkness. God does not totally wipe out difficult memories but, through His healing of wounds and His forgiveness of sin, He removes the nagging remembrance of pain and shame (6).
We will begin to move out of this phase as we become honest with ourselves about the loss experience.
Anger (Blaming)
Anger is a necessary stage of the healing process. Be willing to feel your anger, even though it may seem endless. Realize, all of us experience anger from time to time, and anger in itself is not a sin; it is how we handle it that determines whether we are sinful or not (Ephesians 4:26). Righteous anger is aroused, usually when we see or hear about injustice (Matthew 21:12-14). Unrighteous anger is when our feelings cause us to behave in ungodly ways (James 1:19,20). It is most likely that this anger is the result of hidden pain, perhaps from rejection, abuse, or fear, though there may be other causes. The loss occurs, and this triggers this buried anger to come to the surface, and we may react in ungodly ways. Again, it is all right to feel angry, but it is NOT all right to display ungodly anger, which harms others (3).
The more you genuinely feel righteous anger, the more it will begin to dissipate, and the more you will heal. Underneath anger is a pain, your pain and hurt. Anger is limitless as it can extend not only to your friends, doctors, family, yourself, and your loved ones but also to God. You may ask, "Where is God in this loss? How could a God that is LOVING allow so much bad into our good world? (Actually, the better question would be: How could a just God allow so much good into such a bad world?). It is in this phase that we become honest with God about the loss experience.
At first, grief feels like being lost at sea: no connection to anything. Then you get angry at someone, and suddenly you have a structure – your anger toward them – even if that them is God Himself (Genesis 3:12)! The anger becomes a bridge over the open sea, a connection from you to them. It is something to hold onto, and a connection made from the strength of anger feels better than nothing. Consequently, the anger is another indication of the intensity of your love for that which was a loss.
Bargaining (Rationalizing)
Before a loss, it seems like you will do anything if only that which you hold dear would not be taken from you. For example, please God, I will never be angry at my husband, parents, siblings, etc. again if you'll just let them live. After a loss, bargaining may take the form of a temporary truce. "What if I devote the rest of my life to helping others? Then can I wake up and realize this has all been a bad dream? We become lost in a spiral of "If only…" or "What if…" statements. We want life returned to what it was (e.g., we want our loved one restored). We want to go back in time (e.g., find the tumor sooner, recognize the illness more quickly, stop the accident from happening…if only, if only, if only…). Guilt is often bargaining's companion. The "if only's" cause us to find fault in ourselves and what we "think" we could have done differently. We may even bargain with the pain. We will do anything not to feel the pain of this loss. We remain in the past, trying to negotiate our way out of the hurt (John 11:21). We begin to leave this phase as we realize that we cannot be comforted in our own ability or even our ability supplemented by God's ability. It must be all God and God alone (2 Corinthians 7:10).
Depression (Mourning)
Our attention moves squarely into the present. Empty feelings present themselves, and grief enters our lives on a deeper level, deeper than we ever imagined. This depressive stage feels as though it will last forever. It is important to understand that this depression is NOT a sign of mental illness. It is the appropriate response to a great loss (Ecclesiastes 3:1,4).
Consequently, we withdraw from life, left in a fog of intense sadness, wondering, perhaps, if there is any point in going on alone? Why go on at all? Depression after a loss is too often seen as unnatural: a state to be fixed, something to snap out of. The first question to ask yourself is whether or not the situation you are in is actually depressing. For example, the loss of a loved one is a very depressing situation with depression a normal and appropriate response. To NOT experience depression after a loved one dies would be unusual.
Tears are a godly expression of inner pain – they are also the first step on the road to comfort and healing. Realize, there are many events in life that can be the source of pain and consequential tears. Perhaps the greatest suffering any of us can experience is the untimely loss of a loved one. Such events prompt unanswerable questions – questions that Jesus totally understands (Matthew 5:4. Hebrews 4:15. Psalms 116:15) (4).
When a loss fully settles in your soul (e.g., the realization that your loved one did not get better this time and is not coming back) it is understandably depressing. Grief is a process of healing with depression as one of the many necessary steps along the way.
It is in this stage that we mourn the loss, already having realized that we cannot comfort ourselves from the "Bargaining Phase" and avail ourselves of the comfort (Greek word for comfort = parakaleo) (Matthew 5:4) of God the Great Comforter (Greek word for comforter sometimes translated helper or advocate = parakletos) (John 14:16, 26. John 15:26. John 16:7). It is the comfort that we receive from God our Abba-Father (i.e., Daddy-Father) that allows us to move into the last stage of grief (Galatians 4:6). It is in this depression or mourning stage where we are ready to receive the comfort given by God or from other people of God (2 Corinthians 1:3-7. Romans 15:5). It is in this phase that we humble ourselves so that we can receive God's grace, mercy, and compassion (Proverbs 3:34. James 4:6). However, we must choose not to give in to the temptation to stay in mourning but rather offer up the sacrifice of praise. Then, you will see your grief turned to the joy of Jesus! (1)
Acceptance (Restoration)
Acceptance is often confused with the notion of being "all right" or "OK" with what has happened. However, this is not the case. For example, most people do not ever feel "OK" or all right about the loss of a loved one. This stage is about accepting the comfort of God within the reality of our loss and recognizing that this new reality is the present reality for our lives on Earth. We will probably never like this reality or make it OK, but eventually, we accept it. That is, we learn to live with it. It is the new norm with which we must learn to live. We must now live in a world where we have experienced the loss with dependence upon the moment-by-moment comfort of God and the hope of our future resurrection with Him (Psalms 23:4. 1 Thessalonians 4:13-18).
At first, many people resist this new norm desiring to maintain life as it was before the loss. In time, through bits and pieces of acceptance; however, we see that we cannot keep the past intact. It has been forever changed, and we must readjust. We must learn to reorganize roles, re-assign them to others, or take them on ourselves. Realize, finding acceptance may be just having more good days than bad ones. As we begin to live again and enjoy our life, we often feel that in doing so, we are betraying the loss from our lives (e.g., a loved one) was. However, we can never replace what has been lost, but we can make new connections, new meaningful relationships, new inter-dependencies. Instead of denying our feelings, we listen to our needs; we move, we change, we grow, we evolve, we move on, we transcend. We may start to reach out to others and become involved in their lives. We invest in our friendships and in our relationship with ourselves. We begin to live again, but we cannot do so until we have given grief its time. Ultimately, we can give the comfort we received from God, for our loss, to others experiencing similar losses (Psalms 51). That is, we become the wounded healer!
We have used examples of the loss of something physical or someone in this article. I believe that Jesus was addressing these issues; however, He was addressing something even more precious and valuable. That is the loss of fellowship with God as a result of the fall of mankind in the Garden of Eden (1). When we come to the point of realizing the loss of eternal life with God as a result of the original sin of Adam (Genesis 2:16,17. Genesis 3:1-6), and our entering into this loss of eternal life by our sins (Romans 7:9,10. Romans 3:23), then we will enter the grieving process culminating in our seeking the comfort that can only be obtained by the free gift of salvation through Jesus Christ our Lord and Savior (1).
Again, successful are those that mourn, for they will be comforted (Matthew 5:4)! It is at this stage of grief that God will reveal to you His new plan for your life… a plan far better than what we could have thought up or asked from Him (Jeremiah 29:11. Ephesians 3:20. Romans 8:28). Remember all the suffering that Job (1) went through with the loss of his possessions, children, and health (Job 1:13-19. Job 2:7) yet the end result was that he was twice as prosperous as before in things that money can buy and more important things that money cannot buy (Job 42:10-17. Isaiah 61:7. James 5:11. Psalms 30:5. Romans 15:13).
Lastly, we often let the cares of this world and the pressures of our daily lives pull us down into the "pit of despair". Yet there's a simple and easy alternative, to cast all our cares upon the One who's able to take them from us and lift us up above them (Romans 15:5. 1 Peter 5:7. Philippians 4:6,7). So often in life, there are those things that seem to develop, almost unseen, yet they have the habit of "getting on top" of us and lead us into depression and despair because we feel unable to cope. Sometimes it's comforting to recognize that others have had gone through similar experiences, and yet have seen God intervene and bring them through in an amazing way (Romans 15:4). We have an Almighty God, who, as our loving Heavenly Father, can do anything, even perform miracles on our behalf, because of the greatness of the love He has for us.
Again, Paul reminds us:
Now to him who by the power that is working within us is able to do far beyond all that we ask or think, (Ephesians 3:20 NET)
If this is our God, and this is His power, and we truly believe that He really loves us, then, surely, He wants us to trust Him to sustain us when we experience the kind of problems and difficulties when we feel unable to cope with by ourselves. (5)
to him who by the power that is working within us is able to do far beyond all that we ask or think, (Ephesians 3:21 NET)
Now that is something to have a BEAUTIFUL ATTITUDE about!
The Beautiful Attitudes Series:
---
---
Shalom
(Security, Wholeness, Success)
Peace
Dear friend, I pray that all may go well with you and that you may be in good health, just as it is well with your soul. 
(3 John 1:2 NET)
---
---
(1) Select the link to open another article in a new tab with additional information.
(2) David Cross, Ellel Ministries, Seeds of the Kingdom (February 26, 2013)
(3) Angela Weir, Ellel Ministries, Seeds of the Kingdom (September 22,23, 2010)
(4) Peter Horrobin, Ellel Ministries, Seeds of the Kingdom (February 28, 2013)
(5) David Silvester, Ellel Ministries, Seed of the Kingdom (March 1, 2013)
(6) David Cross, Ellel Ministries, Seeds of the Kingdom (December 26, 2013)