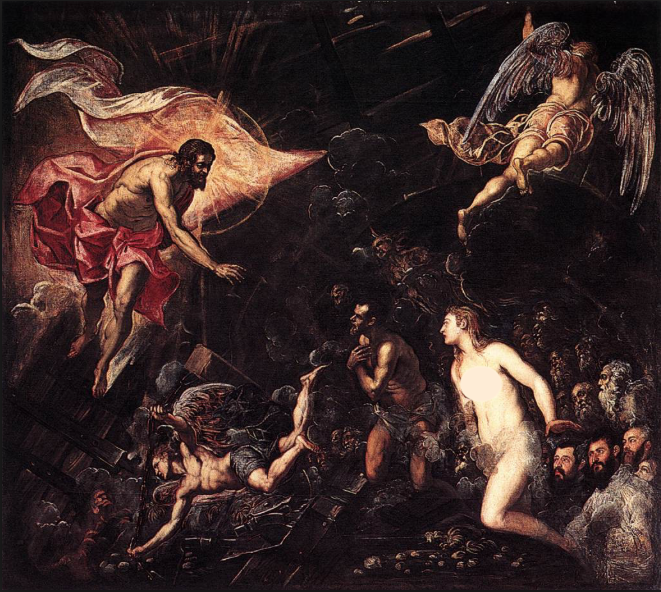 Part V: The Lord of the Scroll – The Re-Birth of the King!
---
At Calvary, it is a little after 3:00 PM with the Jewish day being over at 6:00 PM. In Paradise, the believing thief recalled what Jesus had said to him while on the cross – "Today" (i.e., before 6:00 PM Luke 23:43) He would join him in Paradise. How can this be since Jesus is in the Abyss? But then again he thought, while his eyes darted back to the Abyss, Jesus never lies…
Those in Paradise stared intently at the entrance to the Abyss. The entrance was covered by a barrier that allowed entry but no exit from this place of maximum security confinement. It was this barrier that gave the Abyss' opening the wave-like appearance of a sea. Jesus had taken upon Himself all of our sin and passed through this one-way sea appearing barrier (Micah 7:19).
The first Adam had rebelled against a Holy God in the Garden of Eden, and now the full judgment for that sin has been paid by Jesus (the Last Adam) at Calvary (1 Corinthians 15:45,47). Furthermore, Jesus has carried this OUR sin to a place where it will be remembered no more – the Abyss (Psalms 103:12).
Jesus while in the Abyss, the lowest place of all, calls out to God His Father for deliverance.
Though you have allowed me to experience much trouble and distress, revive me once again! Bring me up once again from the depths of the earth! Raise me to a position of great honor! Turn and comfort me! (Psalms 71:20,21 NET)
and said, "I called out to the Lord from my distress, and he answered me; from the belly of Sheol I cried out for help, and you heard my prayer. You threw me into the deep waters, into the middle of the sea; the ocean current engulfed me; all the mighty waves you sent swept over me. I thought I had been banished from your sight, that I would never again see your holy temple! Water engulfed me up to my neck; the deep ocean surrounded me; seaweed was wrapped around my head. I went down to the very bottoms of the mountains; the gates of the netherworld barred me in forever; but you brought me up from the Pit, O Lord, my God. When my life was ebbing away, I called out to the Lord, and my prayer came to your holy temple. Those who worship worthless idols forfeit the mercy that could be theirs. But as for me, I promise to offer a sacrifice to you with a public declaration of praise; I will surely do what I have promised. Salvation belongs to the Lord!" (Jonah 2:2-9 NET)
He said: "I love you, Lord, my source of strength! The Lord is my high ridge, my stronghold, my deliverer. My God is my rocky summit where I take shelter, my shield, the horn that saves me, and my refuge. I called to the Lord, who is worthy of praise, and I was delivered from my enemies. The waves of death engulfed me, the currents of chaos overwhelmed me. The ropes of Sheol tightened around me, the snares of death trapped me. In my distress I called to the Lord; I cried out to my God. From his heavenly temple he heard my voice; he listened to my cry for help. (Psalms 18:1-6)(cf. 2 Samuel 22:1-7)
God the Father and God the Holy Spirit had been waiting for this moment – it was all part of the plan. (Psalms 16:10. Acts 2:27) With a startling swiftness, God the Father and God the Holy Spirit descend into the Abyss and deliver Jesus and all the hosts of Hell are powerless to stop Him. (Romans 6:4;8:11;10:9. 2 Corinthians 13:4. Galatians 1:1. Colossians 2:12. Hebrews 13:20) (6)
The earth heaved and shook; the roots of the mountains trembled; they heaved because he was angry. Smoke ascended from his nose; fire devoured as it came from his mouth; he hurled down fiery coals. He made the sky sink as he descended; a thick cloud was under his feet. He mounted a winged angel and flew; he glided on the wings of the wind. He shrouded himself in darkness, in thick rain clouds. From the brightness in front of him came hail and fiery coals. The Lord thundered in the sky; the sovereign One shouted. He shot his arrows and scattered them, many lightning bolts and routed them. The depths of the sea were exposed; the inner regions of the world were uncovered by your battle cry, Lord, by the powerful breath from your nose. He reached down from above and took hold of me; he pulled me from the surging water. He rescued me from my strong enemy, from those who hate me, for they were too strong for me. They confronted me in my day of calamity, but the Lord helped me. He brought me out into a wide open place; he delivered me because he was pleased with me. The Lord repaid me for my godly deeds; he rewarded my blameless behavior. For I have obeyed the Lord's commands; I have not rebelled against my God. For I am aware of all his regulations, and I do not reject his rules. I was innocent before him, and kept myself from sinning. The Lord rewarded me for my godly deeds; he took notice of my blameless behavior. You prove to be loyal to one who is faithful; you prove to be trustworthy to one who is innocent. You prove to be reliable to one who is blameless, but you prove to be deceptive to one who is perverse. (Psalms 18:7-26 NET)(cf. 2 Samuel 22:8-27)
Realize, Jesus who is God was separated from God the Father and God the Holy Spirit when He became our sin (Isaiah 54:7,8. Isaiah 53:1-12). Jesus is now joined back again with God the Father and God the Holy Spirit thus making Him alive (to God) in the lowest of all places (Romans 8:11. 1 Peter 3:18. 1 Peter 1:21). The two Angels guarding His body, one at His head and one at His feet so that it would not experience corruption or decay after the crucifixion, transport His body down to Him and Jesus as a spirit enters and is joined or knit together to His flesh and bone body that has not decayed. (Psalms 139:14,15. Acts 2:31. Luke 24:39. John 20:10-12) That is, the God-Man Jesus is born again as spirit and flesh in the lowest of all places. (Hebrews 1:5;5:5)
Realize, since Jesus was born again in the lowest of all places, then that means it is possible for all that believe in Jesus as Savior and Lord while on Earth can be born again – even in the spiritually lowest places on Earth! (Romans 10:9,10). Hallelujah!
I relied completely on the Lord, and he turned toward me and heard my cry for help. He lifted me out of the watery pit, out of the slimy mud. He placed my feet on a rock and gave me secure footing. He gave me reason to sing a new song, praising our God. May many see what God has done, so that they might swear allegiance to him and trust in the Lord! How blessed is the one who trusts in the Lord and does not seek help from the proud or from liars! O Lord, my God, you have accomplished many things; you have done amazing things and carried out your purposes for us. No one can thwart you! I want to declare them and talk about them, but they are too numerous to recount! Receiving sacrifices and offerings are not your primary concern. You make that quite clear to me! You do not ask for burnt sacrifices and sin offerings. Then I say, "Look! I come! What is written in the scroll pertains to me. I want to do what pleases you, my God. Your law dominates my thoughts." I have told the great assembly about your justice. Look! I spare no words! O Lord, you know this is true. I have not failed to tell about your justice; I spoke about your reliability and deliverance; I have not neglected to tell the great assembly about your loyal love and faithfulness. (Psalms 40:1-10)
The Holy Spirit again comes upon Jesus to empower the God-Man Jesus because He is still not using His power as God but rather as a Man empowered by God the Holy Spirit.
The power released to bring Jesus back from death to life in the Abyss causes an earthquake on the Earth's surface. This earthquake results in the veil of the temple being torn, and it opened the graves of those held in Paradise (Matthew 27:50-52. Ephesians 1:18-20).
Jesus then enters Paradise shortly after 3:00 PM Wednesday where He will spend the next few Earth days preaching the Gospel to its captives which are all those people since the fall of Adam that died in covenant with God (1 Peter 4:6). Oh, what a revival that must have been! He also preaches a message of judgment to the fallen angels in another compartment of Hades (1 Peter 3:18-20. 2 Peter 2:4. Jude 1:6,7. Hebrews 2:16.).
Thursday the following day is the "annual" High Sabbath of the Feast of Unleavened Bread that lasts seven days (Numbers 28:16-18. John 19:31). Friday is the Second Day of the Feast of Unleavened Bread, and Saturday is the "weekly" Sabbath. Thus Jesus stays in the "heart of the Earth" for three Hebrew days (Thursday 6:00 AM to 6:00 PM, Friday 6:00 AM to 6:00 PM, Saturday 6:00 AM to 6 PM) and three Hebrew nights (Wednesday 6:00 PM to Thursday 6:00 AM, Thursday 6:00 PM to Friday 6 AM, Friday 6: PM to Saturday 6:00 PM) (Matthew 12:40).
From another perspective, Thursday, when Jesus' body lay in the grave, is day zero, Friday is the first day, Saturday is the second day, and Sunday is the third day when Jesus was resurrected (1)(5) (1 Corinthians 15:1-4. Matthew 16:21. Acts 10:34-41).
Another severe Earthquake occurs as The Lord's Angel (1) descends from Heaven and rolls the stone away from the entrance to the tomb terrifying the guards and then sits on that stone. (Matthew 28:2-4) Jesus returns in His human bodily form early Sunday morning and first appears to Mary Magdalene. He asks her not to detain Him for He has not yet ascended to God His Father in Heaven – I must pause as these are some of my favorite words in scripture and thanks to Jesus' efforts can now be true once more for all that believe – and God OUR Father! (John 20:15-18).In addition, it was important for Jesus not to be touched in a manner that He would be defiled as He had the duties of our Great High Priest to perform in Heaven. Those held captive in Paradise are temporarily returned to their bodies on Earth in preparation for moving Paradise (aka., The Garden of Eden (1) which contains the Tree of Life) back to Heaven (Matthew 27:52,53. Revelation 2:7;22:2,14) where it becomes an island in the waters of the river of Life (Revelation 22:1,2). There is now no need for a temporary holding place on Earth for those that die in Covenant with God; therefore, none is provided. Jesus has made a way to Heaven for all who die believing in Him as Savior and Lord (John 14:6). Either we die believers and go to Heaven or die unbelievers and go to Hell (John 3:16-18. John 16:7-11).
For he came out of prison to become king, even though he had been born poor in what would become his kingdom. (Ecclesiastes 4:14).  
Jesus leads the rescued hostages back to Paradise in Heaven (think of Paradise now as the point of entry for planet Heaven) (Ephesians 4:8,9). What a homecoming that must have been! Jesus, Son of God and Son of Man, leading back the rescued "children" held in Paradise for thousands of Earth years back to God the Father! Jesus then enters the Most Holy Place of the Temple of Heaven as our Great High Priest (1) (Hebrews 9:11-15. Revelation 12:5). Jesus our living Mercy Seat (1) upon which His own blood was shed for our remission and forgiveness of sin is now in the Most Holy Place. God the Father restores Jesus' right to use His power as God – which He was, is, and ever shall be – the eternal God that became Man (John 8:58. Hebrews 1:1-12). Glory! Actually, glory is the operative word for that is what Jesus was asking His Heavenly Father for right before His arrest on the Mount of Olives. That is, He was praying for the restoration of the abilities that were rightfully His as God (John 17:1-5). Note that after Jesus' Great High Priest ordination ceremony in Heaven was completed, which lasted seven Earth days (Leviticus 8:33), Jesus on the eighth Earth day would request that Thomas touch His hands and side now that the Great High Priest Coronation Ceremony had been completed. (John 20:26,27)
Satan realized he was the victim of the greatest sting operation of all time! He was defeated by the very crucifixion of Jesus he had instigated (1 Corinthians 2:6-8) The Archangel Michael then drives Satan and his unholy fallen angels back out of Heaven and to the Earth for the second time (Revelation 12:7-9). No longer can Satan appear before God in Heaven to accuse us (Revelation 12:10). Furthermore, all that had been accused by Satan since the fall of mankind have now overcome him by the blood of the lamb and the word of their testimony for which they were willing to die (Revelation 12:11. Colossians 2:13-15. Hebrews 11:13. Hebrews 11:32-40). Satan then realizes his time is short and filled with anger intensifies his war (Revelation 12:12) on Israel (Revelation 12:13). Then some of the survivors of the Satan-inspired Roman destruction of Jerusalem on September 8, 70 AD (2) went to Masada (means Citadel) where they were protected from the Romans for three and a half years until it was destroyed by the Romans in March 31, 74 AD (2) (Revelation 12:14). Satan attempted to annihilate all of the Israelites; however, some hiding under the earth in tunnels (4) around Jerusalem escaped to be dispersed throughout the world while the Romans were focused on annihilating those living in Masada (Revelation 12:15,16). Satan then turned to make war on the Church (Revelation 12:17. Revelation 13:1-18. 1 Peter 5:8).
To be continued (1)…
Links to the entire series:
Part I: The Lord of the Scroll – Fellowship Lost! (1)
Part II: The Lord of the Scroll – The Two Kingdoms (1)
Part III: The Lord of the Scroll – The Revelation of the King! (1)
Part IV: The Lord of the Scroll – The Death of the King (1)
Part V: The Lord of the Scroll – The Re-Birth of the King! (1)
Part VI: The Lord of the Scroll – Selah* (1)
Part VII: The Lord of the Scroll – Revelation of the King's Bride! (1)
Part VIII: The Lord of the Scroll – Revelation of the King of Kings! (1)
Part IX: The Lord of the Scroll – The Lord of Hosts (1)
Part X: The Lord of the Scroll – The Scroll of Authority Revealed! (1)
Part XI: The Lord of the Scroll – When will the King of Kings Return? (1)
Part XII The Lord of the Scroll – God has made everything fit beautifully in its appropriate time* (1)
---
(1) Left-click on the underlined phrase to open another article in a different tab with more explanation.
(2) http://www.livius.org/articles/concept/roman-jewish-wars/roman-jewish-wars-5/
(3) Jacopo Tintoretto, Jesus in Hell
(4) "Warren's findings, together with the discovery of Reich and Shukron described in the recent news reports, fully support Josephus's statements relating to the tunnels beneath Jerusalem and the use to which they were put during the Roman siege of 70 A.D. These underground passages enabled many inhabitants of Jerusalem to exit the city and flee both south to Masada and, via Nahal Qidron and other wadis heading from Jerusalem eastward toward the Dead Sea, to the Machaerus fort lying just east of that sea, which was actually closer to Jerusalem than was Masada. (Josephus describes the large number of refugees who gathered at Machaerus.). The circumstances as now known leave little doubt that, quite likely beginning even before the siege had begun, groups engaged in hiding the Temple treasures, the books and other items listed in the Copper Scroll — as well as those ancient writings of the Palestinian Jews known as the Dead Sea Scrolls, which were found centuries later in caves near the wadis leading out of Jerusalem. Norman Golb is the Ludwig Rosenberger Professor of Jewish History and Civilization at the University of Chicago and the author of "Who Wrote the Dead Sea Scrolls?" (Simon & Schuster, 1995)." Read more: https://forward.com/opinion/11873/newly-discovered-tunnel-may-once-have-carried-dead-00675/
5) We in the West are more accustomed to starting our counting with one; however, similar to scientific communities today – in the days when this was written they started the count with zero. The result is the third day of scripture would be what we would typically call the fourth day by starting the count with one instead of zero. Just a matter of perspective NOT an error in scripture.
(6) "God raised him from the dead (Acts 2:24; Acts 3:15; Acts 4:10; Acts 5:30; Acts 10:40; Acts 13:30; Acts 13:34; Rom. 4:24; Gal. 1:1; 1 Pet. 1:21); this Jesus God raised up, and of that we are witnesses (Acts 2:32); God raised up his Servant (Acts 3:26); Christ was raised from the dead by the glory of the Father (Rom. 6:4); he who raised the Lord Jesus (2 Cor. 4:14); his Son whom he raised from the dead (1 Thess. 1:10); God brought from the dead the great Shepherd (Heb. 13:20); God bore witness to him by raising him from the dead (Acts 17:31); God fulfilled the promise in raising Jesus (Acts 13:33); Christ Jesus died and was raised (Rom. 8:34); he was raised on the third day (1 Cor. 15:4)."
Day, A. C. (2009). Collins Thesaurus of the Bible. Bellingham, WA: Logos Bible Software.
G
---