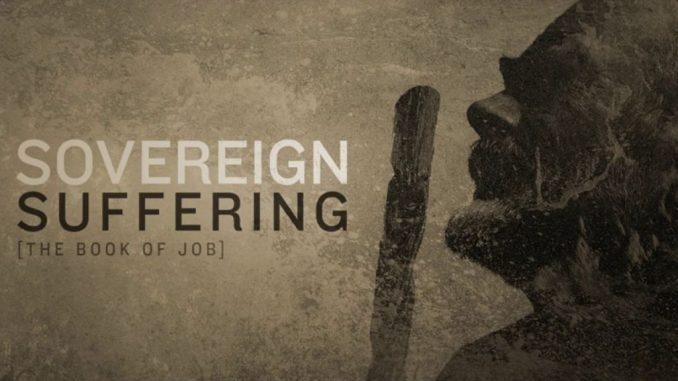 Job, Suffering is Part of the Job
---
The purpose of this study is to understand the role of suffering in a Christian's life. We will be studying the classic case of suffering found in the Book of Job. Realize, God describes the end from the beginning (Isaiah 46:10); therefore, we will be starting at the end of the story and working our way to the beginning.
What was God's purpose for Job's suffering? God's purpose was exactly what happened at the end of the story (James 5:11). This is exactly what He had in mind from the beginning – before the suffering began (even before the foundation of the world). Job's (pronounced Jōb) job (pronounced jäb) was to persevere in the midst of suffering and thereby learn obedience to God. This is the same process that Jesus, God's unique son followed many years later when He was born on Earth (Hebrews 5:8).
Never forget, God will never let us be tempted beyond our ability to resist (1 Corinthians 10:13). I have experienced temptation that was about to go beyond my ability to resist and exactly at that moment God sovereignty made a way of escape. However, it was up to me to take it!
At one time in my career, I was one of those responsible for determining if Reactor Operators, Senior Reactor Operators (supervisors), and Shift Technical Advisors (engineers) were qualified to operate commercial nuclear reactors. To determine their continued qualification these NRC licensed individuals are evaluated every five weeks through both performance (psychomotor) and knowledge (cognitive) examinations including the use of a full-scale control room simulator. (1) They are given comprehensive exams that will thoroughly "test" their understanding of the nuclear reactor and supporting systems. Why? We must help them discover weaknesses that we can turn into strengths! Furthermore, we have very strict control of exams with a significant penalty for cheating (including termination). However, someone could say that I am not testing them, but because of the high level of difficulty with less than satisfactory results potentially affecting their careers, I am tempting them to cheat. Of course not! We tested them fairly on material that was presented to them at some time in their training. However, the temptation could come as the deceiver (Satan) tries to make them think he is there to "help" them pass the test by taking a short cut to learning (i.e., cheating). One more point about the testing that I performed. More often than not, I knew where an operator or engineer had a performance weakness based on observation. However, it is through testing that "they" become aware of the weakness. It is the same with God for He knows our hearts (1 Samuel 16:7).
Question: Why not just tell the operators and engineers their weaknesses?
Answer: Because we adults do not change our ways unless motivated to change!
It often takes the failure of an exam before an individual will acknowledge weakness and be motivated to receive help. It is as at the brink, the precipice of loss of something or someone that we choose to change. God has known this since the fall of man. He tells us of areas that need to be changed, and we put Him off. Then the test comes, and we wonder "what happened" and "why did God allow this to happen to me?"
In a similar way, God was not tempting Job; however, He was testing him for the purpose of pointing out weaknesses that could be turned into strengths (James 1:13,14). Satan offers something that "self" craves (i.e., lusts after 1 John 2:16) and it is up to us to resist the temptation in God's strength. Why? This resisting process is what will crucify "self"! The more resisting hurts – the more "self" dies! As self dies (1) we learn to be obedient to God and not our flesh, the world system, or Satan (Luke 9:23,24. Galatians 5:24. Hebrews 5:8).
Sometimes it takes a deep hurt to feel a deep need for God
"Every temptation is an opportunity to do good. God develops the fruit of the Spirit in your life by allowing you to experience circumstances in which you're tempted to express the exact opposite quality! Character development always involves a choice, and temptation provides that choice. Furthermore, God uses the opposite situation of each fruit to allow us a choice. You can't claim to be loving if you have not been tempted by unlovely people. You can't claim to be joyful if you have never been tempted to be sorrowful. You can't claim to have peace unless worry or fear has tempted you. You cannot claim to have patience unless you are forced to wait and are tempted to be angry or have a short fuse. You can't claim to be good if you've never been tempted to be bad. You can't claim to be faithful if you've never had the opportunity to be unfaithful. Integrity is built by defeating the temptation to be dishonest; humility grows when we refuse to be prideful, and endurance develops every time you reject the temptation to give up. Every time you defeat a temptation, you become more like Jesus." (2)
God's discipline is focused on mending broken relations not mending broken rules
That is, God develops the fruit of the Spirit in your life by permitting you to experience circumstances in which you are tempted and tested to express the exact opposite quality (Hebrews 2:18; 5:8,9). We may not understand God's method of teaching through testing and temptation, but we can trust that He is doing it for our good (Isaiah 55:8. Jeremiah 29:11-13. Romans 8:28,29).
For God to explain a trial would be to destroy its purpose, calling forth simple faith and implicit obedience – Alfred Edersheim
Remember, God created everything for good with eternal life with Father God the plan from the beginning. That is, It was not God's original plan that people suffer, but that they live in peace and harmony with Him, enjoying His fellowship and pleasures (3). However, Adam's rebellion (1) in the Garden of Eden changed that for the worse thus we, not God, chose to suffer as part of the learning process (Genesis 3:16-19 NET).
Realize, there are two different Koine Greek words in the New Testament that have both been translated "to test": peirazo and dokimazo.
Peirazo (pi-rad'-zō) – to try or test intentionally with the purpose of discovering what good or evil, what power or weakness, was in a person or thing. However, since men fail so often, this word has a predominant meaning of putting to the test with the intention and the hope that the one put to the test may break down under it. This word is used with this meaning of the solicitations and suggestions of Satan to get us to act on the sin in our hearts. It is infrequently used for the testing by God where He allows us to see the hidden (from us) sin in our own hearts before our acting on it.
Scriptural examples of peirazo:
Let no one say when he is tempted, "I am tempted by God," for God cannot be tempted by evil, and he himself tempts no one. (James 1:13 NET)
Then Jesus was led by the Spirit into the wilderness to be tempted by the devil.

 

(Matthew 4:1 NET)
Jesus said to him, "Once again it is written: 'You are not to put the Lord your God to the test.'" (Matthew 4:7 NET)
And do not lead us into temptation, but deliver us from the evil one. (Matthew 6:13 NET)  
No trial has overtaken you that is not faced by others. And God is faithful: He will not let you be tried beyond what you are able to bear, but with the trial will also provide a way out so that you may be able to endure it. (1 Corinthians 10:13 NET)
But Jesus realized their evil intentions and said, "Hypocrites! Why are you testing me? (Matthew 22:18 NET)
Then Jesus, when he looked up and saw that a large crowd was coming to him, said to Philip, "Where can we buy bread so that these people may eat?" 6:6 (Now Jesus said this to test him, for he knew what he was going to do.) 6:7 Philip replied, "Two hundred silver coins worth of bread would not be enough for them, for each one to get a little."  (John 6:5 NET) 
Dokimazo (dŏk-im-ad'-zō) – testing someone or something for the purpose of approving it. The word further implies that the trial itself was made in the expectation and hope of victory! This word is used for testing by God, but never of Satan.
Scriptural examples of dokimazo:
Another said, 'I have bought five yoke of oxen, and I am going out to examine them. Please excuse me.' (Luke 14:19 NET)
but just as we have been approved by God to be entrusted with the gospel, so we declare it, not to please people but God, who examines our hearts. (1 Thessalonians 2:4 NET) 
each builder's  work will be plainly seen, for the Day will make it clear, because it will be revealed by fire. And the fire will test what kind of work each has done. (1 Corinthians 3:13 NET)
A person should examine himself first, and in this way let him eat the bread and drink of the cup. (1 Corinthians 11:28 NET)
Such trials show the proven character of your faith, which is much more valuable than gold – gold that is tested by fire, even though it is passing away – and will bring praise and glory and honor when Jesus Christ is revealed. (1 Peter 1:7 NET)
A scriptural example of peirazo and dokimazo in the same verse:
Put yourselves to the test (peirazo) to see if you are in the faith; examine (dokimazo) yourselves! Or do you not recognize regarding yourselves that Jesus Christ is in you – unless, indeed, you fail the test! (2 Corinthians 13:5 NET)
So, does God tempt us? Glad you asked! God gives or uses a test to teach us to depend on Him – we choose to yield to Him or allow our desires to draw us into temptation leading to sin. The following steps describe how we are tempted by Satan, the one seeking to destroy us all (2 Corinthians 2:11. 1 Peter 5:8)
1. Satan identifies a desire within us then entices us via thoughts that will offer a shortcut to our desire. Remember:
Shortcuts make for long delays!
But each one is tempted [peirazo] when he is lured and enticed by his own desires. (James 1:14 NET)
2. Satan tries to get us to doubt God's faithfulness to provide this desire of our hearts.
Now the serpent was more shrewd than any of the wild animals that the Lord God had made. He said to the woman, "Is it really true that God  said, 'You must not eat from any tree of the orchard'?" 2 The woman said to the serpent, "We may eat of the fruit from the trees of the orchard; 3 but concerning the fruit of the tree that is in the middle of the orchard God said, 'You must not eat from it, and you must not touch it, or else you will die.'" (Genesis 3:1-3 NET)  
3. Satan deceives us into believing that taking the shortcut is acceptable to God. Remember, he offered Eve the ability to discern good and evil (a desirable ability) by only eating fruit. However, God's way for us to learn this involves discipline exercised to choose good over evil while suffering temptation.
The serpent said to the woman, "Surely you will not die, 5 for God knows that when you eat from it your eyes will open and you will be like divine beings who know good and evil." (Genesis 3:4,5 NET)
But solid food is for the mature, whose perceptions are trained by practice to discern both good and evil. (Hebrews 5:14 NET) 
But I am afraid that just as the serpent deceived Eve by his treachery, your minds may be led astray from a sincere and pure devotion to Christ.

 ( 

2 Corinthians 11:3 NET)
4. Satan continues to pressure us, and if we act on his temptation, the result is disobedience to God which is a sin.
Then when desire conceives, it gives birth to sin, and when sin is full grown, it gives birth to death. (James 1:15 NET)
For the payoff of sin is death, but the gift of God is eternal life in Christ Jesus our Lord. (Romans 6:23 NET)
When the woman saw that the tree produced fruit that was good for food, was attractive to the eye, and was desirable for making one wise, she took some of its fruit and ate it. She also gave some of it to her husband who was with her, and he ate it. (Genesis 3:6 NET)
Consequently, the temptation comes from the desires created in man which we have allowed Satan to pervert rather than God to sanctify. However, the test comes from God who controls its circumstances (Jeremiah 12:3). Furthermore, the amount of tempting brought to us by Satan is controlled by God. Again, even as Satan is released to tempt – God is sending the way out of the temptation (1) (1 Corinthians 10:13)!
Therefore, God does test us and judges it right for Satan to tempt us (even as He did to His unique son Jesus (1)) at times, all to show us what is inside our heart (1 Samuel 16:7. Jeremiah 17:9).  
That is, when we through our thoughts, words, and actions, say to God "not thy, but my will be done", then He is obligated to honor our request since God will not override our free will. Consequently, God rightfully passes judgment (1) for suffering (1) from Satan's fallen world (1 John 5:19. Acts 26:18) to come into our lives.  That is, God partially lifts the hedge of protection (1) allowing us to experience what we actually deserve based on our lack of Christ conformity and our many sins committed both knowingly and unknowingly. The goal of this suffering is to shape our character into that of Christ (Romans 5:3,4. James 1:2-4) which includes the removal of pride (2 Corinthians 12:7).
Failing life's tests will keep us from God best, from the blessings and gifts that He wants to bestow on us here on earth and in the future New Heaven and Earth (1).
Does God stop loving us when we fail these tests? Absolutely NOT! (Romans 8:33-39)
Does the Lord discipline us when we fail? Absolutely! (Hebrews 12:5-11)
Furthermore, realize God's tests are always centered in OUR discovering if we love Him with all of our heart and soul (Matthew 22:37). That is, He does not want some of us but all of us for He is truly a jealous God (James 4:5. 2 Corinthians 11:2). Similar to how God tested Adam and Eve in the Garden of Eden with the Tree of Life, He tests us every day in many ways to teach us to follow Him for He is searching the earth for worshipers who will follow Him in Spirit and truth (John 4:23,24).
God brings men into deep waters, not to drown them, but to cleanse them – James H. Aughey
Also, we often learn to love God through these various experiences and temptations making us stronger Christians (1). Again, God tests us to strengthen our faith and resolve and not to tear it down but rather to build it up (James 1:2-4). When we fail His tests, He hopes that this will create in us a humble attitude and a strengthened reliance on Him to overcome the tests (Psalms 51). God wants to demonstrate to us how weak we are in the flesh and how strong He is in the Spirit (Matthew 26:41). The result is that we learn over the course of many years to keep His commands, obey Him and to serve Him (1) and hold fast to Him, never letting go of The Love of our lives (Deuteronomy 13:14).
This is one of the sad conditions of life, that experience is not transmissible. No man will learn from the suffering of another; he must suffer himself – James H. Aughey
To be continued, beginning at the end of the Book of Job where we will see the Tester is God, the Tempter is Satan, the Tested and Tempted is Job.
The Book of Job Series:
---
(1) Left-click on the underlined phrase to open another article in a different tab with more explanation.
(2) The Purpose Driven Life by Rick Warren, pp 202,203.
(3) Ron Scurfield, Under the Sun, Ellel Ministries, Seeds of the Kingdom (January 19, 2014) https://seedsofthekingdom.org/devotionals/1998/under-the-sun.php
G
---