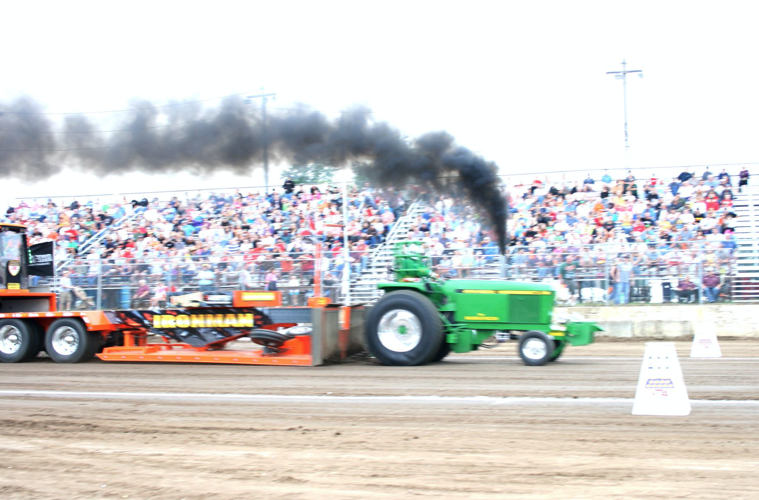 Phase IV: God's Tractor Pull!
Tractor pulling is a motorsport race where modified tractors pull a heavy sled along a track. The friction and resulting resistance to being pulled by the sled vary from minimal at the starting line and increases until the tractor can no longer pull it. The winner is the tractor that can pull the sled the farthest!
Consequently, the tractors start off moving quickly, but each foot of ground covered causes the friction to increase such that what seemed comfortable at first becomes impossible, and the tractor stops. In this way, each tractor is tested only up to the limit it can endure and no more. Therefore, no one can cross the finish line, for all will meet their match somewhere on the journey down the track; even tractors with multiple engines producing thousands of horsepower cannot complete the race!
Phase IV: Death of self-will (self-abandonment or brokenness stage) (Philippians 3:10…being conformed to His death,)
In Phase I, of our spiritual journey, we began to know in whom we have believed (2 Timothy 1:12), leading to the experiencing of His power in Phase II (Acts 1:8) followed by suffering designed to form the character of Christ in Phase III (Romans 5:3,4). Those that learned to suffer effectively (1) in Phase III will have cooperated with God in the use of His power to overcome the cause of suffering in ourselves and others through prayer, preaching, teaching, ministering, etc. At the beginning of Phase III, we wielded the Word of God with dramatic and nearly immediate results. However, as we learned more of the power available to us in the Word of God, the problems and resulting suffering intensified in our lives. While we were still able to help others, it seemed we were less and less able to use the power of God to help ourselves out of situations causing suffering. Enter the tractor pull race of God – where the opposition increases as we increase with the goal of us reaching the end of our self-will!
The purpose of Phase IV of our spiritual journey is to conform us to His (Jesus') death (Philippians 3:10). This is not referring to physical death, which we all must experience at the end of our time on Earth (Hebrews 9:27). This is the death to self that Jesus modeled (1) when He willingly set aside His position as God in Heaven over this whole universe with millions of angels waiting on and worshipping Him and became the God-Man servant on Earth that humbled Himself to the point of dying on the cross for us (Philippians 2:5-8). During His time on Earth, Jesus only did what our Heavenly Father showed Him to do (John 5:19,30,36) or spoke only what He asked Him to speak (John 12:49,50. John 14:24. 1 Timothy 6:13). He did this so flawlessly that to see Jesus was to see what God our Father is like (John 14:9). Furthermore, that is why He is called the WORD because there is no difference between the words that God the Father is saying and what Jesus is doing (John 1:1). Similarly, we are to die to self (i.e., dying to disobedience or sin) in every area of our lives. Jesus referred to this as picking up our cross daily (Mark 8:34,35). Note that just "desiring" to save our lives, even if we do not save it, will cost us living His life, or rather Jesus living His life through us (Mark 8:35). Furthermore, we must successfully complete Phase IV, or we will never experience Jesus living His life through us, which is Phase V, the final phase of our spiritual journey (Philippians 3:11. Galatians 2:20).
While we were able to use the power of God for ourselves in Phase III, we will find that this is NOT possible in Phase IV. In Phase III, we went from being very confident in our ability to use the Armor of God (Ephesians 6:11-18) to win spiritual battles to NO confidence in ourselves but only in the armor to win the battles as we yielded to and wielded it. While this understanding will allow us to effectively intercede and minister to others, it does not provide the protection we will need as we go forth to destroy the works of the enemy (1 John 3:8. Acts 10:38. John 14:12). Realize, if the weapons provided our own deliverance during this phase, then we could wrongly learn to operate independently of an intimate relationship with God our Abba-Father (Daddy-Father). The plan all along has been for God to have children that have willingly abandoned their lives to Him in a loving relationship with the God who is love Himself (1 John 4:16). Jesus modeled not using the power for Himself but rather depending on His Father when Satan tempted Him to turn stones into bread (Matthew 4:3,4,11). That is, He depended on God His Father to meet all His needs while He concentrated on using the power to serve the needs of others as the Father directed.
Consequently, tenacious and torturous personal suffering will come that no wielding of the armor of God will provide victory (2 Corinthians 12:7 (2)). The armor will provide relief and keep it suppressed, but it will NOT remove it so that it has no power in our lives any longer (Ephesians 6:13). That is, we win the battle but not the war – victory is winning the war! This war for our soul will rage on with our becoming increasingly efficient at using the weapons of our warfare (2 Corinthians 10:4,5). However, as we become more proficient and thus able to endure more suffering, more of the demonic and fallen angelic are unleashed upon us (Ephesians 6:12. 1 Corinthians 10:13). During this time, we may turn to God when weary, but NOT at the end of our strength and ability, and ask Him to stop the suffering. However, God knows that self-will still has the strength and judges it right for the suffering to continue (2 Corinthians 12:7-9. 2 Corinthians 4:8-10. 2 Corinthians 11:22-29).
As this tractor pull race continues, we will become more aware of various things slowing us down (1). Some of these things will be a sin, and some are simply distractions to our divine destiny in life. Consequently, we learn to seek the Lord's wisdom and choose to have them removed (Hebrews 12:1). However, there will be one major area that we cannot remove, no matter the fighting or pleading with God. This one major area is the cross God, our Father, has chosen for us to bear (Matthew 10:38,39. Matthew 16:24. Mark 8:34. Luke 9:23,24. Luke 14:26,27. John 12:25. Romans 8:13. Colossians 3:5. Titus 2:12).
Until finally (maybe years), the battered and war-weary skilled warrior realizes that no amount of human effort, even with expert wielding of God's armor, will provide deliverance. That is, he cannot pull the load any further (2 Corinthians 1:8). Then with all self-will's strength expended, he falls on his knees and turns to God in tears and asks Daddy-Father to please remove the source of the suffering.
But now, O Lord, upon what am I relying? You are my only hope! Deliver me from all my sins of rebellion! Do not make me the object of fools' insults! I am silent and cannot open my mouth because of what you have done. Please stop wounding me! You have almost beaten me to death! You severely discipline people for their sins; like a moth you slowly devour their strength. Surely all people are a mere vapor. (Selah) Hear my prayer, O Lord! Listen to my cry for help! Do not ignore my sobbing! For I am dependent on you, like one residing outside his native land; I am at your mercy, just as all my ancestors were. Turn your angry gaze away from me, so I can be happy before I pass away. (Psalm 39:7–13 NET)
Suddenly, with one fell swoop of His two-edged sword, the LORD God annihilates the hoards of the enemy and on the return swing of His blade turns the war-torn battlefield into a flower garden with a babbling brook, butterflies, singing birds, and luscious green meadows (Psalms 34:17-19. Psalms 50:15. Psalms 118:5-9. Psalms 18:17-19) including fantastic food, too! (Job 36:16. Psalms 23:5)
The warrior then sees the wisdom in the phases of spiritual growth and that suffering was the only way to learn this truth, the only way to crucify the flesh, the only way to brokenness, the only way to the death of self-will, it is the way of the cross, it is the way of the Master! (Galatians 6:14. 2 Corinthians 1:3-10. Job 36:15. Psalms 119:71. Ecclesiastes 7:3. John 16:33. 1 John 5:4,5. Revelation 2:7,11,17,26. Revelation 3:5,12,21. Revelation 21:7)
Recommended reading for a Phase IV Christian:
Brokenness, the Forgotten Factor of Prayer (1) by Mickey Bonner
Publisher: Christian Literature Crusade; Assumed First edition (January 1, 1996)
Language: English
Paperback: 255 pages
ISBN-10: 187857812X
ISBN-13: 978-1878578129
The Five Phases of Spiritual Growth Series:
---
---
Shalom
(Peace, Wholeness, Success)
Dear friend, I pray that all may go well with you and that you may be in good health, just as it is well with your soul. 
(3 John 1:2 NET)
---
---
(1) Select the link to open another article in a new tab with additional information.
(2) The form of this Koine Greek word translated "messenger" occurs 47 times in the New Testament and is translated "angel (1)" 46 of those times.  It is the opinion of the author that it should have been translated "angel" consistently here, too.