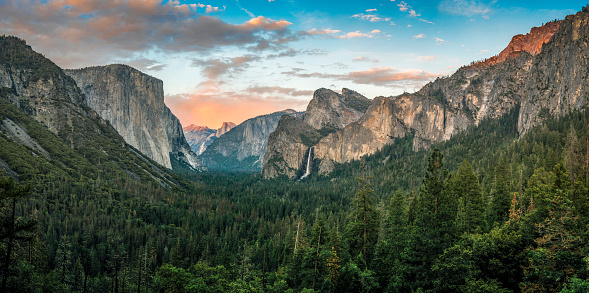 Planet versus People, a path towards peace.
Some of the most magnificent moments of my life have included nature. When I think about my travels around the United States and abroad, my mind rests at "Inspiration Point" in Yosemite National Park in California. I was a college student spending the summer in California, surrounded by the majesty of Lake Tahoe, but Yosemite left me breathless. I had never seen anything like the view overlooking the Yosemite Valley, aptly named, "Inspiration Point." The mountains, the heights, the expanse, the streams; truly hard to take in all at once.
When I feel overwhelmed and I long for rest, God's gift to me is His creation. Sometimes I feel like I could burst and the only relief I know is found in the stillness of nature. I am reminded of John Muir and his affinity for the beauty of California. His words resonate with me.
"Oh, these vast, calm, measureless mountain days, days in whose light everything seems equally divine, opening a thousand windows to show us God." John Muir

God's creation only brings me peace. My heart is not troubled when I think about the wild that I love so much. For as Iong as the Lord gives me breath in my lungs I will be grateful to the wisdom of man that has preserved parts of nature for us to enjoy, unspoiled. But even that, I also believe to be a gift from God.
My heart is not troubled, worried about future of creation, because I know the future of creation. Like me, creation is broken and dying. Like me, this earth will pass away and be made new.
"Of old you laid the foundation of the earth, and the heavens are the work of your hands. They will perish, but you will remain; they will all wear out like a garment. You will change them like a robe, and they will pass away, but you are the same, and your years have no end (Psalm 102:25-26)."
There is no great mystery surrounding the future of our planet. Just as I will care for my decaying body in the best ways I possibly can, I will continue to steward earth the very best that I can. But when God says "Be anxious for nothing," the planet does not somehow become an exception to this rule.
To paraphrase, Matthew 6: 25-34, Jesus says, do not be anxious about your future and the things you will need. Not one part of creation goes without anything, the animals, the plants; every need of God's creation is perfectly met, and humans are most valuable of all, so there will never be a reason to imagine that you will be left out! As for the future, it is God's will that you focus on the present, one day at a time. Each and every day will have enough business to attend to, concern for tomorrow will only hinder the work of today.
Why is it important to understand the fate of the planet? It helps put things in perspective. God has made it clear that He will take care of the future of the earth as a whole (Matthew 24:35).
The current earth is not eternal, but the people, they are eternal!
"For God so loved the world, that he gave his only son. So that whoever believes in Him should not perish but have eternal life."
So often in culture, the future of humanity is tied to the preservation of the planet. God simply does not suggest this in his Word. We can rest easy, knowing that as believers, our bodies will experience wholeness in our heavenly home and even the earth will be made new. Like us, creation groans in sin and it will continue to fade away (Romans 8:18-23). But the future for the people around us has not yet been decided!
There is actual urgency when it comes to saving humanity. People have proven to be considerably more fragile than the earth, and while we know Jesus could return at any moment, we also know that we are not promised tomorrow even if the Lord tarries. At the dawn of each new day, it is not the fate of the earth that should occupy our minds, but rather the eternal souls that surround us, who urgently need to meet Jesus and have their tangible needs met.
"I shall pass through this world but once. Any good therefore that I can do or any kindness that I can show to any human being, let me do it NOW. Let me not defer it or neglect it, for I shall not pass this away again." -Henry Drummond
We know for certain that no human being as ever outlived the ancient mountains and streams that we are privileged to steward; but each and every day people pass on from this life to the next. In God's design he has relieved us from the worries that fill our mind concerning the future, and charged us to use each day to make this old world a better place, by introducing people to an everlasting hope in Jesus.