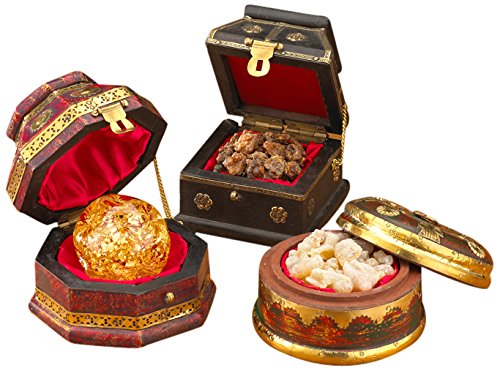 Camel caravans will cover your roads, young camels from Midian and Ephah. All the merchants of Sheba will come, bringing gold and incense and singing praises to the Lord. (Isaiah 60:6 NET)
The vast majority of us have heard the story of the three wise men and seen a crèche or nativity scene with them at the birth of Jesus. We do not know if there were only three wise men, but that has been inferred from the three gifts. Furthermore, it was not at the time of Jesus' birth but rather sometime later, likely two years based on Herod's murder of the baby boys (8). Consequently, the wise men came to the house where Mary, Joseph, and Jesus lived (Matthew 2:11. Luke 2:6,7) and not the Tower of the Flock (1), where Jesus was born.
After Jesus was born in Bethlehem in Judea, in the time of King Herod, wise men from the East came to Jerusalem saying, "Where is the one who is born king of the Jews? For we saw his star when it rose and have come to worship him."  When they saw the star they shouted joyfully. As they came into the house and saw the child with Mary his mother, they bowed down and worshiped him. They opened their treasure boxes and gave him gifts of gold, frankincense, and myrrh. (Matthew 2:1,2,10,11 NET)
Unfortunately, the wise men had mentioned the reason for their coming to King Herod, which was to find the promised Messiah based on the appearance of His star in the night sky approximately two years earlier. Satan, hearing of the birth of the one that was promised in the Garden to break his rule over planet Earth (Genesis 3:15), manipulated King Herod to order the murder of all babies born in Bethlehem two years old and younger based on the timing of the wise men (Matthew 2:16). However, an angel warned Joseph, and the young family escaped to Egypt. Later they returned, and Jesus was raised (1) as a human male child in Nazareth with Satan apparently thinking he had killed the baby that was to destroy him.
Let us look together into these three gifts brought by the wise men and what others and I believe they represented (2). Furthermore, I am going to connect these gifts to the Eucharist, communion, or Lord's Supper to help us remember, as often as we eat of the BREAD that represents Jesus' body that was bruised for our healing and drink of the CUP that represents the New Covenant sealed in Jesus' BLOOD that was poured out for our remission and forgiveness of sin. That is, we must remember the reason for our Lord's birth was His death and what that subsequently provided, is providing, and will provide for us!
For I received from the Lord what I also passed on to you, that the Lord Jesus on the night in which he was betrayed took bread, and after he had given thanks he broke it and said, "This is my body, which is for you. Do this in remembrance of me." In the same way, he also took the cup after supper, saying, "This cup is the new covenant in my blood. Do this, every time you drink it, in remembrance of me." For every time you eat this bread and drink the cup, you proclaim the Lord's death until he comes. (1 Corinthians 11:23-26 NET)
I. Myrrh (used for perfume) – Remember what Jesus has done for us in the past as the Lamb of God.
Remember, Jesus was arrested (1), falsely accused in an improper trial during the night, whipped, and beaten until His body was NOT full of bruises and wounds but rather ONE massive bruise and wound from the crown of His head to the soles of His feet. Pilate then granted permission for Jesus to be crucified at 6:00 AM on the 14th of Nisan (John 19:14-16 – the sixth hour of Roman time is used since it is from the perspective of the Roman Governor Pilate, which would be the same as the twelfth hour of the fourth watch of the night in Hebrew time).
Now it was the day of Preparation of the Passover. It was about the sixth hour. He said to the Jews, "Behold your King!"(John 19:14 ESV)
He was subsequently crucified by being nailed to a wooden cross at 9:00 AM. (Mark 15:25 – the third hour of Hebrew time). These nails represented our sin – it was our sin that affixed Jesus to the cross! These nails would leave indelible scars that, in a manner of speaking, recorded our names on the palms of His hands (Isaiah 49:16. John 20:25-27). Simultaneously, at 9:00 AM on the 14th day of Nisan, the first month of the Hebrew year (our March/April) (Numbers 28:16) in the temple, a lamb was led up the steps to the altar and tied there and slain.
The King – Jesus – nailed to a wooden cross looked down upon those that had crucified Him. Realize, when Jesus slumped down, the weight of His body would be placed on the nails in His hands (i.e., wrist area), causing excruciating pain to radiate throughout the nerves of his arms. When He would push up to exhale, it would temporarily relieve the pain in His arms but cause a similar fiery torment in His legs from the nail affixing His feet. Over time His arms would become exhausted, and their muscles would start to cramp, preventing Him from lifting Himself to exhale. However, carbon dioxide would build up in His bloodstream, causing the muscle cramps to partially subside. He could then lift Himself up to exhale until the muscle cramps returned, paralyzing His arms again. This cycle repeated itself for the six hours Jesus hung on the cross. Realize, Jesus has had no sleep for about 24 hours before this time, no liquids or food, ruthlessly interrogated, and severely beaten with His flesh shredded from the crown of His head to the soles of His feet, revealing His bones before being crucified. (Psalms 22:17) Then pushing up to exhale and talk, Jesus says the first of seven statements from the cross. In three simple words, Jesus released the most powerful weapon in the arsenal of God, forgiveness: Father forgive them. (Luke 23:34). Next, Jesus tells the believing thief that "today" they would both be in Paradise together (Luke 23:43).
At 12:00 PM, darkness covers the land until 3:00 PM (Matthew 27:45,46. Mark 15:33. Luke 23:44 – sixth to the ninth hour of Hebrew time). Satan unleashes the fullness of his evil, the fullness of sin and its consequences upon Jesus. Jesus, who has never sinned, takes the full punishment for our sin (Isaiah 53:6). He who never had before experienced sin becomes one with our sin (2 Corinthians 5:21) and in a manner of speaking – the lamb becomes a serpent so that all who will look to His bearing away our sin will be saved (John 1:29. Numbers 21:9. John 3:14,15. 1 Peter 2:24. Hebrews 9:26-28). No wonder Jesus asked God His Father in the Garden of Gethsemane three times if there was some other way than entering into the covenant of death and becoming sin (Matthew 26:39,42,44). No, this was not the action of an insane person – merely the act of someone that was consumed by love for the race of man that He had created (John 3:16. Romans 5:8).
A little before 3:00 PM, on the cross, Jesus cries out with a loud voice – My God, My God, why have you forsaken me? (Matthew 27:46. Mark 15:34). Jesus is actually quoting Psalms 22:1-31, but Satan does not realize this at that time 1 Corinthians 2:8. At 3:00 PM (the ninth hour of Hebrew time), Jesus commits His Spirit to God, declares loudly, "It is finished" (6) (John 19:30. Psalms 22:31) and breathes out His last breath (Matthew 27:50. Mark 15:37. Luke 23:46) thus laying down His life (John 15:13) by dying of a broken heart (Psalms 22:14). Recall, since He had never sinned, He could not be killed; however, He could voluntarily lay down His life (John 10:17,18). Later the water mixed with blood from His side that was pierced would provide evidence that His heart had ruptured (John 19:34). Fitting that our Savior who loved the world would die of a broken heart for you and me! (Luke 19:41-44. John 3:16. Romans 5:8) Simultaneously, at 3:00 PM, in the temple, the high priest sacrificed the Passover Lamb and declared to the people "it is finished." Little did the high priest know how true those words were, even as Caiphas did not realize how true his words were concerning the death of Jesus (John 18:14;11:49,50).
The first Adam had rebelled (1) against a Holy God in the Garden of Eden, and now the full judgment for that sin has been paid by Jesus, the "second man" and "last Adam", at Calvary (1 Corinthians 15:45,47. Romans 8:3). Jesus stays in the heart of the Earth (1) for three days and three nights (Matthew 12:39,40), then returns in His human body early Sunday morning and first appears to Mary Magdalene. He asks her not to detain Him for He has not yet ascended to God His Father in Heaven – I must pause as these are some of my favorite words in scripture and thanks to Jesus' efforts can now be true once more for all that believe – and God OUR Father! (John 20:15-18).
When we partake of the bread and the wine (or grape juice) (3), remember that Jesus in the PAST came to die for our sin to set us free from our slavery to Satan (Hebrews 2:14,15). He shed His blood (1) for the remission of all of our past sins and forgiveness (1) for all of our present and future sins. His body was bruised for our healing (1 Peter 2:24. Matthew 8:16,17. Isaiah 53:4). Although Jesus broke the bread to serve it to the apostles, His body was never broken (John 19:31-37. Psalms 34:20). Certainly, His body was bruised beyond recognition but not one bone of his body was broken even as the Passover lamb, which was a type of Jesus God's Lamb (John 1:29,36), was not to have any broken bones (Exodus 12:45-51. 1 Corinthians 5:7). Furthermore, this was true of all Old Testament sacrifices of Levitically clean animals who were required to be killed by the shedding of blood and not like unclean animals that were killed by the breaking of their bones (Exodus 13:13). Furthermore, Jesus is our one loaf (1 Corinthians 10:16,17), the genuine Bread of Life (Gr, zōḗ)(4) that came down from Heaven to give life (zōḗ) to the world! (John 6:32,33,35;6:48,51)
II. Frankincense (used for incense and perfume) – Remember what Jesus is doing for us in the present as our Great High Priest and Mediator.
For I passed on to you as of first importance what I also received– that Christ died for our sins according to the scriptures, and that he was buried, and that he was raised on the third day according to the scriptures,  (1 Corinthians 15:3-4 NET)
Jesus was raised from death (1) by God the Father and the Holy Spirit (Romans 6:4;8:11;10:9. 2 Corinthians 13:4. Galatians 1:1. Colossians 2:12. Hebrews 13:20) to become our great, merciful, faithful, holy, innocent, undefiled High Priest of the good things to come and Mediator of the New Covenant. (Hebrews 2:17,18;4:14,15;7:26; 9:11,15;12:24)
Therefore since we have a great high priest who has passed through the heavens, Jesus the Son of God, let us hold fast to our confession. For we do not have a high priest incapable of sympathizing with our weaknesses, but one who has been tempted in every way just as we are, yet without sin. Therefore let us confidently approach the throne of grace to receive mercy and find grace whenever we need help. (Hebrews 4:14-16 NET) 
So he is able to save completely those who come to God through him, because he always lives to intercede for them. (Hebrews 7:25 NET) 
Who is the one who will condemn? Christ is the one who died (and more than that, he was raised), who is at the right hand of God, and who also is interceding for us. (Romans 8:34 NET) 
(My little children, I am writing these things to you so that you may not sin.) But if anyone does sin, we have an advocate with the Father, Jesus Christ the righteous One, (1 John 2:1 NET) 
At that time you will ask in my name, and I do not say that I will ask the Father on your behalf. For the Father himself loves you, because you have loved me and have believed that I came from God.  (John 16:26-27 NET) 
At that time you will ask me nothing. I tell you the solemn truth, whatever you ask the Father in my name he will give you.  Until now you have not asked for anything in my name. Ask and you will receive it, so that your joy may be complete.  (John 16:23-24 NET) 
You did not choose me, but I chose you and appointed you to go and bear fruit, fruit that remains, so that whatever you ask the Father in my name he will give you. (John 15:16 NET) 
Now the main point of what we are saying is this: We have such a high priest, one who sat down at the right hand of the throne of the Majesty in heaven,  a minister in the sanctuary and the true tabernacle that the Lord, not man, set up. (Hebrews 8:1-2 NET) 
Consequently, we are to ask (1) our Heavenly Father for things that we need, want, or desire, in Jesus' name (John 15:16;16:23;16:26). However, realize ending our prayer with the traditional "In Jesus' name" is more than a formula, password, or closing to a letter. It is to be a realization that our right to obtain anything from our Father is based on the completed work of the cross of our Savior the Lord Jesus Christ. It is an acknowledgment that we are not asking based on our own name or works but rather in our Lord Jesus'. Remember, we are His bride (1) in the betrothal period before the wedding (1) which in ancient Hebrew custom means we already have His name. Just like when a woman marries today, they traditionally change their last name. For example, if your spouse went to the bank to withdraw money from your account in their maiden name, they would get nothing. However, if they used their married name, they could get everything. It is the same way with our Heavenly Father, for we have been given the name of Jesus! Again, the name given to us when we were born physically will get us nothing from God. However, the name was given to us after our spiritual birth – Jesus – will get us everything! (Acts 4:12. Ephesians 3:14,15. Revelation 3:12) Again, we are to ask God based on Jesus' finished work as if He were asking the Father through us. This means we are to come boldly and not sheepishly, as a son and not a slave, as one who has been forgiven and not full of self-condemnation, and as a joint heir and not a beggar (Hebrews 4:16. John 1:12. 1 Corinthians 1:30. 2 Corinthians 5:21. Romans 8:17). Suppose you are at your Earthly father's supper table; how would you ask something to be passed? Would it be given to you? Then how much more will our Heavenly Father give good things to those that ask! (Matthew 7:11. Psalms 91:14,15. Jeremiah 33:3. 1 Peter 3:12) Know our prayers do not take God by surprise, He knew of the need before it happened and supplied the solution by His unique Son's death on the Cross of Calvary (Matthew 6:8). In other words, He has prepared the table in the presence of the enemy (Psalms 23:5), but it will not do us any good unless we ask Him to pass the food!
In parallel, Jesus as our great High Priest is seated at the right hand of God His Father, and our Father, and interceding for us to ensure His victory over Satan is realized in and through us His bride and soon to be His wife the church that was purchased by His blood (Ephesians 1:20. Colossians 3:1. Romans 16:20. Revelation 5:9).
"If you love me, you will obey my commandments. Then I will ask the Father, and he will give you another Advocate to be with you forever– the Spirit of truth, whom the world cannot accept, because it does not see him or know him. But you know him, because he resides with you and will be in you.  (John 14:15-17 NET)
In addition, God the Holy Spirit is also interceding through us to God the Father!
In the same way, the Spirit helps us in our weakness, for we do not know how we should pray, but the Spirit himself intercedes for us with inexpressible groanings. (Romans 8:26 NET)
That is, God the Holy Spirit is helping us ask God the Father in God the Son our Lord Jesus' Name, who is interceding for us, for what we need, want, and desire! Now that is something to REMEMBER!
When we partake of the bread, and the wine (or grape juice) (3), remember that Jesus is our eternally PRESENT High Priest and mediator that ever lives to intercede for us (1 Timothy 2:5,6). He has not simply saved us and then abandoned us to suffer through the rotten here and now until His return. If He was only the CEO of the universe, we might expect that type of treatment; however, He God our Abba (i.e., Daddy) Father (Romans 8:15. Galatians 4:6. Romans 8:31-39. Matthew 10:29-31).
III. Gold – Remember what Jesus will do for us in the future as King of Kings and Lord of Lords.
Jesus King of Kings will return to and for us! The King is Coming!!!
Jesus will return for the first time to "take away (1)" the Church, thus rescuing it from the Great Tribulation (1). During this return, Jesus will come with all of the Christians that have died, from Adam to the time of His coming, and will not set foot on Earth but rather descend only into the lower atmosphere. Realize, to those that are lost (i.e., have not accepted Jesus as Savior and Lord) this return will be "as a thief in the night" (1 Thessalonians 5:1-3). However, to those that are saved Jesus' first return will NOT be "as a thief in the night" (1 Thessalonians 5:4-6).
During this first return, He will:
1. Resurrect and transform the decayed bodies of those that have already died into perfect glorified bodies. Then reunite these glorified bodies with the spirits of the saints that have come with Him from Heaven (saints referring to all that died from Adam to the time of His coming that has a personal relationship with God the Father through Jesus Christ the Son). (1 Corinthians 15:51,52. 1 Thessalonians 4:14-16)
2. Transform the bodies of the Christians that are alive on Earth at His appearance (those that are alive and have a personal relationship with God the Father through Jesus Christ the Son). (1 Corinthians 15:52. 1 Thessalonians 4:17)
3. Draw both of these groups that have now have glorified bodies to Himself and transport them (us) to Heaven. (Phillippians 3:20. 1 John 3:2) We Christians will then have to appear before the Judgment Seat of Christ where our works will be judged (2 Corinthians 5:10. 1 Corinthians 3:12-15). This is a judgment for what we have done (i.e., our works) for determination of any reward and NOT a judgment of whether we can be with the Lord forever (the latter has already been decided based on our belief or faith in Jesus' completed work on the cross) (Romans 10:9,10,13).
The second time Jesus will come down to the Earth in order to defeat the Antichrist, destroy evil, and establish His millennial or thousand-year kingdom on Earth (Jude 1:14,15. Revelation 19:11-16). This return is referred to as the Day of the Lord in scripture. Again, a day with the Lord is a thousand years (1) (2 Peter 3:8). That is, the DAY of the Lord encompasses the defeat of the Antichrist and evil and then the THOUSAND YEAR reign of Jesus on Earth! A time when we will reign with our King Jesus. During these 1000 years, Jesus will demonstrate to His wife (1) (i.e., the Christians) how Earth was intended to be operated before the fall of man. It is a time of learning at the feet of the Master. This time allows Christians that did not choose to mature in their earlier life on Earth to reach full maturity. However, the more mature Christians (Level V) (1) will start this age with higher levels of responsibility, authority, and service (Matthew 25:13-30). It is an age of righteousness, peace, and joy in the Holy Spirit! (Romans 14:17) After this time of peace, Satan will be released and to allow a final separation of the chaff from the wheat. Then Satan will be thrown into the Lake of Fire for eternity (i.e., forever) (Revelation 20:7-10). Our ever-expanding universe will then collapse into a nuclear fire destroying Earth, but we will be safe aboard the New Jerusalem (Luke 12:49. 2 Peter 3:7,12. Revelation 20:11). Then the Great White Throne Judgment will take place as all non-Christians from the beginning of man until the present will be resurrected, and the trial will take place in New Jerusalem (recall Christians earlier went to the Judgment Seat of Christ (1) and will NOT go to the Great White Throne of Judgment). Their works will be reviewed, but the failure to accept Jesus as Savior and Lord will doom all that appear at the Great White Throne to the Lake of Fire forever (Revelation 20:11-15. Romans 2:6-16. Ecclesiastes 3:11). Remember, we can never be saved by our works but only by the completed work of Jesus Christ (Ephesians 2:8,9. John 3:16-18). Then Jesus takes His wife with His right hand and says, behold I make all things new… at the speed of light, a new universe (1) expands into being without evil, pain, sorrow, or remorse (Revelation 21:1,5). And We live joyfully forever after… Amen (Revelation 22:17,20)
When we partake of the bread, and the wine (or grape juice), remember that Jesus is the FUTURE returning King of Kings and Lord of Lords! (Revelation 17:14; 19:16) Remember, we have a glorious future that God has prepared for those that have repented and accepted Jesus as their personal Lord and Savior (1 Corinthians 2:9) Maranatha! (1 Corinthians 16:22)
Conclusion:
During this time of year when we celebrate the fulfillment of the prophecies (1) of Jesus being born of the Virgin Mary, let us not lose sight of the fact that in the past He was born to die, be raised from the dead and in doing so paid the price so that all that call upon the Lord Jesus (1) might be saved! He is in the present our High Priest and Mediator who ever lives to intercede with God our Father for us while we live out our brief lives on Fallen Earth. Lastly, He is the future returning Lord of Lords and King of Kings who will vanquish all of His enemies and establish a New Heaven and Earth!
For this reason, whoever eats the bread or drinks the cup of the Lord in an unworthy manner will be guilty of the body and blood of the Lord.  A person should examine himself first, and in this way let him eat the bread and drink of the cup.  (1 Corinthians 11:27,28 NET) 
If we remember the past, present, future works of our Lord and Savior Jesus Christ, we will examine (5) ourselves and repent of wrong thinking, acting or believing so that we will not be judged to require discipline from God our Father. (1 John 1:9. Hebrews 12:5-11) That is, it is expected that the believer only partakes of the bread and wine (or grape juice) (3) at the Lord's table when they can approve their lives after having examined themselves. If they find nothing between them and their Saviour, the Lord Jesus, then they are in an approved state, eligible to observe the Lord's Supper.
Realize we were placed or baptized (1) into Christ by God the Holy Spirit (1) so that we might share in Jesus' death and thus be separated from the evil nature within us. However, note that Paul in the book of Romans Chapter Six is saying that the sinful nature within us is dead but not annihilated when we are saved. The Bible teaches that the sinful nature remains in the believer until he dies; however, we are not "in it" in the sense we are in its grip. (1 John 1:8) God in salvation breaks the power of the sinful nature over the believer and separates us from it. There has been a definite cleavage, a disengagement of the person from the evil nature. That is, the evil nature is a dethroned monarch. Before salvation, the evil nature was the master of the individual, but after salvation, the believer is its master! (Genesis 4:7) However, God leaves it to us as a disciplinary measure. When a believer refuses to obey the incessant demands of our sinful nature, they glorify God, defeat Satan in their lives, and grow more spiritually mature. (1) However, we so often stumble and must repent (change our mind about the sin being desirable) and confess it to the Lord to be forgiven. This could be a sin ranging from the obvious breaking of the Ten Commandments (1) to an attempt to earn our salvation by our works. That is, we could be as the Pharisees believing we are worthy to partake of the Lord's Supper based on our works (e.g., tithing, giving to the poor, reading the Bible, praying beautiful prayers, memorizing scripture, singing to the enjoyment of others, fasting, etc.) which are all good things (1) but become dead works (1) if the motive is wrong. (Luke 18:10-14)
The only way to worthily partake of the Lord's Supper is to realize that we are not worthy in our own ability but only through the battered body and shed blood of our Lord and Savior Jesus Christ! Hallelujah! Paradoxically, we can only partake of the bread (representing His Body) and the wine (representing His Blood) if we understand that it is only through His body and His blood that we are worthy to partake of them. That is, we are not found with the righteousness of our own but rather His righteousness (1) imputed to us! (Philippians 3:9. 2 Corinthians 5:21)
For the one who eats and drinks without careful regard for the body eats and drinks judgment against himself. That is why many of you are weak and sick, and quite a few are dead. But if we examined ourselves, we would not be judged. But when we are judged by the Lord, we are disciplined so that we may not be condemned with the world. So then, my brothers and sisters, when you come together to eat, wait for one another. If anyone is hungry, let him eat at home, so that when you assemble it does not lead to judgment. I will give directions about other matters when I come.  (1 Corinthians 11:28-34 NET)
REMEMBER, I will NOT remember your sins!
Discipleship for New Christians
---
---
Shalom
(Security, Wholeness, Success)
Peace
Dear friend, I pray that all may go well with you and that you may be in good health, just as it is well with your soul. 
(3 John 1:2 NET)
---
---
(1) Select the link to open another article in a new tab with additional information.
(2) We, three kings of Orient, are;
bearing gifts we traverse afar,
field and fountain, moor and mountain,
following yonder star.
Refrain:
O star of wonder, star of light,
star with royal beauty bright,
westward leading, still proceeding,
guide us to thy perfect light.
Born a King on Bethlehem's plain,
gold I bring to crown him again,
King forever, ceasing never,
over us all to reign. [Refrain]
Frankincense to offer have I;
incense owns a Deity nigh;
prayer and praising, voices raising,
worshiping God on high. [Refrain]
Myrrh is mine; its bitter perfume
breathes a life of gathering gloom;
sorrowing, sighing, bleeding, dying,
sealed in the stone-cold tomb. [Refrain]
Glorious now behold him arise;
King and God and sacrifice:
Alleluia, Alleluia,
sounds through the earth and skies. [Refrain]
United Methodist Hymnal, 1989
(3)  In the late 19th century and a Methodist dentist named Thomas Bramwell Welch apparently, had scruples about the use of wine and had heard of Louis Pasteur's process of pasteurization of milk. Welch was successful in applying the process to grape juice, and he began to use it in his church, where he was a Communion steward. His son, Dr. Charles Welch, was an enterprising Methodist layman (a dentist, like his father) from southern New Jersey. He marketed the pasteurized grape juice to temperance-minded evangelical Protestants as authentic "biblical wine." As word spread and as the temperance movement grew among evangelical Protestant churches, Welch left dentistry and produced Welch's Grape Juice commercially.https://www.umcdiscipleship.org/resources/changing-wine-into-grape-juice-thomas-and-charles-welch-and-the-transition-
(4) If we want to know what the New Testament means by "life," we need to look at the word as it appears in the original Greek language. In the Greek language, three different words—bios, psuche, and zoe—are translated as "life" in English, and each has a different meaning. Here are some examples of where each is used:
a. Bios, in Luke 8:14: "…anxieties and riches and pleasure of this life." This Greek word refers to the life of the physical body and is where we get the word biology. (Strong's #979)
b. Psuche, in Matt. 16:25: "For whoever wants to save his soul-life shall lose it." The Greek word here refers to the psychological life of the human soul, that is, the mind, emotion, and will. It is where we get the word psychology. (Strong's # 5590)
c. Zoe, in John 1:4: "In Him was life, and the life was the light of men." Here the Greek word refers to the uncreated, eternal life of God, the divine life uniquely possessed by God. (Strong's #2222)
(5) Greek dokimazo (dŏk-im-ad'-zō) – testing someone or something for the purpose of approving it. The word further implies that the trial itself was made in the expectation and hope of victory! This word is used for testing by God (1), but never of testing by Satan.
(6) "It is finished or completed" is the translation of the Greek word tetelestai, which only appears twice in the Bible (John 19:28,30). Jesus says tetelestai here in the perfect tense, which is very rare in the New Testament and has no English equivalent. The perfect tense is a combination of two Greek tenses: the Present tense and the Aorist tense. The Aorist tense is punctiliar: meaning something that happens at a specific point in time; a moment. The Present tense is linear: meaning something that continues on into the future and has ongoing results/implications. The combination of these two tenses in the perfect tense as used in John 19:30 is of overwhelming significance to the Christian. When Jesus says "It is finished" (or completed) what He is actually saying is "It is finished and will continue to be finished". The first element of the perfect tense: the Aorist, punctiliar, point in time statement "It is finished" is powerful. Mathew Henry describes all that is finished at that exact moment in time: "It is finished; that is, the counsels of the Father concerning his sufferings were now fulfilled. It is finished; all the types and prophecies of the Old Testament, which pointed at the sufferings of the Messiah, were accomplished. It is finished; the ceremonial law is abolished; the substance has now come, and all the shadows are done away. It is finished; an end is made of transgression by bringing in everlasting righteousness. His sufferings were now finished, both those of his soul, and those of his body. It is finished; the work of man's redemption and salvation is now completed." The Aorist tense is only half of the perfect tense! The second element of Jesus' statement is equally important: the Present, ongoing, linear "and will continue to be finished" component of the perfect tense. This indicates the ongoing nature of our salvation. This is so important because it indicates a condition, a state of being, a resting place. In conclusion, in Jesus' statement "It is finished" we have a declaration of salvation that is both momentary and eternal, Aorist and Present, linear and punctiliar. We are saved at a specific point in time, "it is finished", our debt is paid, we are ransomed from the kingdom of darkness, and then we confidently rest in the reality that "it will continue to be finished" because we are in a position of grace and stand justified for all time before God. One Greek word, tetelestai, spoken in the perfect tense, by Jesus on the cross, and it was finished at that moment, and for all time. (http://www.ciu.edu/content/it-finished-look-greek) G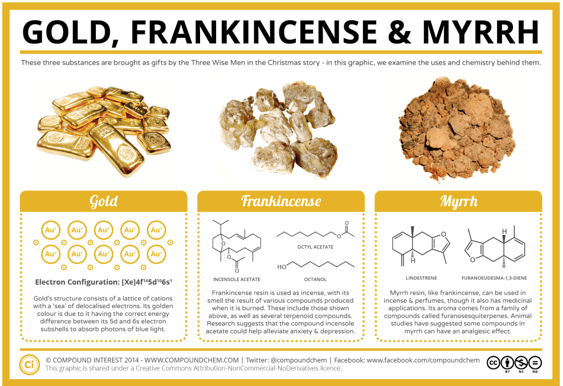 (7) http://www.compoundchem.com/2014/12/23/gold-frankincense-myrrh/
(8) Furthermore, if the wise men had visited during the birth of Jesus and given their gifts of Gold, Frankincense, and Myrrh to Joseph and Mary they would have been able to afford a lamb for the burnt offering portion of Mary's purification ceremony which took place 40 days after the birth of Jesus (Leviticus 12:1-5). Consequently, they would have violated the Law of Purification when presenting sacrifices of a pair of doves or two young pigeons which was allowed for the poor but not for those that could afford a lamb (Luke 2:22-24. Leviticus 12:6-8).
Now when the time came for their purification according to the law of Moses, Joseph and Mary brought Jesus up to Jerusalem to present him to the Lord (just as it is written in the law of the Lord, "Every firstborn male will be set apart to the Lord"), and to offer a sacrifice according to what is specified in the law of the Lord, a pair of doves or two young pigeons. (Luke 2:22–24 NET)
" 'When the days of her purification are completed for a son or for a daughter, she must bring a one year old lamb for a burnt offering and a young pigeon or turtledove for a sin offering to the entrance of the Meeting Tent, to the priest. The priest is to present it before the Lord and make atonement on her behalf, and she will be clean from her flow of blood. This is the law of the one who bears a child, for the male or the female child. If she cannot afford a sheep, then she must take two turtledoves or two young pigeons, one for a burnt offering and one for a sin offering, and the priest is to make atonement on her behalf, and she will be clean.' " (Leviticus 12:6–8 NET)