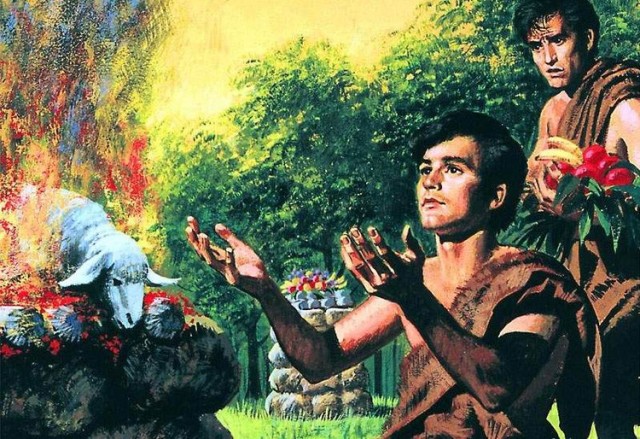 God's Thoughts and Ways – Part VI (Abel and Cain)
---
Abel's and Cain's Offerings
---
At the designated time Cain brought some of the fruit of the ground for an offering to the LORD. But Abel brought some of the firstborn of his flock– even the fattest of them. And the LORD was pleased with Abel and his offering, but with Cain and his offering he was not pleased. So Cain became very angry, and his expression was downcast (Genesis 4:3-5).
Why would the Lord accept the one offering and reject the other? Now, that is the right question – read on for an answer!
Certainly, Cain was sincere and honestly desired to worship God and acknowledge his obligation to Him. Cain was a farmer so it was just as natural for him to bring of the fruits of the ground for an offering unto the Lord as it was for Abel a shepherd to bring of the firstlings of his flock and the fat from them (Genesis 4:2). They both brought of what they possessed and if the kind of offering had been left to their choice it certainly would have been all right for Cain to make an offering of the fruits of the ground and the Lord most assuredly would have accepted it.
However, by studying the Scriptures we find that after the fall of mankind (1) God made a gracious revelation to him – that it was only by the use of sacrifices as sin-offerings the race of fallen man could approach his Creator (Hebrews 9:22).
When the eyes of our first parents Adam and Eve were opened to see their sin and guilt before God they made for themselves aprons of fig-leaves (Genesis 3:7) representing the fruitless efforts of man to hide his sin by self-righteousness (Isaiah 64:6). But the Lord made coats of skins and clothed them (Genesis 3:21). This was the first life lesson that the wages of sin are death (Genesis 2:17. Romans 6:23). In this case, animals had to die shedding their blood – their life – in order to cover Adam and Eve's sin (Genesis 9:4).
This was then by divine appointment the first institution of a substitutionary sin offering. Consequently, by divine appointment, it became the only acceptable mode of worship for sinful man. Realize, it was not actually possible that a human being could kill an animal as a substitute for his own death or as a true representative of himself. The animal he offered had no appreciation of right or wrong; therefore, it was not fully representative of him.
Nevertheless, these sacrifices, being offered to God as sin offerings, pointed to Christ as our atoning sacrifice (1) (Hebrews 10:1-10). The blood of those animals; therefore, represented that of Christ. They were accepted as sacrifices for sin insofar as they pointed forward to Christ's perfect sacrifice, which God knew he would make shedding Jesus' blood (1) at the cross of Calvary (Colossians 1:20). On account of this, God was able to forgive the sins of His people who lived before the time of Christ. His death was for the redemption of the transgressions that were committed under the first testament (Hebrews 9:15) or law of Moses (Hebrews 8:5-9). All the sacrifices offered under the law pointed forward to Christ, the perfect sin offering, who put away sin by the sacrifice of himself (Hebrews 9:26; 13:11,12; Romans 8:3. 2 Corinthians 5:21). The coats made of the skins of these sacrifices pointed to Christ's righteousness with which we must be clothed if we are to be saved (Romans 3:21-27. 1 Corinthians 1:30).
Cain rejected the mode of worship that was of divine appointment and invented a mode of worship to suit himself. He rejected God's will and went according to his own will, which was nothing more than will-worship and all such worship is sin (Colossians 2:23). If we would be accepted of God we must worship Him in His own appointed way (John 4:24). The Lord Jesus Christ, as the lamb of God for sinners slain, is the way of life (John 14:6). Neither is there salvation in any other; for there is no other name under heaven, given among men, whereby we must be saved (Acts 4:12. Romans 10:13). Cain set aside God's will for his own will thus becoming a rebel against God (1 John 3:4).
The essence of true religion is humble submission to God's will and to say like the Master, "Not my will but your will be done." (Luke 22:42. Hebrews 10:7. Philippians 2:8) Human will-worship is so abominable in the sight of the Lord that he struck Uzziah with leprosy for usurping the priestly office (2 Chronicles 26:19-21). Nadab and Abihu were stricken dead for burning strange incense (Leviticus 10:1-3). Saul (1), for his will-worship, was doomed to lose his throne (1 Samuel 13:8-14).
Consequently, the Lord had no respect unto Cain and his offering because he was guilty of heinous sin (Proverbs 15:8). There was as vast a difference between the offering of Cain and that of Abel as there is between falsehood and truth or darkness and light. Abel made his offering according to God's plan of salvation. But Cain, like his mother Eve, was deceived and led astray by the old Serpent (2 Corinthians 11:3), and, intruding into those things which he had not seen, became vainly puffed up by his fleshly mind (Colossians 2:18). Becoming wise in his own conceit, he was a "fool tool" for the devil to use.
Satan, writhing under the penalty pronounced upon him and hearing that the seed of the woman should bruise his head (Genesis 3:15), seeing that man is a religious animal and must have a religion (Acts 17:22-27) and knowing that if he received God's religion he would be saved (2 Timothy 1:9); devised the scheme of a counterfeit religion for the purpose of blinding and leading man down to perdition (2 Corinthians 4:3,4). This counterfeit religion, while resembling the genuine as closely as possible, must leave out the essentially saving part of it and lead the souls of men away from the atonement of our Lord Jesus Christ. So Satan, having prepared Cain for his purpose, used him as an archetype of a false religion – a system of salvation through works (i.e., rules to follow in an attempt to earn salvation and not salvation through a relationship with God the Father through the LORD Jesus Christ in the power of the Holy Spirit).
Unfortunately, many mistakenly think there is but one religion or that all religions are the same. There is only one true religion, but there is also a false religion and this false religion bears the mark of Cain its founder, who was of that wicked one and slew his brother. And why did he kill him? Because his own works were evil, and his brother's righteous (1 John 3:12). The devil was a murderer from the beginning, (John 8:44) and Cain as his servant and agent soon became the persecutor and murderer of his brother, because his brother was righteous. And all the righteous blood shed upon the earth, from the blood of righteous Abel down to the present time, has been shed by the devotees of false religion. In the false church will be found the blood of prophets, and of saints, and of all that were slain upon the earth (Revelation 18:24). And God will in the future judge this great whore which did corrupt the earth with her fornications and will avenge the blood of his servants at her hand (Revelation 19:2. Luke 12:49. 2 Peter 3:7. Revelation 22:20). Amen.
So, what are some of the differences between Abel's and Cain's offerings? By faith Abel offered unto God a more excellent sacrifice than Cain by which he obtained witness that he was righteous, God testifying of his gifts: and by it, he being dead yet speaks (Hebrews 11:4). It is evident that Abel's faith was in the promised Savior, who should bruise the serpent's head. Cain believed there was a God, and that he ought to worship Him. However, realize it is not enough to believe there is one God as the demons believe and tremble but do not inherit salvation (James 2:19). Juxtaposed with Abel who not only believed there is one God but also believed in one Mediator between God and men, the God-Man Christ Jesus (1), who would give himself a ransom for all, to be testified in due time (1 Timothy 2:5,6).
Abel realized in his heart that salvation is of faith, that it might be by grace (Romans 4:16. Ephesians 2:8). Furthermore, he deeply felt that he was a sinner in the sight of God and that he deserved to die (Romans 7:24. John 3:18. 2 Corinthians 5:14. John 16:7-11). But according to God's gracious word, he believed in the Lamb slain from the foundation of the world (Revelation 13:8), and brought of the firstlings of his flock, believing that its blood was typical of the blood of Christ, who through the eternal Spirit offered himself without spot to God (Hebrews 9:14); and that He is the propitiation for our sins: and not for ours only, but also for the sins of the whole world (1 John 2:2). That is, Abel made an offering for his Sin.
Cain disregarded the instruction God had given him and, not realizing that he was a guilty sinner before God, did not believe it necessary to bring a sin-offering, to make an atonement for sin; therefore, his offering was in unbelief (Hebrews 11:6). He believed in the system of salvation by works and thought it was sufficient for him to live a moral life, and bring a thank-offering to show that he was thankful for what God had given him. Furthermore, Cain simply brought "some of the fruit" of the ground and not the first fruits that the Lord desired (Genesis 4:3. Proverbs 3:9,10).
Even today we hear people say that all God requires of us in order to be saved is just to do right and be thankful to Him for what He gives us. They are depending for acceptance with God upon their honesty and good, moral character; upon works of righteousness that they can do. They do not realize they are following Cain the first murderer and the founder of the false religious system of salvation by works (1 John 3:11,12). Cain believed that salvation was by works of righteousness that we have done. He did not believe that salvation is only according to His mercy whereby He saved us, by the washing of regeneration, and renewing of the Holy Ghost (Titus 3:5). This is, Cain simply made a thanksgiving offering and not a Sin-offering.
Abel believed in the depravity of human nature and made his offering in humility (Micah 6:8). He obviously believed that we are fallen and depraved creatures and cannot rescue ourselves from our fallen situation by any ability we naturally possess. He realized that by nature he was a child of wrath, even as others (1 John 5:19. Ephesians 2:3. Romans 5:9). He felt that he was not only a sinner but that his very nature was corrupt; that his heart was deceitful above all things and desperately wicked (Jeremiah 17:9). That no one could fully know the depths of the wickedness of his heart but the Lord who searches the heart (Jeremiah 17:10).
Abel came before the Lord in poverty of spirit, like the Publican who went up into the temple to pray, but stood afar off and would not lift up so much as his eyes unto heaven, but beat upon his breast, saying, God be merciful to me a sinner (Luke 18:13). The Lord Jesus tells us that this publican went down to his house justified for every one that exalts himself shall be abased, and he that humbles himself shall be exalted (Luke 18:14).
Abel, as he led the "firstborn" lamb (i.e., the first fruits) away from the flock to be slain, realized that it was his own life, and not the life of the lamb, which was forfeited. He looked upon the lamb as a type of the promised seed, who should be holy, innocent, undefiled, separate from sinners (Hebrews 7:26) and who would offer up himself as a propitiation for sin (Romans 3:25. 1 John 2:2;4:10). Furthermore, he looked by faith upon the precious blood of the Savior who was to come, as a lamb without blemish and without spot (John 1:29. 1 Peter 1:18,19. Ephesians 1:7. Revelation 1:5). Although he felt that he was a guilty, condemned sinner, yet he believed that God could be just and simultaneously the justifier of him who believed in the promised Savior (Romans 3:26). Abel humbled himself in the sight of God and by faith in the promised Messiah offered his sacrifice (Proverbs 3:34. James 4:6). Consequently, the Lord had respect unto him and to his offering, and gave him the witness that he was accepted as righteous (Hebrews 11:4. Romans 3:28).
Cain believed in the goodness of human nature and therefore made his offering in pride (Proverbs 11:2). He prided himself on the goodness of his nature and character (Luke 12:16-21). He undoubtedly felt that God was under obligation to respect as noble and great a man as he was and that he deserved great credit and honor for making this offering (Matthew 7:22,23. Luke 16:15). See how his pride flamed out in anger when his offering was rejected (Proverbs 13:10). He was the same kind of a man as the Pharisee, who stood and prayed: God, I thank thee that I am not as other men are; extortionists, unjust, adulterers or even as this publican. I give tithes of all that I possess (Luke 18:11,12). Cain was in effect a self-righteous Pharisee – the founder of the pharisaic religion (Matthew 23:4-7. Matthew 23:29-36). From that time until the present Cain has had his followers that followed his path away from God's presence like his father Adam; trusting in themselves that they are righteous, and believe in the native purity of human nature (Genesis 3:8. Genesis 4:16. John 3:19,20. Jude 1:11).
In this world, Abel was hated, persecuted, notwithstanding the fact that the Lord had respect unto him, and accepted his offering. He was murdered, and thus became the first martyr, and an example to God's people in all ages, that all that will live godly in Christ Jesus shall suffer (1) persecution (2 Timothy 3:12). On the other hand, Cain likely lived a long, prosperous life becoming rich, great and likely was honored by the world as a good citizen (1 John 2:15).
Realize, the gospel is not for self-righteous, self-sufficient, impenitent sinners for God commands all men everywhere to repent, and when sinners become penitent, they may be saved. That is, the soul must realize that it is lost before it can be saved (Mark 2:17).
Dear lost soul, if you feel that you are a wretched, undone sinner, you are invited to come to Jesus and be saved. Come, He earnestly calls you, forsaking and confessing your sins (Revelations 22:17). Come and accept the Lamb of God, as your offering for sin and you will be accepted and saved from all your sins (John 6:37. Romans 10:13,9,10). The great heart of our Savior goes out to you in love and he pleads with you to come to Him and be saved. Will you yield now at this very moment to his loving call? (1)
---
Our ways are not God's ways… (Isaiah 55:8,9) but they will be…  (1 John 3:2. 1 Corinthians 13:12).
---
God's Thoughts and Ways Series:
---
(1) Left-click on the underlined phrase to open another article in a different tab with more explanation.
---